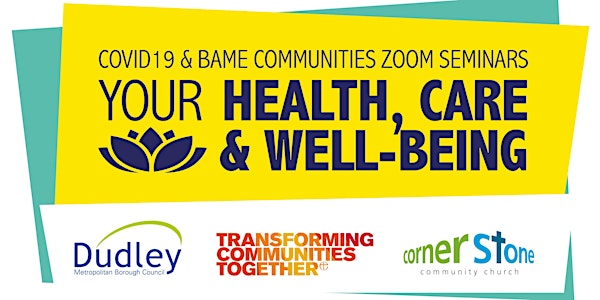 Covid 19 and the Health and wellbeing of BAME communities
Covid-19 is disproportionately affecting the health and wellbeing of people from the BAME communities
About this event
Recent government and health reports have highlighted that Covid-19 is disproportionately affecting the health and wellbeing of people from the BAME communities.
You have an opportunity to learn more about the reasons why and to get key health information, by listening to and putting questions to experts about your health, care and wellbeing.
The seminars have been prepared by Dudley Council's Public Health, working together with Transforming Communities Together and Cornerstone Community Church, to help BAME communities live longer, safe and healthier lives.
We will email you the login details for the seminars in the days leading up to each event.
We will be running five sessions in total.
We now just have one remaining session on Friday 31st July from 7pm to 8:30pm
Here is the draft programme (which may change closer to the event):
Week 5 Friday Focus: 31st July 2020
A focus on community engagement and involvement – Life in the new normal
Dr Lola Abudu Deputy Director for Health and Wellbeing Public Health England Midlands
Julie Black, Public Health, Dudley Council
Sharon Tilt, Welfare Benefits Dudley Council
Cassius Francis, Just Finance Black Country
Previous weeks were:
Week 1 Friday Focus: 3rd July 2020
A focus on individuals, groups, community – key Public Health Messages
Bal Kaur, Acting Director of Public Health, Dudley Council
Dr Irfan Ghani, Interim Head of Children and Young People Public Health and Wellbeing Dudley Council
Claudia Oliveira, Health Protection Nurse, Dudley Council
Shaz Akhtar, Black Country Near Neighbours
Week 2 Friday Focus: 10th July 2020
A focus on Diabetes/Obesity and working towards a healthier lifestyle, alcohol, smoking
Dr Rusha Mukhtar, Consultant Diabetologist
Emily Ashman, Lead Diabetic Nurse
Kimberley Yeung, Solutions4Health
Week 3 Friday Focus: 17th July 2020
A focus on respiratory and heart conditions (e.g. asthma, COPD, CHD), chronic kidney disease and keeping active
Dr Randa Abaseed-Elhag, Dudley Group NHS Foundation
Jo Hamilton, Lead Respiratory Nurse
Russell Tipson, Action Heart
Kuldip Chana, BME United provider of Self- Management Programmes
Week 4 Friday Focus: 24th July 2020
A focus on Mental Health
Dr Heidi Napier, Consultant Clinical Psychologist Black Country Partnership NHS Foundation Trust
Terry Rigby, Forward for Life
Raj Thind , Regional Head of Domestic Abuse Service for Black Country Womens Aid