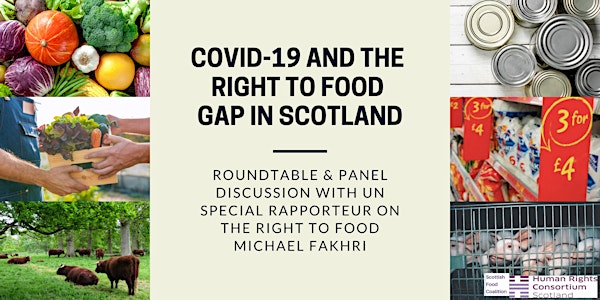 Covid-19 and the Right to Food Gap in Scotland
This event will interrogate what Covid-19 has revealed about the importance of realising the right to food in Scotland
About this event
Co-hosted by the Scottish Food Coalition and the Human Rights Consortium Scotland, this 1.5 hour long event will interrogate what Covid-19 has revealed about the importance of the right to food being realised in Scotland.
The virtual event will be chaired by Elaine Smith MSP. We will be hearing from:
Michael Fakhri, UN Special Rapporteur for Right to Food
Evie Murray, Leith Crops in Pots
Caroline Mockford, Poverty Truth Community
Tilly Robinson-Miles, Eat Well Age Well
Polly Jones, Trussell Trust
The current health crisis has exposed the many fault-lines in our food system. There is a significant support for 'building back better', but how can we ensure that recovery is founded in human rights, with social and environmental justice at its heart? Why should the Right to Food be incorporated into Scots law?
The event will include panelist presentations, a Q & A session followed by discussion.