Organized by the Buddhist Tzu-Chi Foundation in collaboration with ProVeg Itl, speakers from FAO, UNDRR, Tzu-Chi.
About this event
At least 155 million people faced crisis levels of food insecurity in 2020 because of conflict, extreme weather events and economic shocks linked in part to COVID-19.
This session hopes draw upon the lessons learned from the Covid-19 pandemic to provide key insights and a strategy for necessary food systems transformations for resilience to the devastating effects of climate change through case studies on how the global pandemic is affecting global poverty, food security, and nutrition, as well as opinions and reflections from experts and different stakeholders on how we can build a sustainable future together.
Watch live on YT:
https://www.youtube.com/watch?v=0rFX6Cf-PTc
Register for our session on Food Innovation:
https://www.eventbrite.co.uk/e/unlocking-the-potential-of-plant-based-innovation-tickets-163494413191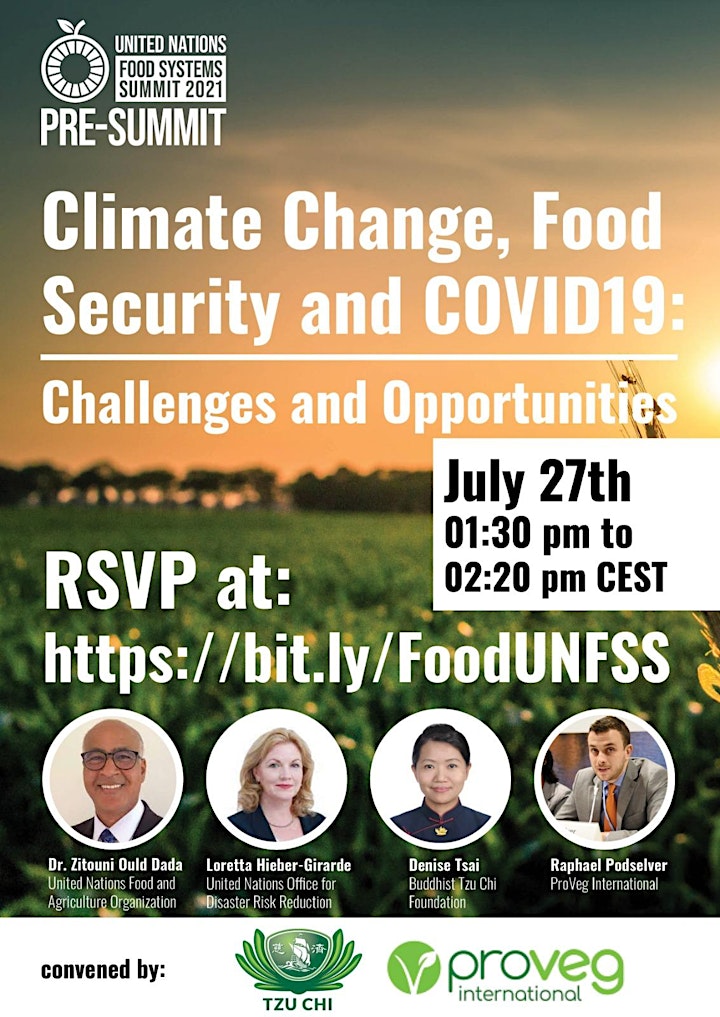 Organiser of Covid-19, Climate Change, and Food Security - Challenges and Opportunities
ProVeg is a leading international food awareness organisation working across four continents, with ongoing plans for future expansion. We strive for a world where everyone chooses delicious and healthy food that is good for all humans, animals, and our planet.
ProVeg collaborates with governments, public institutions, and the food industry to improve the taste, ease, and accessibility of plant-based food. We appreciate every step that individuals, organisations, and institutions take towards a more plant-based lifestyle and a more sustainable society.