Covid-19 crisis offers opportunities for a better world, can we seize them?
We are at a pivotal moment in history. Free Zoom debate will explore the possibilities for positive change offered by Covid-19 crisis
About this event
We are at a pivotal moment in history. Humanity's future hangs in the balance. The coronavirus pandemic has already left tens of thousands of families in the UK grieving the loss of loved ones, and over 200,000 dead globally. The effects on the global economy have yet to fully sink in but the crisis threatens to bite with Tyrannosaurus sized teeth that will make the Great Recession of 2008 seem like a puppy play biting.
The devastation caused by this crisis is extreme, but could it act as a catalyst for positive change?
Join us for a free, live Zoom debate to investigate the opportunities this crisis offers to create better, fairer and more sustainable societies, from the local to the global, that will better serve the majority of humanity and preserve the natural world we are all dependent on.
We have five excellent panelists lined up with a wealth of experience and ideas to share on how we can seize this moment to carve a progressive path to a brighter future.
Panellists:
Laura Bannister – World Basic Income, Director. Laura is an economic justice campaigner, political activist and researcher. In various roles she has worked on trade justice, the economics curriculum, childrens rights and environmental issues, and she helped to draft basic income manifesto proposals during the UK's 2015 general election.
Christine Berry – Rethinking Economics, Co-chair. Christine is also part-time director of the Policy and Government unit at the New Economics Foundation think tank, whilst studying for her PhD at the University of Sheffield. Previously she worked as a researcher for the pensions charity FairAction and for David Haworth MP after obtaining her degree in Social and Political Science from the University of Cambridge.
Mark Burton – Steady State Manchester, Collective Member. As an Independent Scholar-Activist, Mark has concentrated on the relationships between economy, environment and social justice in the context of the Manchester city region. His former career was as a psychologist and subsequently a senior manager in health and social care services.
Hera Hussain – Chayn & Open Contracting, Founder. An activist and social entrepreneur, Hera's award winning feminist tech project Chayn helps survivors of abuse get the information and support they need. She combats corruption with Open Contracting which aims to transform public procurement so it is open-by-design, fair and efficient.
Neil McInroy – Centre for Local Economic Strategies, Chief Executive. A leading commentator on economic development and public policy, Neil has featured in Local Government Chronicle's annual top 50 most influential people in local government. He has been involved in public sector policy and delivery for over 25 years.
Writer, journalist and Meteor Community Member James Doheny will be chairing the debate. James is a former BBC Radio journalist/presenter with bylines in The Times and WIRED. He has also been a business consultant for companies including Apple. His primary journalistic interests are politics, tech and music.
-----------------------------------------------------------------------------------------------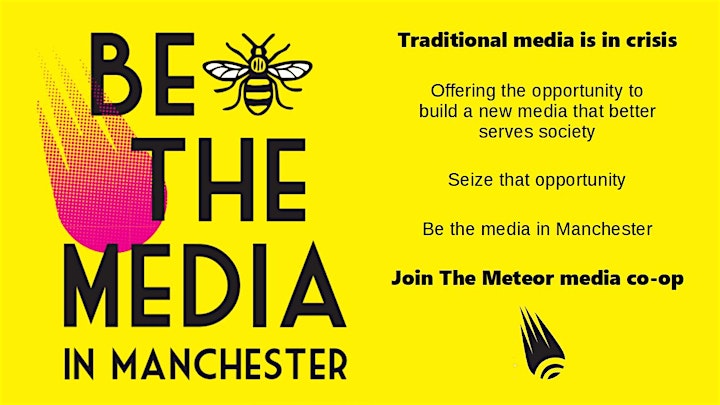 Help us build a democratic media fit for 21st century Manchester and a post-pandemic world. Find out more about joining The Meteor media co-op - click here
-----------------------------------------------------------------------------------------------
Crisis acting as a catalyst for progressive change
The changes to the global order that occurred after World War II, emphatically demonstrate that the recovery from a global crisis can be driven in a direction that is beneficial to the majority. The post-war world saw the creation of the United Nations, which promoted global respect for human rights and fundamental freedoms. The introduction of Keynesian economics and the Bretton Woods system allowed Western nations to flourish in a stable economic system. Even though the UK had immense levels of debt due to the costs of the war, we pushed through the implementation of the National Health Service, undertook a huge country-wide council house building campaign, and improved the social security system to provide sufficient welfare for those most in need.
Scales could tip in the wrong direction
Positive progress however is not inevitable. In more recent times, Naomi Klein, in her book 'The Shock Doctrine', has brought to popular attention the ways in which forces sympathetic to neoliberalism have used national and global crises as a vehicle to introduce a pattern of political/economic programmes and standards detrimental to the wellbeing of the majority.
After the financial crash of 2008, aka the Great Recession, many of the bankers and financial institutions responsible for the crash were bailed out with public money (via Quantitative Easing). At the same time public services in the US and Europe were decimated by austerity-driven cuts. The drive to reinstate the pre-crash status quo saw a huge increase in wealth inequality: the richest 7% of households in the US saw their aggregate net worth increase by 28%, from $19.8 trillion to $25.4 trillion, between 2009-11; the bottom 93% saw their aggregate net worth fall by 4%, from $15.4 trillion to $14.8 trillion.
The aftermath of the 9/11 attacks on the World Trade Centre saw President Bush declare a "War on Terror" that propagated terror, death and destruction in many countries across the globe, most notably Iraq. The "War on Terror" also included digital surveillance developments that were increasingly and indiscriminately used on civilian populations across the globe, revealed by Edward Snowdon's leak of classified information. A disturbing parallel to that surveillance is the current use of smartphone GPS data by some governments to track the spread of Covid-19.
The pandemic spells out that humanity's future is mutual
If austerity and other neoliberal solutions to the growing economic crisis caused by the pandemic are to be opposed, it is essential that the options and possibilities for creating a fairer society are out there for people to see, so that they know there is another way.
This debate offers the chance for alternative, rational solutions to cope with our current crisis to be highlighted: solutions that could enhance and strengthen our societies, by reducing inequality and protecting the natural world.
The Covid-19 crisis spells out on a global scale that our future is mutual. To create a better, fairer more secure future for the majority we must co-operate, on a local to a global scale, to address the inequities created by the current dominant global economic order: a global economy underpinned by a blind faith in infinite growth that threatens all life on Earth.
Join us for this crucial debate at this momentous time and help steer humanity and Earth towards that better future.
-----------------------------------------------------------------------------------------------
The Meteor set up as a co-operative media group last July, allowing people to join our co-op for as little as £1/month so they can have a say in how The Meteor is run and what we report on. We received a grant from the Future News Pilot Fund this year to promote our mutual media model, and this event forms part of that project.