COVID-19 in Pregnancy: Women's Health Research during the Pandemic
About this Event
The WHO Collaborating Centre for Global Women's Health at the University of Birmingham and Elly Charity, are pleased to invite you to the fourth in a series of online global learning events on evidence-based guidance for the management and care of pregnant women during the COVID-19 pandemic.
In each of these events, our panellists will discuss a range of topics including adapting services to care for pregnant and recently pregnant women during the pandemic, management of women with suspected and confirmed COVID-19, and the latest evidence in this area.
Help us spread the word using hashtag #globalpregcov
To watch our first event focused on Antenatal Care visit this page.
To watch our second event focused on Intrapartum Care visit this page.
To watch our third event focused on Postpartum & Neonatal Care visit this page.
Webinar 4: Women's Health Research during the COVID-19 Pandemic
In this fourth webinar, our focus will be on women's health research within the context of the COVID-19. We will provide researcher and healthcare professional insights into the care of pregnant and recently pregnant women during the pandemic and what research is currently underway in this area. We will also hear from a range of lived experience perspectives to better understand what pregnancy is like first-hand during this global pandemic. If you use Twitter, please tweet along with us using our hashtag #GlobalPregCov
Chair:
Dr Uma Ram, Director at Seethapathy Clinic and Hospital in India. Chairperson AICC RCOG South Zone.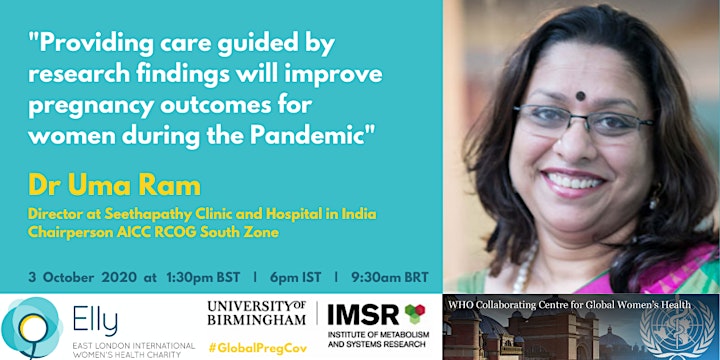 Dr Mercedes Bonet Semenas, Maternal and Perinatal Health and Preventing Unsafe Abortion Team, WHO.
Mercedes Bonet works in WHO's Department of Reproductive Health and Research. Her current work is focused on the prevention of maternal sepsis. She will talk about how the WHO supports research in Maternal and Perinatal Health including different generic protocols WHO has developed: cohort of pregnant women with COVID, qualitative research on pandemic impact on health systems (until now related to family planning, abortion services and violence); and the WHO registry of COVID cases with CRF on pregnancy, WHO network on research in MNCH.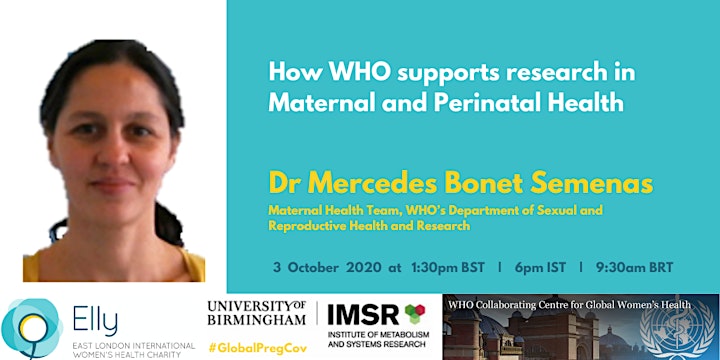 Expert Speakers:
Professor Shakila Thangaratinam is the co-Director of the WHO Collaborating Centre for Global Women's Health at University of Birmingham.
As Consultant Obstetrician she is involved in the care of high-risk mothers at Birmingham Women's and Children's NHS Foundation Trust. Professor Thangaratinam has established a strong portfolio of research in maternal and perinatal health. Her work focuses on prediction, prevention and treatment of complications in mothers with pre-eclampsia, epilepsy, diabetes, and obesity. Her publications include papers in high-impact journals such as the Lancet and the BMJ. She leads the PregCOV-19 living systematic review on COVID-19 in pregnancy and she will be joined by a number of her medical students to provide a summary of findings to date.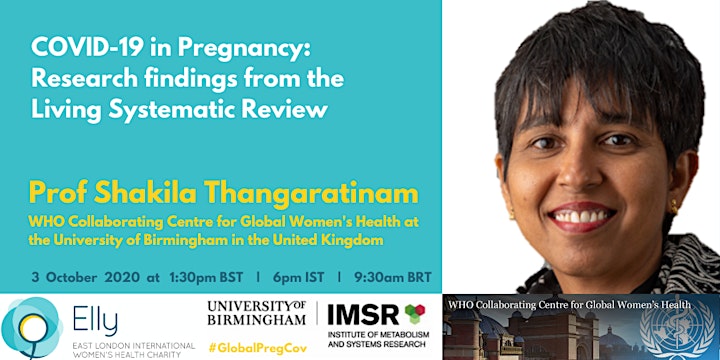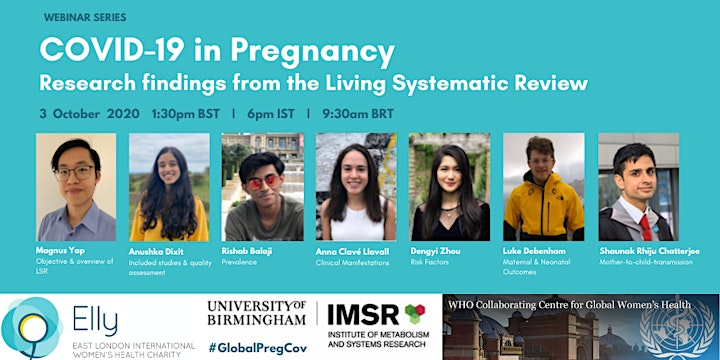 Dr. Prabha S.Chandra, is a Professor of Psychiatry at the National Institute of Mental Health and Neuroscience, NIMHANS, Bangalore, India.
Prabha has served as a Temporary Advisor to the WHO and UNAIDS and is the President Elect of the International Association of Women's Mental Health, a nominated member of the World Psychiatric Association and was an executive member of the Marce International society. Her main areas of interest are Women's Mental Health, Perinatal Psychiatry, teaching methods, ethics and palliative care. She has nearly 250 publications and has edited several books. She has started the first dedicated psychiatry service including a Mother-Baby unit in South Asia for mothers with severe mental illness. She is also the PI of a GCRF MRC research grant- the Bangalore Child health and development study which is a cohort of 909 mother-infant dyads. This is a cohort that has detailed mental health and developmental as well as behavioural assessments from pregnancy until 7 years.
Sabeena Subba, Assistant Director Patient and Public Involvement & Engagement
Sabeena leads the Patient and Public Involvement and Engagement portfolio at National Institute of Health Research's (NIHR) Central Commissioning Facility. NIHR is the UK's largest funder of health and care research. Her role at NIHR is to ensure patients and communities are partners in the commissioning, design, delivery and dissemination of the research that NIHR funds in the UK and across its global health portfolio. She has extensive experience of working with patients with lived experience, communities and decision makers to build people centered public services in the National Health Service and Local Government in the UK and with Save the Children in South Asia.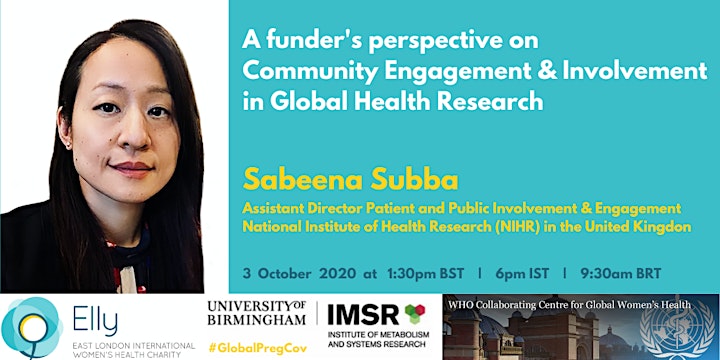 Lived Expertise: Women's Voices
Shuhela (UK)
Madhuri (India)
Aparna (India)
We are extremely pleased to be joined by 3 ladies who will give powerful testimonies about their lived experience of pregnancy during the pandemic. Two are currently pregnant and one recently gave birth. They will talk about their experience of pregnancy during the pandemic (including what went well and what didn't, how they felt about going to hospital, about their support networks and what they think about research into COVID in Pregnancy from a Mum's perspective).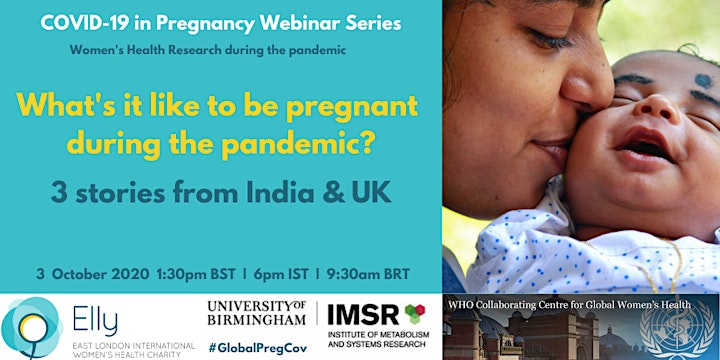 Time 1.30pm BST | 6pm IST | 9.30am BRT
Speakers will give a short presentation about their experiences. This will be followed by a question and answer session. You will have an opportunity to submit questions as part of the registration process and on the day itself. We will try our best to answer as many questions as possible during the allocated time.
Please note: This seminar will be recorded and may be later made publicly available. By registering you are consenting to this and to potentially being recorded if your video / audio is switched on, for example during the Q&A so that you can ask a question to the panel.
**YOU WILL BE SENT AN EMAIL WITH DETAILS ON HOW TO JOIN US LIVE ON ZOOM / YOUTUBE LIVESTREAM 24 HRS BEFORE THE EVENT STARTS. PLEASE BE SURE TO CHECK YOUR INBOX.**
We are limited to 1000 participants on Zoom (first come, first served), however we will be providing all registered attendees with a chance to join us live via a live-stream link on YouTube. Help us promote the event and share your thoughts using #globalpregcov
Future Events:
Please contact info@elly.org.uk if you would like to be kept informed of the dates of these future events or sign up to our mailing list during the registration process. For more information about Elly Charity visit Elly.org.uk and for information about the IMSR (where the WHO Collaborating Centre for Global Women's Health is based) see www.birmingham.ac.uk/imsr
To keep informed of future events, please sign up to our mailing list during registration.
To watch our first event focused on Antenatal Care visit this page.
To watch our second event focused on Intrapartum Care visit this page.
To watch our third event focused on Postpartum & Neonatal Care visit this page.