TCT are delighted to deliver this free course which trains community leaders and organisations to deliver financial capability information.
About this event
TCT are delighted to be delivering COVID Cash Recovery: a free course which trains community leaders and organisations to deliver financial capability information remotely.
COVID Cash Recovery is a free 2-hour course which upskills churches, charities and community workers to help individuals recover from the financial problems that have arisen due to the coronavirus.
COVID Cash Recovery is an information and signposting course covering:
General entitlements
Rights
Government and charitable grants
Budgeting
Help with bills
Loans
Debt
Money strategies for making it through these next few months
The information and resources we provide through the 'train-the-trainer' model allows trusted members of the local community to signpost, and provide accurate information, to people in a flexible, non-advisory manner – allowing those trained to reach and help as many people as possible.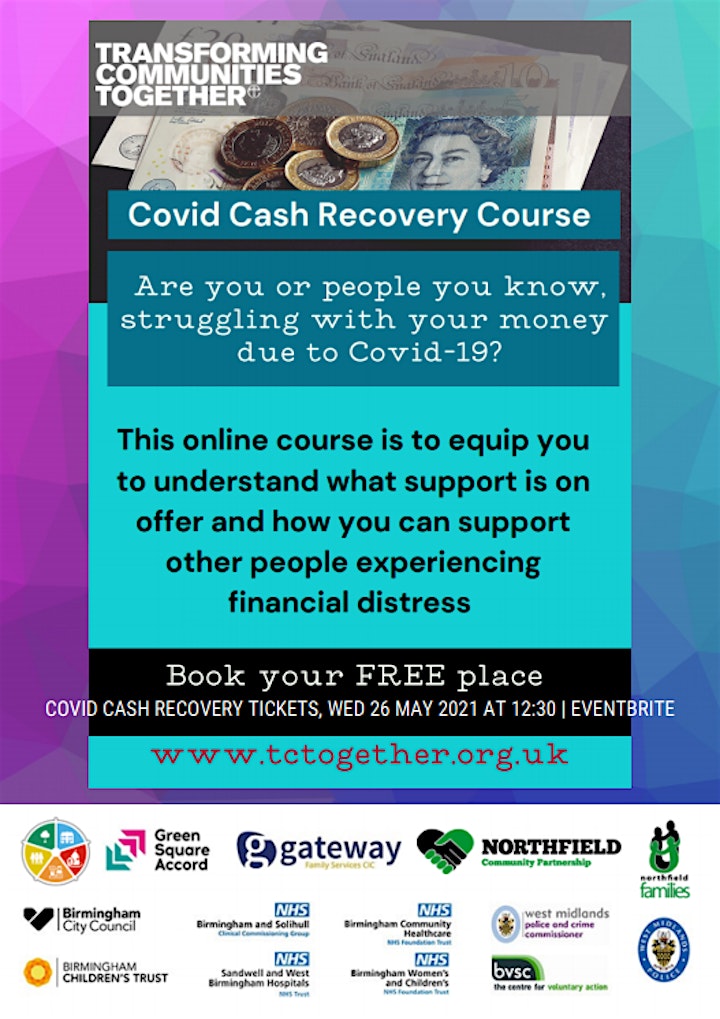 Organiser of Covid Cash Recovery
On behalf of Birmingham Children's Partnership, Northfield Families are offering Early Help support to children, young people, and their families in the Northfield Locality. We work with pregnant mums and their bumps, and can continue to offer support all the way up to 25 years. We can help with parenting, financial matters, mental and emotional support and even help to locate leisure activities nearby. Here are some examples of things we can help with:
Emergency grants of up to £100 towards food and fuel costs
Food parcel delivery
Fuel vouchers
Free access to parenting courses
Referrals to baby banks and services
Benefits, housing, and employment advice
Referral & signposting to mental and emotional health services
Signposting to other supportive and recreational services via our community connectors
Training for professionals and members of the community- so that everyone working with children and their families is able to access the information that they need to support the families that they are working with.
Training and webinars for parents and the wider community- so that people can hear first hand about what's available to them, and expand their knowledge and understanding of topics.
Not what you are looking for? Just ask... we'll see if we can help!
Northfield Families is working closely with Birmingham Pathfinder and Barnardo's to offer a range of holistic support geared specifically to each family's needs. Barnardo's, as part of the Birmingham Forward Steps partnership, is able to offer a range of support to families with children under 5 years old, you can find out more here: https://bhamforwardsteps.co.uk/
The Birmingham Pathfinder works with schools to develop a collaborative approach to Early Help support for families. If you would like to find out more about the range of free support, supervision and training opportunities available, please contact Rob McCabe directly via email at: rob.mccabe@birminghamchildrenstrust.co.uk.
Do you want to connect to some support ahead of the webinar or workshop? Then please get in touch:
Northfield Families Team: northfieldfamilies@northfieldcommunity.org or call: Mon-Wed 07516 918 133 Thurs-Fri 07951 346 327
Alternatively, you can use the postcode checker to identify which locality will best support the family. You can connect a family to a range of support via the Family Connect Form (click on the link to access Via Birmingham City Council website).
Families can also self-connect to support via Family Connect Form- Self Identification
Helen Morris, Community Connector: h.morris@northfieldcommunity.org or 07402 842 716