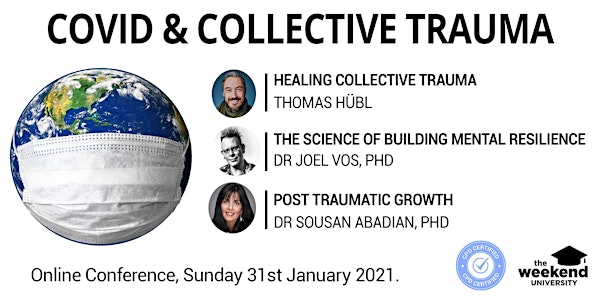 COVID & Collective Trauma Online Conference - CPD Certificates & Recordings
Refund policy
Refunds up to 7 days before event
Eventbrite's fee is nonrefundable.
Explore how these pioneering approaches can help us heal from the collective trauma of COVID-19.
About this event
We are living in unprecedented times.
COVID-19 has plunged us into the depths of a global crisis, the likes of which we haven't seen since World War Two.
Almost overnight, we've been thrown into social isolation, lost loved ones, experienced redundancies, and had some of our most basic freedoms taken away.
All of this is contributing to a kind of 'collective trauma', which is affecting our mental health and wellbeing on a planetary scale.
As we adjust to our 'new normal', research is showing that rates of depression, anxiety and suicide are on the rise - particularly among vulnerable groups.
What can we do about this?
How can we best heal from the collective trauma we are all experiencing? And might it be possible to emerge from the crisis stronger than we were before it began?
These are just some of the questions the speakers will discuss at The Weekend University this month. In this lecture series, we'll explore:
Healing Collective Trauma; the science of cultural and intergenerational trauma, how this phenomenon affects groups just as acutely as it does individuals, and how the Collective Trauma Integration Process (CTIP) can be applied to heal from the collective trauma caused by COVID-19 – Thomas Hübl
The Science of Building Resilience; the latest psychological research into COVID-19, how the crisis is impacting our mental health and sense of meaning in life, and how we can improve our psychological and social resilience both during and after COVID-19 – Dr Joel Vos
Post Traumatic Growth; what we can learn from indigenous peoples who have experienced continuous collective traumas at the hands of European settlers, how their experiences can teach us to utilize this period as a time of breakthrough, and how you can apply the new science of post traumatic growth to make your 'new normal' a 'better normal' – Dr Sousan Abadian
You'll learn how these insights can improve your own psychological wellbeing in times of crisis, and also how they can be applied to help others do the same.
For a full breakdown of the lectures, speakers (and their reading recommendations) emailed to your inbox, please click here.
Speakers
Healing Collective Trauma - Thomas Hübl
Thomas Hübl is a renowned teacher, author, and international facilitator whose lifelong work integrates the core insights of the great wisdom traditions and mysticism with the discoveries of science. Since the early 2000s, he has been facilitating large-scale events and courses that focus on the healing and integration of trauma, with a special focus on the shared history of Israelis and Germans.
Over the last decade, he has facilitated dialogue with thousands of people around healing the collective traumas of racism, oppression, colonialism, genocides in the U.S., Israel, Germany, Spain, and Argentina. He is the author of the book Healing Collective Trauma: A Process for Integrating Our Intergenerational and Cultural Wounds, available at www.CollectiveTraumaBook.com. His non-profit organization, the Pocket Project, works to support the healing of collective trauma throughout the world.
The Science of Building Resilience for COVID-19 - Dr Joel Vos, PhD
Dr Joel Vos PhD CPsychol is a psychologist, philosopher, researcher, public speaker and existential therapist. He is Senior Researcher at the Metanoia Institute, Research Coordinator at the New School of Psychotherapy and Counselling, and Chair of the IMEC International Meaning Conferences. During the pandemic he has been running the weekly support group MentalHealth4All, and has conducted research on the psychology of COVID-19.
His most recent book is 'The psychology of COVID-19: building resilience for future pandemics' (SAGE Swift, December 2020). Previous books include 'The economics of Meaning in Life' (University Professors Press), 'Mental health in crisis' (SAGE Swift) and 'Meaning in Life' (Palgrave McMillan, 2019).
Post Traumatic Growth - Dr Sousan Abadian
Dr. Sousan Abadian earned a Ph.D. in Political Economy and Government from Harvard University, an M.P.A. in International Development from Harvard's Kennedy School, and an M.A. in the Anthropology of Social Change and Development, also from Harvard University. Her earlier research on healing the effects of long-standing collective trauma and cultural damage, a key contributing factor in violence and impoverishment, was described by Nobel laureate in economics Amartya Sen as "pioneering" and "highly original."
She now has an independent practice teaching, speaking, and consulting internationally on leadership, innovation, culture change, and her A.R.I.A. principles. She builds on her earlier work at Cambridge Leadership Associates facilitating workshops and speaking on Adaptive Leadership. Between June 2017-June 2019, Dr. Abadian served as a Franklin Fellow at the U.S. State Department's Office of International Religious Freedom, Bureau of Democracy, Human Rights and Labor. Her portfolio included preventing violent extremism, rights of religious minorities in the Middle East and South Asia, gender issues, atrocity prevention, and cultural restoration. She has also served as a Fellow at M.I.T.'s Dalai Lama Center for Ethics and Transformative Values as well as at Harvard's Center for Public Leadership. More information can be found at www.sousanabadian.com
For a full breakdown of the lectures, speakers (and their reading recommendations) emailed to your inbox, please click here.
Event Schedule
10:00am – 12:00pm: Healing Collective Trauma - Thomas Hübl
12:00 - 1:00pm: Lunch break
1:00pm - 3:00pm: The Science of Building Resilience for COVID-19 - Dr Joel Vos, PhD
3:00pm - 3:30pm: Afternoon break
3:30pm - 5:00pm: Post Traumatic Growth - Dr Sousan Abadian, PhD
FAQs
How does the Online Video Conference Work?
After you register on Eventbrite, you will receive an email with a unique link and instructions to join the video conference.
Will I be able to ask questions?
You will be able to submit questions to each speaker during the Q+A sessions.
What if I miss part of one of the lectures? Will I have access to the recordings?
Yes, the recordings will be emailed to all ticket-buyers (even those who can't attend on the day) approximately one hour after each lecture finishes. 
This means that if you miss anything, you'll be able to catch up in your own time.
If you have any further questions, please email support@theweekenduniversity.com for more information.
Testimonials from previous participants




Who is this event for?
You might be:
A mental health practitioner; psychotherapist, counsellor or coach, attending for continuing professional development
A psychology student seeking to broaden your knowledge in different areas of the subject
Considering a transition into a career in psychology, but not sure exactly what route to take yet
A member of the general public attending for the sheer joy of learning and exploring your curiosity.
TWU Guarantee
The Weekend University seeks to guarantee an excellent learning experience.
If you are not fully satisfied with the day, you will receive 100% of your money back, and we will cover the cost of your travel to and from the venue.
Refund Policy
We offer a full refund if you cancel within 7 days of the event date.
For cancellations in the week leading up to the event, tickets are transferable but non-refundable.