A webinar for health and social care staff in London on the most complex issues about COVID and COVID vaccinations.
About this event
During this webinar, expert speakers will use clear and simple terms to explain some of the most complex issues about COVID and about the vaccinations that can protect us against it.
The session will be chaired by Vinice Thomas, Director of Nursing and Quality – NHSE (London region) and will:
• include a series of short presentations (see agenda below) and a 30 minute Q&A session.
• interest anyone who finds they often need to discuss COVID with others.
Is this session for me?
If you work in health and or social care (paid or voluntary) or if you are a community champion or a community leader who regularly discusses COVID and vaccinations with others you are likely to benefit from the simple explanations of the complex issues covered at this event.
Presentations will be followed by a panelled Q&A.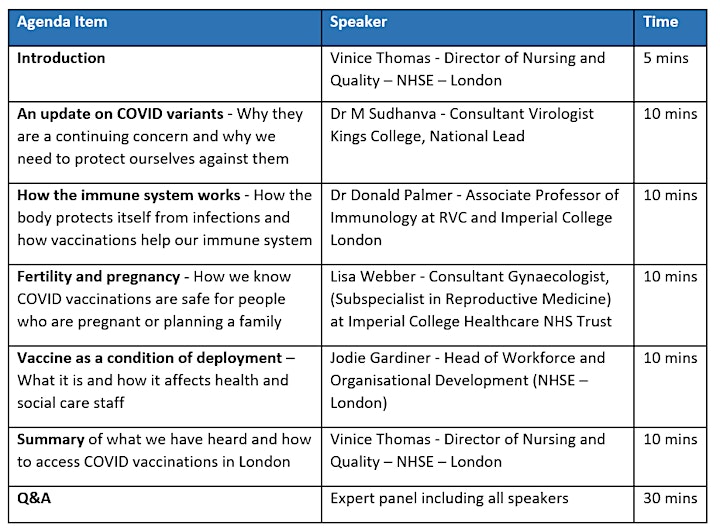 The webinar is being coordinated by colleagues in the NHSE&I (London region) COVID vaccination programme and takes place on take place on Tuesday 25 January from 5-6.30pm on MS Teams Live. Joining instructions will be shared with attendees ahead of the event.
Questions can also be submitted in advance when registering, or sent directly to: england.healthylondon@nhs.net