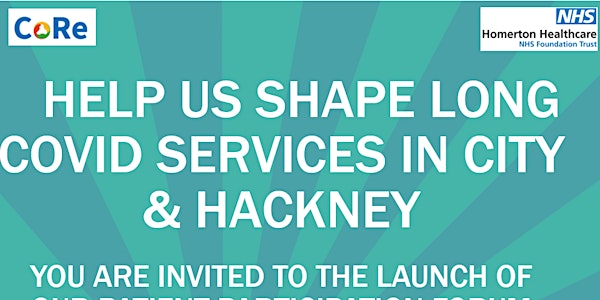 Covid Rehabilitation (CoRe) Service - Patient Participation Forum Launch
Location
St Leonard's Hospital
Nuttall Street
London
N1 5LZ
United Kingdom
Join the launch event for Covid Rehabilitation (CoRe) Service Patient Participation Forum to help shape Long Covid services in the community
About this event
The City & Hackney Covid Rehabilitation (CoRe) Service invite you to the launch event for the new Patient Participation Forum to come and share with us your views and ideas to help shape long covid services offered in the community and ways to improve to ensure services meet the needs of the community it serves.
We have scheduled adequate breaks for comfort and refreshments will also be provided.
What is it?
Launch event for the Patient Participation Forum for the City & Hackney Covid Rehabilitation (CoRe) Service.
When is it?
The event will take place on Thursday 8th September 2022.
What time is it?
From 2pm to 4pm – breaks and refreshments will be provided during the session.
Where is it?
St Leonard's Hospital, Nuttall Street, N1 5LZ
How do I register to attend this event?
Please use this link to register your attendance – please note that spaces are limited and so places are offered on first come first served basis.
What will I be expected to do at the event?
The session will include some discussion and groupwork where we ask your feedback and opinions on ways to improve our service and shape services that in the pipeline to be implemented into the community to support people living with long covid.
What if I feel unwell on the day of the event?
We completely appreciate that symptoms can fluctuate from day to day and so, If you have registered to attend the event but feel unable to attend on the day, please call the team on 02076834336 or email at: huh-tr.candhcore@nhs.net and let us know that you are not able to attend.
I would like to be involved but cannot attend face-to-face
If you would like you would like to be involved in sharing your opinions and feedback and shaping long covid services, but you feel unable to commit to attending face-to-face sessions, then please let us know at huh-tr.candhcore@nhs.net and we can arrange to collect your feedback in questionnaire format via email that you can complete at your convenience.
Additional Needs
If you require any additional support such as mobility access or require interpreting services, please let us know in advance so that we can make necessary arrangements to help you to attend the event.
Should you have any additional requirements /mobility requests or have any further questions, please get in touch at: huh-tr.candhcore@nhs.net / 0207 683 4336.