CPCAB Endorsed 6 Day Intensive Creative Counselling Training Pathway Total course cost : £499.99 (Payment plans available).
About this event
This CPCAB Endorsed programme explores nine approaches to support you to integrate creativity into your counselling practice. This is delivered over six days intensive training.
"97% of attendees have rated this training as 9/10 or above"
Module 1: Introduction to Creative Counselling & Working Creatively with Grounding Tools
We explore The Create Circle Approach to integrating creativity into your existing counselling practice. We will also explore grounding tools including working with Polyvagal Theory, creative visualisation and other nurturing practices.
Module 2: Working Creatively with Trauma
Trauma presents in many ways within the counselling room and in this module we will explore how we can support clients when words alone are not enough. We will explore the central nervous system and fight, flight or freeze from a creative approach. We will look at the different types of trauma that clients may present with and explore creative interventions and tools to support them to express themselves.
Module 3: Working Creatively with Symbols & Dreams
The nurturing mother. The fiery & protective dragon. The wise old owl. The healing angel. The entertaining joker. We use symbols everyday without recognising it. We are creatures of metaphor and this can be very helpful when supporting clients to explore their own perceptions, beliefs, experiences, relationships and emotions. Symbolism is one of the pillars of creative counselling and it helps us to see things from a clients perspective. In this training we will explore how to safely work with symbols, empowering our clients while nurturing autonomy.
Module 4: Working Creatively with Stories, Characters & Fairytales
In this module we will take a journey "down the rabbit hole" and explore different ways that we can support clients to express their story. Can you sometimes relate to feeling like Alice, stuck in a strange and overwhelming world? Or frustrated like Sebastian the crab felt, when no one paid any attention to him? Imagine what it might feel like if you could jump on a magic carpet and go anywhere? Where would you go, who or what would you leave behind and who or what would you take with you?
Module 5: Working Creatively with Cards, Photos & Images
Images capture life. They capture a moment in time. They capture thoughts, feelings and emotions. In counselling we can help clients to explore their own story through photography and images. Helping clients to process their grief, love, fear, anger, hopes, dreams and goals through imagery. This offers us a way of holding space, when words alone are not enough . Imagery works on many different levels within the brain and the body. In this CPD module, we invite you to take a visual and creative journey with us.
Module 6: Working Creatively with Art & Colour
From cave drawings to colour festivals! Art and colour has always featured in our lives. The therapeutic use of art can be more powerful as a communicator than our words and can often act as the bridge between the conscious and unconscious. "I stopped and looked at the mess that I had created on the paper. Then my heart started to race & I stopped breathing! Right there in the middle of the blue blob, I saw the face of my late father staring back at me. His smiling, caring and loving face. I was overwhelmed with joy!" TA
Module 7: Working Creatively with Clay
Some of the earliest symbols found to date were created from clay. From clay pots, to small dolls to intricate tokens. Clay has always been a part of our lives. Clay is a natural and sensory based therapeutic tool which enables clients to shape their stories, feelings, emotions and experiences into symbols. Because of the sensory nature of clay it can also be a wonderfully grounding tool. Many counsellors work with clay in the counselling room and it can also be a nurturing way to support own self-care
Module 8: Working Creatively in the Sand
"Counsellors are like lighthouses, guiding others safely to shore"
Working in the sand offers us a powerful way of helping clients to express their inner story with symbols. It offers us an anchoring & grounding tool as well as a multi-sensory experience which naturally incorporates Mind, Body, Feelings & Intuition. This also offers us a way as counsellors to self-care, while releasing any trapped thoughts and emotions we may be holding on to.
Module 9: Working Creatively with Nesting Dolls
Both Japan and Russia claim to have invented Nesting dolls and a story that stands out to us is the one of "Fukurama". A Japanese doll was found in 1896 at an exhibition of Japanese craftsmanship. It was said to have represented the story of a Buddhist called "Fukuruma". The dolls waistline could be separated in two parts and inside were photos of the man as a young boy, sharing his younger self. Now many years later, Nesting Dolls have become a popular therapeutic tool to enable clients to explore parts of self, relationships, Inner Child work, family dynamics & many other topics. We shared these within our first ever Creative Counsellors Conference in 2017 and they have since grown in popularity within the community.
COURSE REQUIREMENTS:
To be a qualified counsellor or a trainee in placement
To have regular supervision in accordance with your ethical framework - a supervisor who can support your creative working
To be a member of a professional counselling body
To have adequate insurance in place
To attend sessions live - no recordings will be available to ensure a nurturing and safe space for members to share
To be active and participate during workshops and within break out rooms
To have access to a computer or laptop to join workshops live through Zoom
To have headphones in a shared home/space to ensure peer confidentiality during reflections
To prepare for sessions by sourcing creative resources
WHO IS THIS COURSE FOR:
This training is for qualified and trainee counsellors. (Trainees must be in placement or nearing placement).
BONUSES:
BONUS ONE: Complimentary Creative Counsellors Membership for three months (worth £30)
BONUS TWO: Complimentary ticket to attend our Annual Creative Counsellors Conference in October 2022 (worth £25)
BONUS THREE: Complimentary ticket to attend our Creative Counsellors Annual Wellbeing Day in August 2022
BONUS FOUR: WhatsApp Community to connect with peers throughout the course
BONUS FIVE: Invite to attend weekly drop in peer support sessions via Zoom to explore creative approaches to counselling and network with other members (optional)
TRAINING DATES:
OPTION 1: 20th & 21st November, 11th & 12th December 2021, 22nd & 23rd January 2022 (Sat/Sun)
OPTION 2: 10th & 11th January, 7th & 8th February, 7th & 8th March 2022 (Mon/Tues)
OPTION 3: 5th & 6th February, 12th & 13th March, 23rd & 24th April 2022 (Sat/Sun)
OPTION 4: 21st & 22nd May, 11th & 12th June, 16th & 17th July 2022 (Sat/Sun)
TOTAL COURSE COST: £499.99 (Payment plans available).
APPLICATION PROCESS:
STEP 1: Secure your place in the course date that works for you by selecting the option that you would like to apply for from the above dates.
STEP 2: Purchase a ticket to make the deposit payment for the start date of the course you would like to attend , this secures your place. (This covers your deposit only)
STEP 3: Creative Counsellors will send you an application form to complete which will also give you any options for how you would like to make future payments.
STEP 4: Complete your application and return to eviesharpe@creativecounsellors.org
FAQ's:
Do I need to complete every module to complete the pathway? Yes, you will need to complete every module to complete the pathway.
How is this course delivered? This is an interactive course, delivered live via Zoom where your facilitators will host spaces to learn, to connect and network with each other and to practice the creative interventions together.
Do we get the PowerPoint slides? Yes, you receive all of the slides, guidance around creative resources and further reading.
Do we get CPD certificates? Yes, you will receive a CPCAB endorsed Creative Counsellors Certificate on completion to confirm that you have completed all nine modules within our Creative Counsellors Training Pathway. If you miss a module, we will record this on your certificate and you are invited to join a future cohort to catch up if you wish.
Is this recorded? No, we do not record so that we can create a safe and nurturing environments for colleagues to share and engage with the creative practices.
PLEASE NOTE BEFORE BOOKING: This is a non refundable booking and you will need to complete an application form, which will be emailed to you within 24 hours of making this booking. The total course cost is £499.99 and you are only paying the deposit to secure your place through Eventbrite! If you haven't received your application form or have any questions, please email eviesharpe@creativecounsellors.org
(in 2022, these modules will also be offered individually. Please bear in mind that this programme offers a heavily discounted option because you are signing up to complete all the modules together as a group).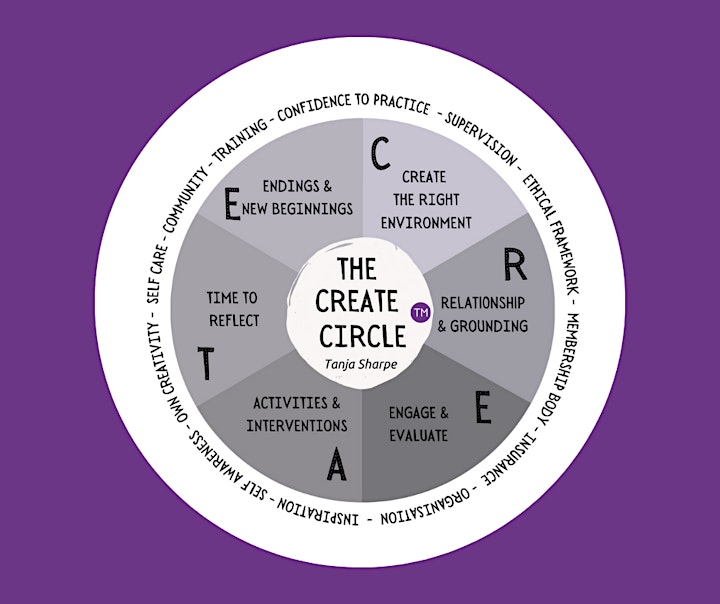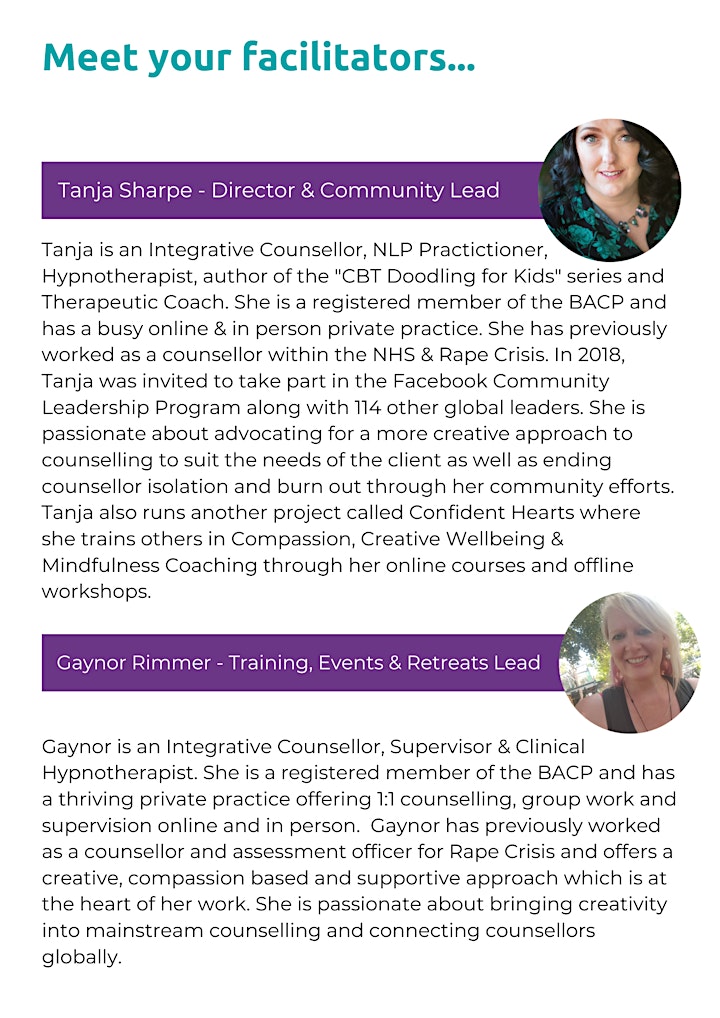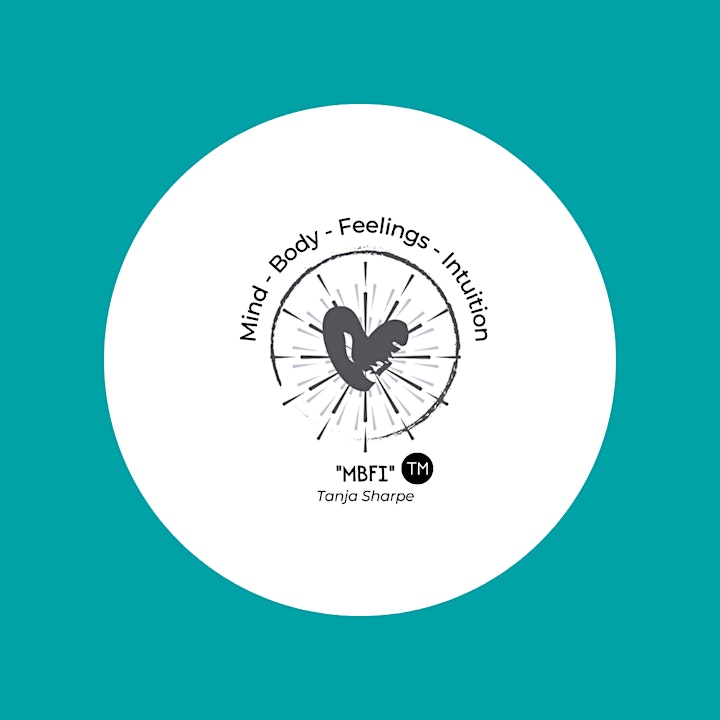 Date and time
Location
Refund policy
Organizer of CPCAB Endorsed Creative Counsellors (6 Day Intensive) Training Pathway
We are an award winning Creative Counselling Movement & membership dedicated to bringing the benefits of Creative Counselling Interventions into mainstream counselling models. We recognise that counsellors can often experience a lack of confidence in integrating new approaches and that we can also often experience isolation, burn out and vicarious trauma as a result of the work that we do. We believe that working creatively offers many benefits to our clients as well as for our own self-care. We offer training, CPD, counsellor retreats and wellbeing events plus networking opportunities.