CPD-2018 (Piles and Embedded Walls Design and Construction)

Thursday, 5 April 2018 from 10:00 to 15:30 (BST)
Event Details
Piles and Embedded Walls
Design and Construction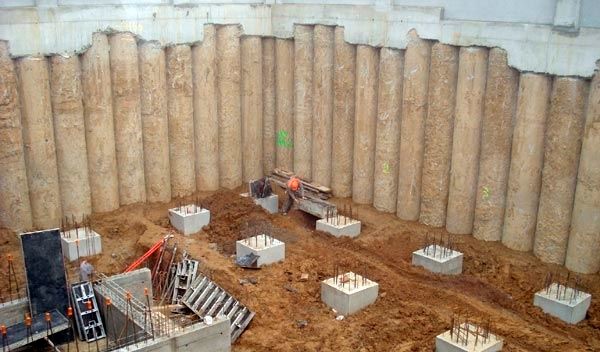 Surrey Regional Group is holding a CPD Course on Design and Construction of Piles and Embedded Walls at the University of Surrey. Practising geotechnical engineers and piling contractors will give an overview of the variety of techniques available and examples of how they have been used.
•      General principles of pile design, including resistance to compressive loads, foundations for resisting uplift and lateral loading, and the design of pile groups
•      Alternative piling techniques, such as CFA, bored piles, driven piles, and micro-piling
•      The structural design of piles, sheet piles and diaphragm wall sections
•      Piling equipment and the latest methods with examples of how these have been applied to real projects
•      Deep basement construction, including wall construction, soil-structure analysis, and construction methodologies such top-down or bottom-up
 --------------------------------------------------------------------------------------------------------------------------------
      Date: Thursday 5 April 2018                     Time: 10:00 – 15:30 (registration from 09:30)
      CPD: 4 hours                                             Price: £125, including refreshments
      Venue:Lecture Theatre M, University of Surrey, Guildford, U2 7XH
----------------------------------------------------------------------------------------------------------------------------------
To secure a place on the course please book a ticket here or alternatively email Saeed Tahmasebi at STahmasebi@LaingOrourke.com and request further instructions on payment methods. Please do not send any cheques to IStructE headquarters.
 Piles and Embedded Walls – Design and Construction
The Speakers
Mahee Maheetharan has worked for Atkins since May 1990, following the completion of his PhD research in Soil Mechanics at Cambridge University. He is currently a Technical Director within the Infrastructure Practice. Mahee is a Chartered Civil Engineer and a Fellow of the ICE, London. Mahee has gained 28 years' experience in design, analysis and design management of underground station boxes, geotechnical structures and deep foundations including modelling of soil-structure interaction with Finite Element techniques. Recent experience includes the design management of underground station boxes for mass transit railway systems for Gautrain project in South Africa, Lead Geotechnical Engineer for Tottenham Road Station Box design for Crossrail project and Lead Geo-Structural Engineer for Bond Street Station Upgrade project for LU. Mahee is a UK Registered Ground Engineering Adviser and the recipient of the BGS Medal in 2017 for the Best Paper published in 2016.
Graeme Mitchell is Business Stream Director for the specialist foundation contractor Cementation Skanska and responsible for the delivery of regional projects in the south of the UK. Working in geotechnical contracting for over 20 years has given Graeme a broad background in various geotechnical techniques. His project experience includes a number of major projects including the Jubilee Line Extension, Copenhagen Metro, Channel Tunnel Rail Link and more recently Crossrail. Graeme also has extensive experience of delivering foundation solutions for regional projects in many sectors including infrastructure, commercial and residential developments.
Paul Nowak has worked for Atkins Ground Engineering since 2005. Since graduating from Imperial College London in Geology, he now stands as a Chartered Engineer with the ICE and a Chartered Geologist with the BGS. Paul has gained over 40 years of experience in the infrastructure design and construction disciplines with designers and contractors, both in the UK and internationally. He has acted as the lead engineer, project manager and discipline lead for major transportation, energy, and building projects such as Dubai Metro, M25 Widening DBFO, Heathrow Terminal 5, the TCO Future Growth Project in Kazakhstan, and more recently the A14 Improvement scheme in Cambridgeshire. He is an Atkins Fellow and senior assessor for Chartered Geologists.
Chris Robinson has worked for Cementation Skanska since 2006 and is currently their Design Manager. Chris is a geotechnical engineer, Chartered Civil Engineer and Fellow of the Institution of Civil Engineers. With over 21 years' experience, gained principally in the design and construction of piled foundations and deep basements, his experience covers a wide array of projects across the UK
When & Where

University of Surrey, Lecture Theatre Building
388 Stag Hill, Guildford GU2 7XH Stag Hill
Lecture Theatre M
GU2 7XH Guildford
United Kingdom


Thursday, 5 April 2018 from 10:00 to 15:30 (BST)
Add to my calendar