Description
Cure Pain: CPD Workshop [West Yorkshire]: We are delighted to invite you to our 1 day Introduction on how to help your clients Recover from Chronic Pain. (Limited places) Certificate of attendance will be issued on completion.
Click the tickets button on the top right to see the price and book your place. Please see the full details of the course below.


Permanent recovery from chronic pain often escape the sufferer for two main reasons:
1. The root causes of the pain are not always adequately identified.
2. Current medical approaches are not in line with the latest research and therefore focuses on the symptoms and therefore management, rather than recovery, yet more often than not recovery is actually possible no matter how longlasting or severe the pain condition.


This course gives you PROVEN strategies and understanding to:
• Begin to learn how to successfully identify the underlying causes of your client's pain.
• Explain why so often there are anomalies between the way your clients present and their diagnosis
• Facilitate your clients' initial steps towards their recovery
• Boost you client outcomes and significantly increase the long-lasting effects of their recovery.


Your learning outcomes for this training are:
1. Understand the basics of an educational and self-empowering treatment approach based on current pain science and the latest research which you can begun to implement immediately within your clinical setting.
2. Understand why the SIRPA approach's focus is on recovery, rather than the more acceptable, 'management', approaches for chronic pain and how/why recovery can come about.
3. Why mindfulness and CBT can be so helpful in pain 'management', but are not enough for complete pain recovery
4. How the understanding based on the evidence base related to chronic pain can help you offer more significant help for clients fed up with only being able to 'manage' their pain.
5. SIRPA's 4 Crucial Treatment Principles for recovery from chronic pain. These building blocks are essential for long-lasting transformation.
6. Understand a number of different recovery strategies and how their effective use can improve your success rates.
7. Understand the fundamentals of the evidence behind the SIRPA approach which can not only result in life-changing results for your clients, but which can provide personal transformation as well.
8. Understand how lifestyle, beliefs and past experiences sustain chronic pain, often unconsciously sabotaging a client's recovery.
9. Keys to assist sufferers in their transformation post-therapy.


Other focuses for the day:
• How to avoid the typical mistakes made in treating Chronic Pain.
• How to help clients with past traumas without triggering overwhelming negative emotions which could prevent their recovery.
• How to boost your own health and well-being.


This course is for Professionals...
This course is designed for professionals who are frustrated by the inconsistences in their patients' diagnoses, who want to continue their professional development, and learn about an effective pain recovery approach.
The understanding and strategies you will learn in this workshop are integrative, and already being used around the world by health professionals including; Doctors, chiropractors, physiotherapists, complementary health professionals, coaches, and other therapists who care about not just managing the pain felt by their clients, but supporting them to recover. Previous attendees have attended SIRPA courses, from as far afield as Tazmania, California and Europe. Many therapists, health professionals and coaches who have been through this course in the past have found it transformational in their work and in their own personal development. You can read some of their testimonials below.
N.B. A CPD certificate will be issued on the day.
"I've had a few insights into my own inner turmoil through this journey and many more things to get my head around. Without a shadow of doubt I feel 100% better than I ever thought I would through changing how I think and approach daily life." Jane (patient)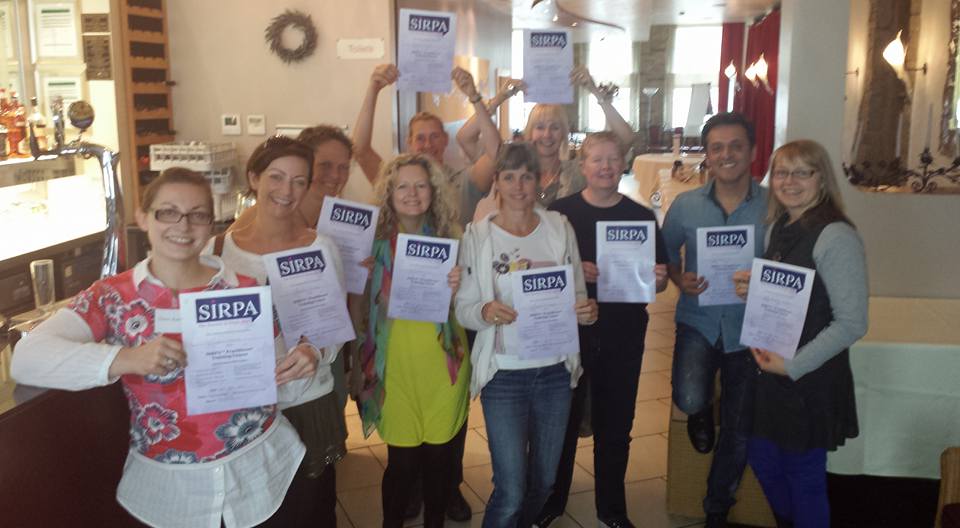 4 Noted Benefits of Using the SIRPA Approach
The following benefits have been gathered from both the sufferers and professionals who have used the SIRPA approach as a model for helping clients:
Health and fitness. The SIRPA Approach helps restore the body to function as intended. Unresolved and avoided emotional stress and anxiety messes up the nervous system and exacerbates pain. By using the SIRPA treatment principles regularly, individuals can not only achieve pain resolution, but heightened emotional well-being, a higher level of energy, improved stress resilience and greater life satisfaction. A sufferer who recently went through the course wrote the following feedback, "Very good, informative, eye and mind opening. I wish I had known all that 20 years ago. It would have made my life much easier and successful." Also, since pain often affects sleep, improved restful sleep has also been noted among regular users of the SIRPA approach. The SIRPA treatment principles can also be adapted to bring about stress resilience by transforming the neural pathways involved in stress perception.

Personal transformation. The SIRPA Approach takes you and your client to a new, higher level regarding emotional wellbeing, work and relationships. A course attendee shared this testimonial recently. "I reached my goal of reducing my back pain and sciatica so that I could go on a trekking holiday in Morocco this summer. Had a wonderful time with no pain / tiredness at all, despite long days and very hard camping mats for sleeping. I'm so grateful to you and your course." Alison (patient)

Personal Growth, Influence and Recognition. As a therapist in practice, I'm sure many of your clients come to you having received two or even many more therapy interventions in the past. They have come to you to see if you offer anything different and long-lasting from what they have experienced in the past. Mastering The SIRPA Approach sets you apart from the pack by offering your clients a simple system that offers transformation and a longer-lasting effect than they have experienced in the past. This builds credibility, recognition and expands your practice, as a very happy client often tells at least 3 other prospects about his or her experience. Your clients will value and respect you more for your helpful insight and attention to details. All of these benefits come as a result of your desire for personal growth to explore the SIRPA model. "Thank you for your years of hard work in this area. I'm so glad I came across SIRPA at this stage of my career. It's amazing to have clear, scientifically proven answers to my questions about unusual pain behaviour and emotional links." Course Attendee

It saves money and increases practice turn-over. Many sufferers who have gone through the SIRPA programme wished they had attended the course many years ago, because they realise this would have saved them not just a lot of money but also time and a lot of emotional and physical pain. As a therapist in practice, we know that word of mouth is the most effective advertising tool especially for therapists in practice. This can translate to more organic referrals from transformed and happy clients, leading to the increase in your turn-over as a practitioner.


TESTIMONIALS: What Previous Health Professionals have Said:
"I came on your course this weekend just gone and I would just like to say how empowered I now feel as a result. In the 13 years since I qualified as a physiotherapist I have never come away from a course with as much enthusiasm and excitement as I have as a result of your course. I have always shied away from working as an independent practitioner as I haven't ever felt enough enthusiasm for what I do. However, I now feel so strongly about the SIRPA programme, that I have decided that this is now what I feel inspired to do." Harriet Every MCSP
"As a Consultant Psychiatrist I often see clients with 'Stress-Related and Somatoform Disorders'. So many of these individuals turn out to have 'Stress Illness' as described by Georgina. Her SIRPA Training Programme and SIRPA approach to Stress Illness enables Health Professionals to develop the skills to identify this often chronic and disabling condition in their own clients. Georgina really has been instrumental in the positive changing of lives forever." Wayne Kampers MRCPsych
"If you are a practitioner who finds your existing interventions for treating chronic conditions ineffective, then I can't recommend this course highly enough! Truly the future of chronic illness therapy." Andy Smith, Physiotherapist, Sweden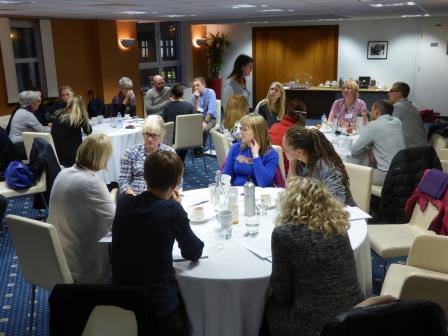 Video Testimonials
Ravi's Recovery Story - Returning to physical activity after debilitating pain
Ali's Recovery Story - Recovery from debilitating sciatica and back pain to boxing in a boxing ring!
How Much Does It Cost?
Total investment for this course is £139.
WHEN: 26th November 2016
TIME: 9am-5pm
WHERE: Waterfront Hotel, Huddersfield Rd, Brighouse
PARKING: Free parking 5 minute walk at Brighouse Train Station or local roads nearby or Pay and Display car park outside the hotel for £6 per day.
LUNCH: Not provided: Refreshments will provided during breaks in the morning and afternoon.
WHAT TO DO NEXT
All you need to do is to register your ticket to attend this event now. The event is expected to be oversubscribed as there are very limited spaces. If you feel this course can help your work or you personally, why don't you give it a try?
IS THIS GOING TO BE A HARD SELL?
We practise authenticity because that is one of our highest values. SIRPA does not use hard selling tactics because manipulation eventually leads to failures and stress at some point down the line.
If you enjoy the day and feel you'd like to integrate this approach into your work, then we can discuss options once you have completed this full day. We just want you to come and enjoy the day, acquire additional helpful skills and make new friends.
Places are on a first-come-served basis due to limited availability. If you are planning to attend please reserve your place now.
I look forward to seeing you there,
Best regards
Georgie Oldfield MCSP
(Physiotherapist & Founder of SIRPA)
Introduction:
Regardless of the therapeutic approach that you adopt, and the quality of work you put in as a therapist, if the treatment of the pain stems from a biomedical model and the psychosocial impacts are not included in your therapy sessions, chances are the positive changes in your clients will be short-lived.
Maybe you already specialise in treating musculoskeletal pain such as sciatica, back pain, fibromyalgia or any other chronic pain disorder, using various modalities, such as: physiotherapy, surgery, CBT, client-centred, psychoanalytic, mindfulness, massage or other therapy techniques. This course aims to enhance your practice by providing you with invaluable skills which you can integrate in order to make a positive impact in the lives of your clients, ensuring that their recovery is long-lasting.
The SIRPA approach is based on a psychosocial approach which is aimed at pain resolution. This is because the evidence shows that chronic pain is an emotional experience driven by the emotional brain and the central nervous system and is part of a maladapted fight or flight, or protective, response. Full recovery is therefore possible once this is recognized and the cause identified and addressed, because the process is reversible due to neuroplasticity and using the 'software' of the central nervous system, the mind.
The books on this subject provide an important first step into understanding the concept and approach that the SIRPA approach is based on. It is however challenging as a health professional to fully integrate this work on your own without the support and guidance of specialists in this field.
This one day introductory course will introduce you to this self-empowering and practical approach to pain recovery and provide the first step on your journey to integrating these strategies into your work.