CPD for Safeguarding: Using Islamic theology to combat extremist narratives...
Description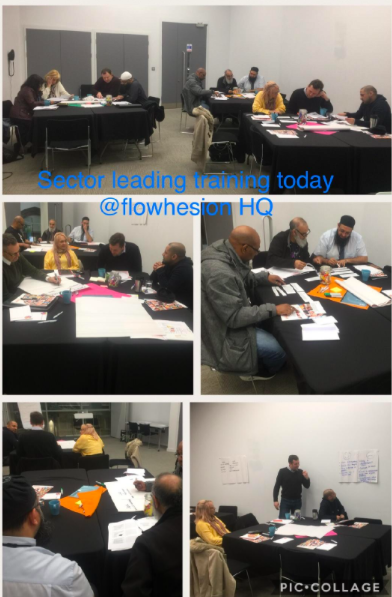 TESTIMONIALS
' I particulary liked the way in which the workshop was pitched for someone like me who had no prior knoweldge of this area. A clear view on when theological counter narratives do work, really useful tips and tools on engaging young people with robust islamic scriptural reasoning, interpretations and Prophetic traditon. Happy i attended!' Ed Miles, Building a stronger Britain Together (BSBT) , programme Manager, Home office.
' Excellent approach to tackling a very difficult subject, potent case studies and very useful discussions' Rob grigorjevs, Policy officer, Burnley Council.
'Good principles tuaght and drew from wider professions and discplines to discuss the threat of extremism'. Rupa-Shah Flynn- Manchester Faith Network.
'Extremely informative and well strucutred with engaging tasks and relevant discussions', Mohammmed Nawaz, Young persons hub, Bradford college
'The live video case studies ensured that theory and toolkits learnt were able to be applied during the day. I particulary enjoyed the live case study format as these are videos that my pupils may be exposed to' Matthew Rogers, Deputy principal and safeguarding Lead, Burnage High school.
'This was by far an extremely interesting day with lots of informative discussion and resources, very well structured'. David Rakhine, Youth Offending Team Manager, Salford City Councl.
'The session was very well structured, with a variety of tasks, resources and material excellent, open discussion and reflections throughout the day alongside live case studies ensured that knowledge and practice was solidified' Iftikhar Ahmed, Community cohesion officer, Stoke-on-trent Council.
'This was a very informative session with a chance to thoroughly review and analyse case studies' Joanne Horton, CT lead Oldham Council.
---
Background
Signs of Islamic Extremism and the process of radicalisation are complex, multi-faceted issues that many within the safeguarding and prevent space well are aware of. However there is a gap in skills and understandings around how 'lay' individuals can utilise islamic scripture, reasoning and Prophetic tradition skillfully to challenge Islamic extremist narrative they may encounter in thier roles. This extremely popular workshop seeks to fill this gap.
facilitator details
The full day training course is led by a qualified Imam (Muslim priest), who has studied at a traditional British Islamic seminary on a seven year qualifying course and is well versed in the Quran (Muslim holy book), Hadeeth (sayings of the Prophet Muahmmed Pbuh) and Islamic jurisprudence. This unprecedented level of access to Islamic knowledge for delegates ensures an unrivalled course delivery experience. He is also a home office registered Intervention Provider thus him to draw on the many cases he has dealt with within the safeguarding and prevent world . Participants can actively ask the most sensitive of questions relating to Islamic extremism and ideologies and engage with discussion safe in the understanding that they are in the hands of an Islamic expert.
Course overview
This advanced practitioners course will give an overview of the complexities of the arabic language, Morphology, Quranic revleation, historical contexts. It will equip participants with robust knowledge, skill sets and toolkits to counter prominent Islamic religious narratives that are available online and in-print to ensure that delegates are equipped to challenge them when the need arises. Through the use of innovative tasks and activities delegates will be able to consolidate thier knowledge in this arena on how to use religious theology to better counter religiuos extremist narratives. Through the use of current online extremist videos as case 'live' studies participants willl be able to put learning in to practice and collectively able to apply the supplied toolkit to relevant scenarios.
Course objectives:
- Able to appreciate the importance of historical context when exploring quranic verse.
-Comprehend the complexity of arabic morphology and meaning of words that can be distorted and used by extremists.
- Appreciate the content of Quranic revelation in the Makkan and Medinian Periods.
-Able to briefly explain verses of the Quran within thier resepctive historical, linguistical contexts that can be misconstrued to support Islamic extremism and radicalisation.
- Have a thorough understanding of the three main approaches islamic extremists use to build their warped narratives.
-Able to apply a tool kit and communication skill set to effectively challenge and counter Islamic extremist narrative and ideology that they may encounter in thier respective roles.
- Able to discuss, explore any issues of concerns or seek clarification from the course faciliator drawing on the facilitators experience as an Imam and Intervention provider.
Who should attend:
-Frontline teaching staff at schools, colleges and Universities.
-Prevent leads, co-ordinators or those working within this arena who wish to develop their skills.
- Staff from research or academia settings
- Prevent staff in the NHS, Probation, Prision service, judicary staff that wish to develop thier knowledge and skills.
- Front line staff in youth work and social work settings who have regular interactions with young people.
Included in your delegate ticket price
- Lunch and refreshments
- Quality delegate resource pack (includes toolkits, templates and ideas).
- Attendance certificate
- Access to Free dial an Imam service (1 year)
---
---
FAQs
Who is the facilitator?
The facilitator is a qualified Imam with significant academic and practical experience within the community cohesion, faith and extremism sector. His pen picture can be read here:
http://flowhesionfoundation.org.uk/about/
I want to book a group of staff from my organisation?
Do contact us on the email below to make arrangements for this.
I want to receive an Invoice and pay by BACS or banks transfer?
This can be arranged, please email below.
What are my transport/parking options for getting to and from the event?
There is parking available at the rear of the venue. The venue where the event is to take place (Astley street) is off a main road (blackburn road). Blackburn road is well serviced by buses.
How can I contact the organiser with any questions?
for any questions or queries email: admin@flowhesionfoundation.org.uk