CPD: Solid Wood Systems

Thursday, 17 March 2016 from 13:00 to 14:00 (GMT)
Event Details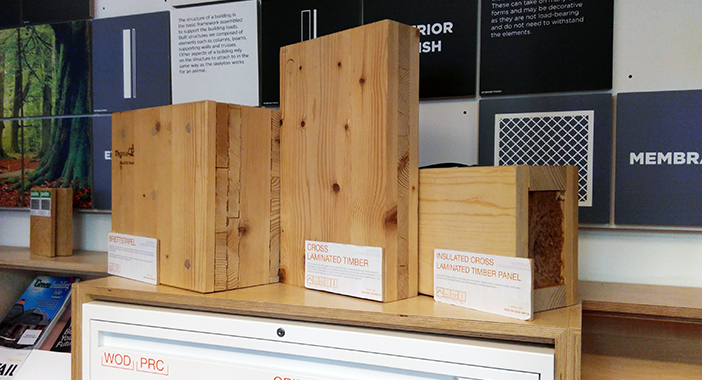 This seminar will discuss the emergence and continuing development of solid timber systems including:
their origins

the design and construction benefits

the manufacturing processes involved

regulatory issues

the markets

ongoing research into future applications. 
Architects and engineers unfamiliar with these products or who would like additional information on their use should attend.
Summary
The past 25 years have witnessed extraordinary advances in timber technology, with a range of solid wood systems emerging that have challenged existing approaches to structural design and building construction. Many of these developments have originated in the countries of central Europe where forest cover is considerably more extensive than in the UK and where the tradition of architects and engineers working closely with carpenters to make best use of locally available material has been maintained despite the post WWII impact of other building technologies.
Several other factors have contributed to a renaissance in the use of wood in architecture: increasing environmental concerns have fostered widespread interest in renewable building materials, whilst overproduction in European forests as well as a desire to find higher value applications for resultant volumes of low quality timber have led to many innovations in wood technology in response to new opportunities in the international marketplace. Solid wood systems, in particular, have led to new thinking in building design and to previously unconsidered applications in architecture and engineering. This has especially been the case in the development of tall residential structures fabricated from solid wood products, but also to their use in new schools, supermarkets, offices and other building types.
Demand for these products led to questions as to whether they could be manufactured in the UK from locally grown timber and resultant research and development carried out at Edinburgh Napier University has focused on three solid wood systems: cross laminated timber ('Cross-Lam' or CLT), dowelled laminated timber (Brettstapel or 'Dowel-Lam') and nailed stacked planks ('Nail-Lam'). The first of these is now close to large scale commercial production in Scotland, whilst the other two have been developed for smaller scale production close to the forest resource.
Peter Wilson:
Peter Wilson is an architect and director of Timber Design Initiatives (TDI) Ltd. The company's raison d'être is to deliver new, Europe-wide approaches to education, innovation and demonstration of best practice in the use of wood in architecture, design and construction through applied research collaborations between academia and industry. A UK registered architect with more than 30 years experience of teaching and research in Higher Education, Peter was, until August 2015, head of Edinburgh Napier University's Wood Studio research centre. Regularly invited to speak at international conferences on all aspects of timber design and construction, he currently leads the development of a pan-European accredited programme of Continuing Professional Education in timber design for construction professionals.
A&DS Material Considerations: A Library of Sustainable Building Materials, in partnership with Forestry Commission Scotland and Wood for Good present this CPD series to coincide with with the Best Use of Timber Awards Exhibition 2015.  

When & Where

A&DS Workshop at The Lighthouse
11 Mitchell Lane
G1 3NU Glasgow
United Kingdom


Thursday, 17 March 2016 from 13:00 to 14:00 (GMT)
Add to my calendar
Organiser
Architecture and Design Scotland (A&DS) is Scotland's champion for excellence in architecture, placemaking and planning. We celebrate good architecture and design and work with a range of communities to shape the places we all value.
We deliver our work through encouraging and inspiring the public to get involved with architecture through exhibitions, events and workshops, we offer informed advice to those responsible for the development of our places and we promote sustainable approaches to building and placemaking.