Description
Wouldn't it be great to meet someone whose insight could become your foresight? This CQ After 5 event aims to introduce people starting or building businesses or working freelance in the creative sector to people who have been there before. A mentor is not a business adviser who can advise you on specific courses of action but someone with knowledge of business and/or experience in your sector. Someone who can act as a sounding board for your ideas and challenges and draw upon their own expertise, wisdom and contacts to help you along.
This evening is an oportunity to meet and chat with potential mentors. If you meet someone you think will be able to help you, you may be able to access funding to cover or contribute towards their fees. The application process will be explained at the event and forms part of the dedicated business support available to eligible entrepreneurs and SMEs through the Big House project (please read details of the programme and eligibility below).
Book your ticket to this free event early. When you click through to register, the form will ask some details about yourself and your business so we can try to match you with potential mentors on the night.
Are you working mainly in the creative or digital industries?
This event is on Wednesday 27th September and is for people mainly working in the creative sector. If you are mainly working in the digital sector, the same event is running for you on Tuesday September 26th and you should book via this link.
It is up to you to choose whether you fall mainly into the digital or the creative sectors and there is obviously overlap between them, but this is a rough guide we will use to invite potential mentors to each evening.
Digital
Film, TV, video, radio; IT, software and computer services, including games and apps
Creative
Crafts, product, graphic and fashion design, photography, music, performing and visual arts.
___________________________________________________
About The Big House Programme and Eligibility
This event is one of our 'CQ After 5' series of networking events that we are running as part of The Big House programme to support creative and digital individuals and SMEs within Nottinghamshire & Derbyshire. If you are an individual, entrepreneur or SME in the creative or digital sector and located in either county, you could be eligible for 12 hours of free business support designed to provide entrepreneurs and SMEs with tailored support in the form of:
 Coaching and one‐to‐one mentoring
 Seminars and workshops
 Networking events
If you've not already done so, we will require you to enrol in The Big House programme at the event.

_____________________________________________________
Are you a potential mentor?
Have you got knowledge and experience that could help someone develop their business in the creative sector? Book your ticket to this event (Potential Mentor ticket) and provide us with your details in advance. This will help us quickly consider any application for fee support arising from the event.
_____________________________________________________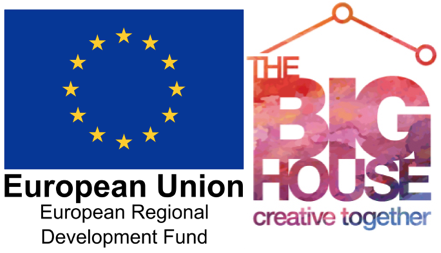 This project is part funded by the European Regional Development Fund 2014 - 2020
NB: We will be documenting the event. If you do not wish to be included in images or videos that may be used later for marketing purposes, please let us know beforehand.