Book your visit to Europe's #1 Crab Museum and a satisfyingly baffling tourist attraction!
About this event
Crab Museum's doors are now open every weekend for it's excitingly-named Testing Phase!
This might sound a bit corporate, but really we just want to ease into things, keep it safe for everyone involved, and collect as much feedback from our guests as possible. So, we're asking visitors to book a loose 1-hour slot for their visits. Don't worry, entry is free and always will be!
This is an exciting opportunity to get a sneak preview of our museum and connect crabs to all sorts of things - from history and philosophy to climate change and jokes about woodlice. Our exhibits explore the forgotten scandal of the Margate Crab, how crabs affect our daily lives, and how the history of crabs and the future of humans are more entangled than you might realise.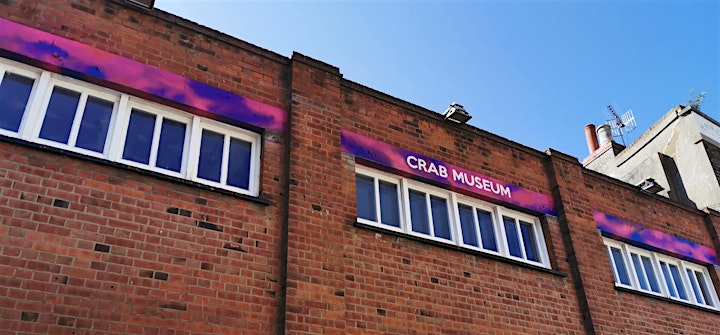 Please bear in mind that we've not totally finished everything yet - we just can't wait any longer! We would love to get your comments and criticisms so we can work on improving our exhibits before our larger launch - but if you'd rather be left alone to just have a look about that's fine too.
Children (and well-behaved dogs) are more than welcome. Please be warned that we are on the 1st floor above the Pie Factory Gallery, and unfortunately we do not currently have any wheelchair access at the moment. We are very sorry about this and we're trying hard to improve this situation. Please let us know if you have any accessibility requirements or will be bringing a buggy - or just ring the bell at the entrance - and we can give you a hand up the stairs as best we can.