Description
Yn rhan o becyn cymorth GwE ar gyfer y rhaglen, bydd yr ysgolion sy'n cael eu derbyn ar y cyfnod cyntaf yn cael diwrnod hyfforddiant i helpu gyflwyno codio yn eu clybiau, a hefyd set o becynnau i gychwyn arni, i'w defnyddio yn ôl yn yr ysgol. Yn rhan o'ch ymrwymiad chi i'r rhaglen, disgwylir i chi ddechrau'r clwb o fewn mis o ddyddiad yr hyfforddiant, a chynnal sesiynau clwb rheolaidd. Bydd y cydlynydd 'Cracio'r Cod' yn ymweld â'ch clwb yn dilyn yr hyfforddiant cychwynnol i gynnig cymorth ychwanegol, ac arfarnu'r rhaglen yn ei chyfanrwydd. Bydd rhagor o adnoddau ar gael i glybiau ar Hwb.
Noder: NI fydd darpariaeth ar gyfer cinio.
Bydd y cwrs trwy gyfrwng y Saesneg.
Sylwch y bydd angen i chi ddod â chliniadur gyda'r feddalwedd Crumble wedi'i osod yn barod ar gyfer yr hyfforddiant.
Gellir ei lawrlwytho yma:
https://redfernelectronics.co.uk/crumble-software/
As part of GwE's support package for the program, schools accepted onto this first phase will receive one day's training to help teach coding in your club as well as a set of starter kits to take back and use in school. As part of your commitment to the program you will be expected to commence the club within a month of attending the training and to hold regular club sessions. The 'Cracking the Code' coordinator will visit your club following the initial training to offer additional support and to evaluate the program as a whole. Additional resources will be made available to active clubs online through Hwb.
Note: lunch will NOT be provided.
This course will be delivered in the medium of English.
Please note that you will need to bring a laptop with the Crumble software installed ready for the training.
It can be downloaded here:
https://redfernelectronics.co.uk/crumble-software/
Mae parcio yn yr ysgol yn gyfyngedig. Mae parcio ychwanegol ar gael yn y llyfrgell, côd post

LL11 6PE.
Parking at the school is limited. Additional parking is available at the library, postcode
LL11 6PE.
Amlinelliad o'r cwrs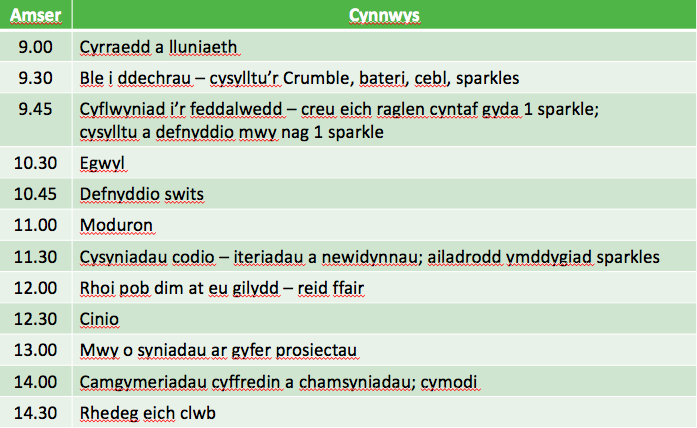 Course outline