Description
This workshop is hosted by the D2N2 Growth Hub in partnership with Dispace and is part-funded by the European Regional Development Fund.
The classic SME challenge is that you spend more time working in your business than on it!
This workshop is designed to help your business become more productive by taking you on a whistlestop tour of the best cloud tools and services that reduce your admin, increase your performance and get you ahead of the competition.
From increasing sales to helping you get paid, from developing new products to running team projects to make sure you deliver on time, we'll show you the productivity benefits of using all the great stuff that lives in the cloud, show you what it can do and what you get for free, and help you create a tailored list of tools you can implement to improve the way you operate and focus on doing what you do best.
---
Agenda:
9:00 – 9:20 Registration and networking
9:20 – 9:30 Introduction and welcome to the D2N2 Growth Hub
9:30 – 12:30 Workshop :
UK SME productivity challenge and how cloud tools can help solve that challenge
Tools focus: what's out there – for FREE - and how it can help your business
Accounting and finance products
CRM and marketing
Product development
Project management and collaboration
Hooking your services together
Action plan building: focus on your business needs and providing a tailored tools plan
12:30 – 1:30 Lunch, Networking and Finish
---
Who should attend?
This workshop is open to small and medium-sized businesses based in Derby, Derbyshire, Nottingham and Nottinghamshire. As places are limited to 25 delegates, only one representative per business may attend.
---
About the Speakers:
Ross Cox and Paul Gordon are co-founders of Dispace, an online platform supporting a modern, mobile, technology led way of working. Dispace provides flexible work and meeting space, a cloud tools productivity dashboard and a work ecosystem for finding and running your work. Dispace is free to join and has stacks of benefits and events for freelancers and small businesses.
---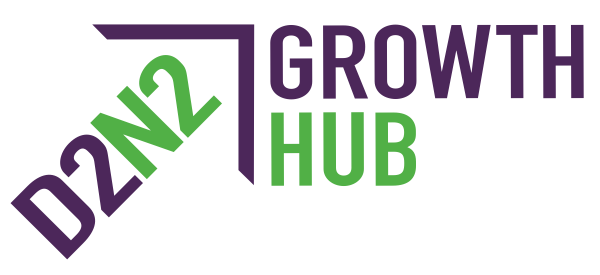 About the D2N2 Growth Hub:
The D2N2 Growth Hub aims to power up your business by providing signposting, information and contacts for business services across Derby, Derbyshire, Nottingham and Nottinghamshire. Our priority is to engage with business service providers (both public and private) directly for you to help small, medium and fully established sized businesses to grow and prosper.
Find out more on the D2N2 website.
---

Eligibility:
In regulation with ERDF, the D2N2 Growth Hub can support your business if:
The business has fewer than 250 employees.

The business is based in either Nottinghamshire or Derbyshire.

Not more than 25% of the business is owned by an organisation that in itself is not an SME.

Annual turnover is below £45 million.
For new business enquiries who have not currently engaged with the D2N2 Growth Hub, we require that an enrolment and record of support form is completed and signed. This is used as a record of support for auditing purposes as our project is fully funded under ERDF.


Please note to be eligible for the D2N2 Growth Hub programme to gain business support, your business must be at least incorporated or trading.