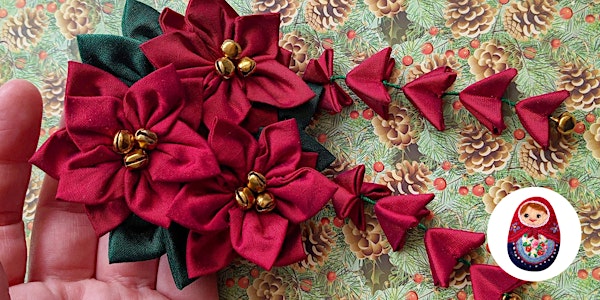 Craft workshop - Kanzashi Christmas Flowers from scrap fabric
Refund policy
Contact the organiser to request a refund.
Eventbrite's fee is nonrefundable.
Online sewing craft workshop.
About this event
International times for this workshop
• 1530 3:30pm GMT / UTC
• 1030 10:30am EST
• 0730 7:30am PST
Learn simple Japanese fabric flower making techniques in a 2 hr online Zoom workshop with Jessica Corlett. Use whatever fabric scraps you have to create festive hair accessories and other Christmas decorations for your home. Its origami done with fabric!
Traditionally Kanzashi where made from tiny squares of left-over kimono silk. They are worn as hair ornaments with kimono and yukata at Japanese festivals. The flowers themselves are super simple to make and only require a little beginner level hand sewing. Even a novice can create attractive results first time.
You can make kanzashi from any leftover thin fabric you have lying around in your house. You only need small pieces. It could be some scraps of silk, cotton or an old t-shirt.
The Teacher
Jessica Corlett is a full time professional Arts & Events Coordinator based in London, UK. She has worked in film and television for the likes of Disney, Warner Bros and the BBC as well as for theatre and the UK fashion industry. Her specialism is textile and fashion workshops and events with historical and cute concepts. She manages her small buisness Flapjac Fashion-craft Events.
Jessica also runs the Otome Sewing Bee which is a J-fashion and pretty vintage crafts and dressmaking club.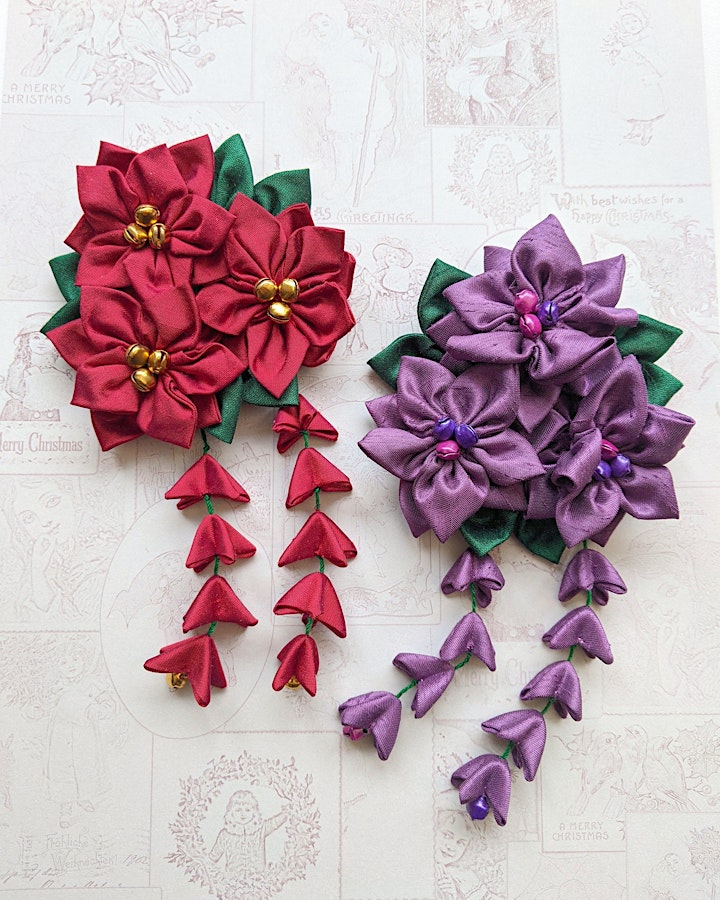 Materials needed for the main part of the workshop:
• Fabric scraps. Thin fabric works best. Silks, cotton and synthetics are all good options.
• Needle and thread
• Beads, buttons or bells
• Scissors
• Ruler
Additional optional materials:
• Felt (or other non-fraying fabric) to finish the back of the design
• Cotton string, cord, or embroidery thread for the dangling flower stem
• Brooch back / hair clips / hairband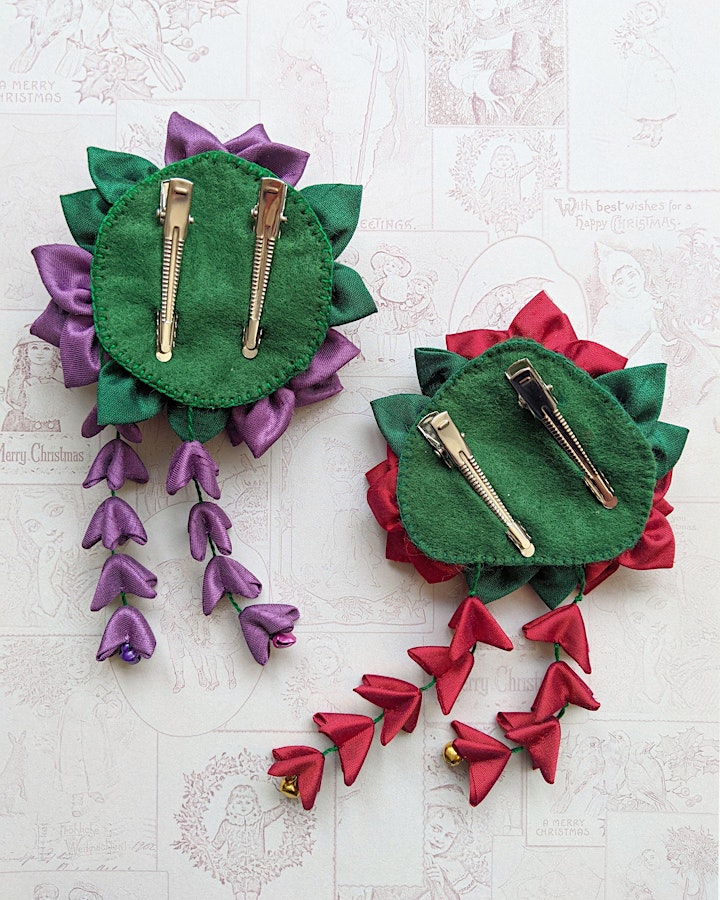 Difficulty: Suitable for novice crafters. You should have a small amount of basic hand sewing experience. The way we teach our workshops is by breaking down every craft project into easy manageable steps. This means that even a beginner crafter can easily create something that looks very impressive that they can get great pleasure from.
Age range: This workshop is for adults, teens and children with basic hand sewing skills. The workshop is delivered at adult level so younger children may need some adult support to participate. I have had children as young as 7 (with sewing skills) do this workshop with their parents and have a great time. I always encourage artistic kids to stretch themselves by joining an 'all ages' workshop.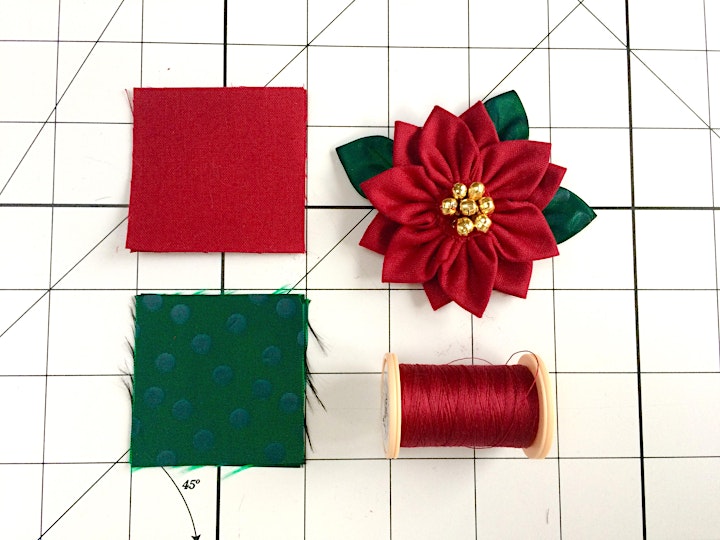 During the workshop you will learn all the instructions and techniques needed to complete your own designs.
• 2 traditional and simple kanzashi techniques
• How to use the techniques learnt to make other christmas ornaments and decorations
• How to make kanzashi with different fabrics
• How to assemble a hair ornament
• Finishing the back of your design
Workshop attendees will receive a printable pdf instruction sheet that you can refer to during and after the workshop has finished.
Jessica will also share extra tips for sourcing materials on a budget and recommended reading if you want inspiration to learn more Japanese techniques.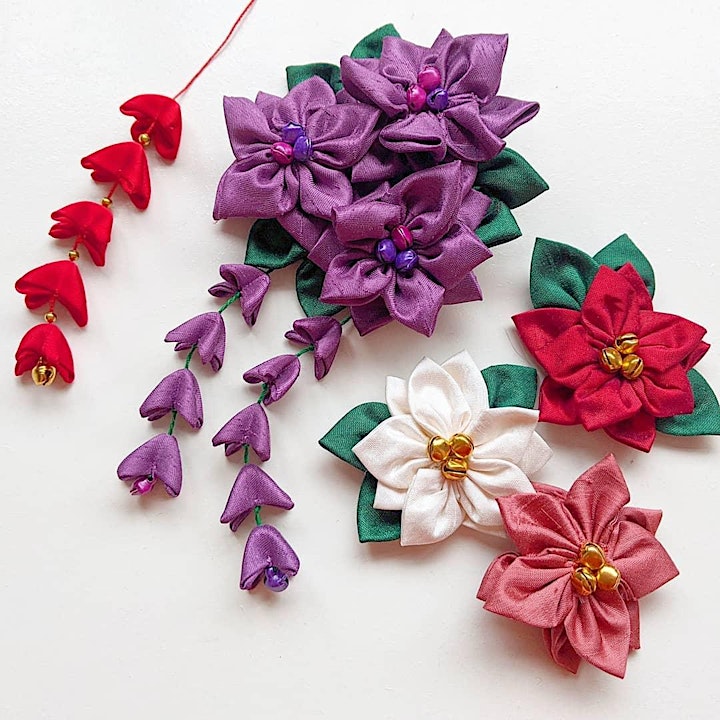 How to Zoom!
If you are new to using Zoom for video chats and meetings you can find out about how Zoom works and how to join a Zoom meeting here.
If you are on a mobile or tablet you will need to download the zoom app.
If you are on a laptop you can join the meeting through your browser using the event link.
Top Tips for fabric and craft supplies.
We are big on repurposing and working with materials you already have. Especially because Covid-19 might make it hard for you to get to the shops. However, if you want some pointers, below are some recommended purchases for this workshop that prove that crafting doesn't need to be an expensive hobby.
Fabric can be whatever you already have in your home. Kanzashi flowers are traditionally supposed to be made from left over scraps of fabric. Any thin fabric will do. We will be cutting lots of 2 inch squares as the first step of the workshop so you scraps only need to be tiny. Even an old bed sheet or pillowcase will do for this workshop. I have made beautiful kanzashi ornaments from white cotton sheets and left over pearly white shirt buttons. Perfect for a snow white winter wonderland arrangement.
Beads and buttons are something you might already have some of in your craft staff. A good trick for finding beads very cheaply is to look for beaded jewellery and eveningwear in charity or thrift shops that can be taken apart.
Felt is an easy to find craft material available in every craft shop and online. Remember that old real wool jumpers can be hot washed to make fantastic felt. Also look out for felt berets in charity shops that can be cut up for small pieces of felt.
AMAZON UK
Single sheets of felt for pocket money prices.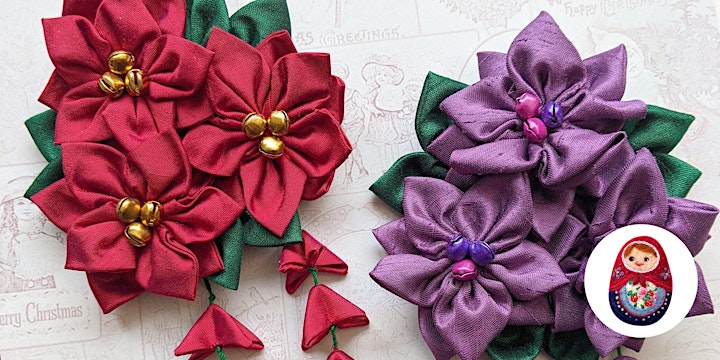 Jessica's workshops are sociable occasions with lots of laughs and stories shared. Shy people and chatty people are all welcome. Our regulars attendees come the first time for the crafts… and come back the second time for the social experience.
Don't forget to come to this workshop armed with tea and biscuits. And if you want to come in your pyjamas go for it! It's an online event after all.
See you there!