Sales Have Ended
Ticket sales have ended
Thank you! Look forward to seeing you on the 25th of March 2017
Sales Have Ended
Ticket sales have ended
Thank you! Look forward to seeing you on the 25th of March 2017
Description
Objective: Create, refine and take the risk out of your new business idea
Introduction: How can I get a good business idea, and then turn it into a real business opportunity that could work? How do I test it for feasibility, and build a business model around this opportunity? What are the inherent risks? How do I discover them and prioritise my resources and efforts to removing these risks? What corporate habits must I unlearn and what new skills and routines should I develop if I want to be a really successful entrepreneur? These are very important questions, and totally unique to you.
Entrepreneurship is risky, we know that, but the pay-offs are great and go beyond money.[1] Research shows that these are the challenges that entrepreneurs face[2]. Prioritising the risks incorrectly mean losses of incorrect investment decision resulting in losses of tens of thousands of pounds. These are exactly the questions our one-day Bootcamp helps you answer. Using real-life examples, proven research methods, interactive exercises and design thinking principles you will learn the techniques to overcome these challenges.
By choosing the best faculty and instruction in the business that money can buy, and targeted exclusively for working professionals in London, the 1-day Bootcamp (and the follow on 8-week workshop) has been designed to get you started, provide a balanced view of the pros and cons and ensure that your investment in time saves you thousands of pounds in the future, for working professionals, our faculty has helped grow thousands of businesses at King's college London, London Business School, and UCL.
Entrepreneurship is not for everyone. You owe it yourself to get a balanced picture to see if you are at the right time and place to pursue this dream. A decision to start your business could be one of the most significant one in your life (at a minimum of 2 years of effort and personal investment, should you to choose to pursue!). With so much at stake, why would not you get the best advice you can afford to make this decision?
Our 1- day hands-on Bootcamp will cover:
Sources of inspiration: How to generate great ideas?
Idea as a hypothesis: How to document the assumptions in your idea?
De-risking: How to identify the biggest risks & decide on experiments on eliminating them
Thinking like an investor: So where would you put your resources to develop the idea further.
Entrepreneurial experiences: Q&A and with real entrepreneurs to provide a balanced view
New routines: Entrepreneurial Habits to develop, and corporate habits to unlearn
Getting out of the building: Ideas are cheap, how do you take the idea forward?


Entrepreneurs aren't born, they are made.
We will guide you through the steps to take, giving you the best tools from Harvard, Stanford and London Business School. We will reveal techniques used by successful entrepreneurs, and give you the experience that we give our entrepreneurs from the Entrepreneurial University of the Year, London South Bank University.
See how we have helped hundreds of businesses grow here: www.changeschool.org/entrepreneurship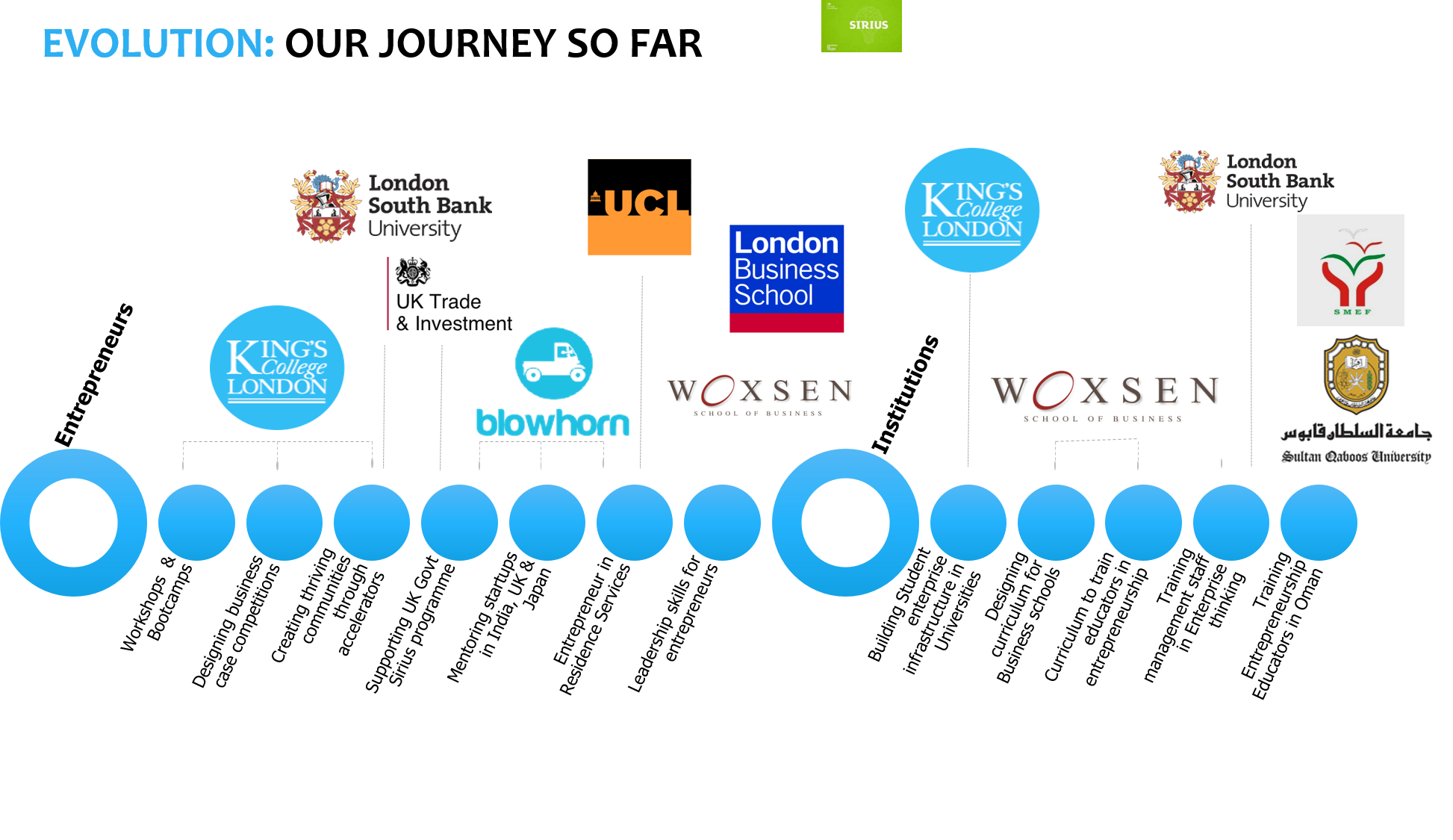 Teaching Faculty
Taught by instructors who have supported 111 start-ups from students and faculty at King's College London, University College London, international business schools, and London South Bank University, named Entrepreneurial University of the Year 2016.
Teaching Methods:
Entrepreneurship: Start-up Bootcamp for the Budding Entrepreneur includes the best tools on the planet from leading thinkers and entrepreneurs to complete your analysis, satisfy investors, and create a new business.
The weekend includes a Business Start-up Simulation Game in which you will role play as a business owner and make decisions to run your own company in a simulated environment. This will give you a very practical understanding of the challenges of running a business.
Academic Requirements
Our entrepreneurship course is open to graduates and non-graduates. Significant work experience will help. Students must also meet the minimum English language requirements. Non-native English speakers who have not completed, or are not currently studying for, a university degree taught in English are required to have sufficient competence in the English language.