| | |
| --- | --- |
| Craftivism Workshop: Wear your Heart on your Sleeve | |
Event Details
Join Founder of Craftivist Collective, Sarah Corbett and 10 fellow craftivists to learn more about craftivism as a form of 'gentle protest' and take part in a craftivism project in this lovely safe space.
At the end of the year world leaders will meet in Paris for the UN climate talks (often referred to as 'COP21 Paris') to sign new agreements on climate change and sustainable development, agreements that will determine what kind of future we are shaping for our children. We need our leaders to show vision and ambition to create a better future – and that's where our new global Heart on your Sleeve campaign comes in.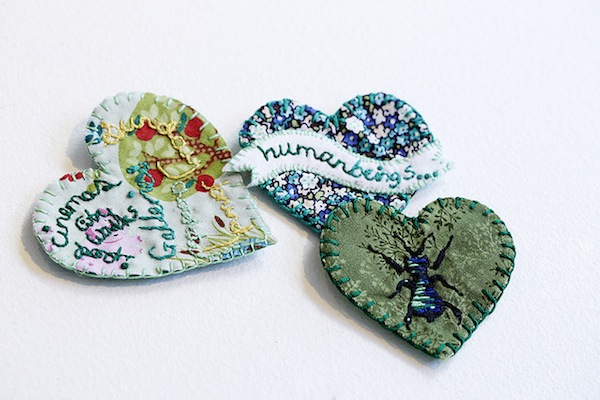 The Climate Coalition, the UK's largest group of people dedicated to action on climate change, launched their "For The Love Of Climate" campaign this year. They have 11million supporters through a network of over 100 organisations from environmental and development charities to unions, faith, community and women's groups. We thought craftivists and craft lovers around the world (not just the UK) would be a good addition and Clare Fussell, Campaigns Manager at The Climate Coalition, agrees:
"UNLESS WORLD LEADERS KNOW THAT PEOPLE FROM ACROSS THE WORLD WITH DIFFERENT PASSIONS, HOBBIES AND BACKGROUNDS ALL CARE, THEY WON'T HAVE THE MANDATE TO TAKE STRONG ACTION ON CLIMATE CHANGE. WE ALL NEED TO BE CLIMATE CHANGEMAKERS."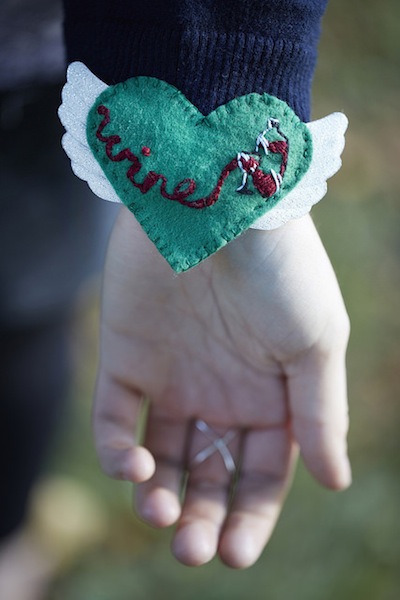 Therefore… for the love of our world 
Let's re-imagine how we can live and help world leaders recreate our world. Join us. To make and wear your green handmade heart on your sleeve is a small, positive, beautiful and therefore influential and powerful act for at least three reasons:
1. It's personal. Craftivism is a thoughtful approach to activism: it's about slowing down, using the comfort of craft to really grapple with world issues and think critically about how we can help solve them, from changing our habits and consumer choices to adding our voice to campaigners before the Paris UN climate talks.
2. Craft can be a catalyst for open, honest and friendly discussion. By stitching what you love on your heart banner (bluebells, bumblebees or even beautiful buttons!) you are showing people that you are genuinely concerned about our world, not ignoring the problem. Your craftivism piece can be a powerful icebreaker and conversation starter with people on and offline to encourage others to join this vital campaign.
3. Craftivists unite. Make your hearts as attractive and intriguing as possible, wear them every day, share them online with us. Let's create an aspirational vision of our world to excite, empower and encourage others to pick up their craft tools and join us. Seeing your heart on your sleeve alongside so many others is inspiring and empowering.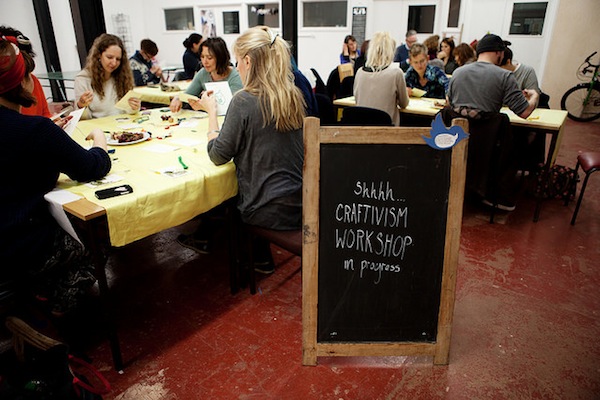 So… come along!:) We hope to see you there
All materials provided and all abilities welcome. We will have a stall of our other products and tools on the night for you to look at and buy from too.  
Craftivist Collective is a social enterprise. Your support helps us to continue to inspire and empower you and others to be the change you wish to see in the world. 
When & Where

TRAID Shepherds Bush
154 Uxbridge Road
Shepherds Bush
W12 8AA. London
United Kingdom


Organiser
We are a social enterprise that believe craft can be a tool for gentle activism
aimed at influencing long-term change
.
By using the quiet, reflective time it gives us to explore global issues and how they affect the world around us, we can create something beautiful, considered, positive and poignant.
We provide kits, tools and services for individuals and organisations around the world to do effect craftivism. 
Join us, together we can change our world, one stitch at a time…