Description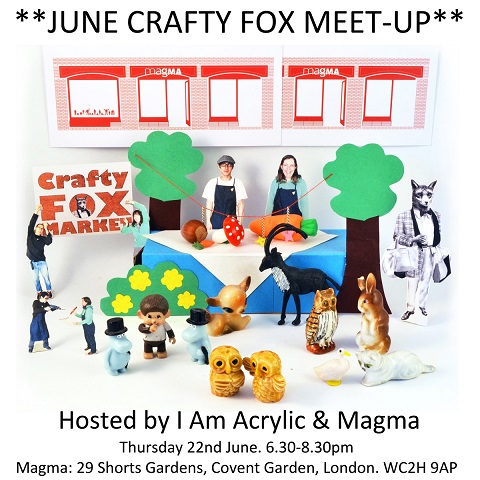 An occasional meet up for the Crafty Fox Market community of designers/makers, artists and friends - it's an open invitation so all are welcome!
The aim is to provide an opportunity for our community to connect with one another, make new friends and exchange ideas over a drink.
Although it feels like yesterday, it's been almost 2 years since we last held a gathering at Magma. Like the last one, this one will be hosted by Ruth and Brendan from I Am Acrylic, collaborating again with their lovely stockist Magma, to bring you an evening of chatting, crafting, drinking and even a bit of late night shopping!
Come and join Ruth & Brendan and the owners & buyers of Magma on Thursday 22nd June at Magma's flagship store on Shorts Gardens, Covent Garden from 6.30-8.30pm. We will continue the gathering afterwards at The Sun Pub on Drury Lane.
There will be a Name-Badge-Making Station so you can get your craft on whilst mingling and meeting other makers/designers.
Last time, I Am Acrylic got together with the buyers at Magma to bring you a handy printout that gives you advice when trying to sell your stuff to shops, which will be available this time around too.
A small amount of drinks will be available, but if you pass a shop, please do bring a bottle as well so the 'bar' doesn't run dry!