Description
Three days hands-on operative surgery on fresh human cadaveric material with only one dissecting delegate per operating side.
Refreshments and lunches included.
21 BAOMS accredited CPD hours
EACMFS Rolling Programme
Event Details
This three day fresh cadaver workshop covers the whole range of cranio-maxillofacial procedures with an UK based faculty that brings together expertise from maxillofacial, ophthalmic and ENT surgery and neurosurgery.
The short interactive lectures focus on current surgical techniques and outline the modern management of maxillofacial pathology in a multidisciplinary setting. The operative surgery practice on fresh cadaveric material provides a realistic setting with close supervision with only two dissecting participants per operating table (one on each side)
The course is directed to maxillofacial surgery trainees during their central period of specialist surgical training.
Objectives
To present a balanced multidisciplinary approach to the management of cranio-maxillofacial conditions to develop surgical skills necessary for interventions relevant to the cranio-maxillofacial area through to cadaveric operative surgery practice
Day 1 Lectures:
Orbital anatomy Approaches to the orbit and zygomatic area Dermal fillers and the use of Botulinum toxin Upper and lower blepharoplasty and lateral canthotomy Facial skin surgery
Operative surgery practice:
Subcilliary, transconjunctival and upper blepharoplasy approach Lateral Canthotomy, Cantholysis Orbital floor, inferior orbital rim and fronto-zygomatic area reconstruction Intraoral and Gillies' approach to the zygomatic bone Dermal fillers and botulinum toxin A infiltration Upper and lower blepharoplasty Facial skin flaps Wedge excision, Karapandjic and Abbe flaps
Day 2 Lectures:
Surgical approaches for craniofacial trauma Overview of orthognathic surgical procedures
Operative surgery practice:
Coronal and pericranial flap Anterior craniotomy and cranialisation of the frontal sinus Harvesting calvarial bone grafts Genioplasties Le Fort I Osteotomy Forward sliding saggital split mandibular osteotomy
Day 3 Lectures:
Temporomandibular Joint Surgery Surgical approaches to the fractured mandibular condyle Salivary glands surgical procedures
Operative surgery practice:
TMJ arthrocentesis and arthroscopy Eminectomy and high condylar shave Surgical approaches to the fractured mandibular condyle Removal of sublingual and submandibular salivary glands Superficial parotidectomy and principles of extracapsular dissection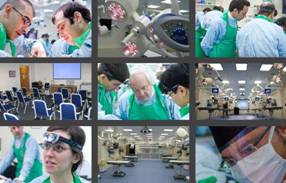 Date and Time
Location
UHCW NHS Trust Coventry UK
West Midlands Surgical Training Centre UHCW NHS Trust, Coventry, CV2 2DX
Clifford Bridge Road
Coventry
CV2 2DX
United Kingdom