Sales Have Ended
Registrations are closed
Ticket sales have ended for this event, please email rachel@artwithheart.org.uk to see if there are any spots available.
Sales Have Ended
Registrations are closed
Ticket sales have ended for this event, please email rachel@artwithheart.org.uk to see if there are any spots available.
A Crash Course in Fundraising led by Art with Heart's lead fundraiser Sarah Emmott.
About this event
We're asked about fundraising tips a lot, so we've created this crash course to arts funding! Sarah is Art with Heart's lead fundraiser and has been arts fundraising for over a decade. She has raised significant funds via the different avenues she will be covering in this workshop.
This 2 hour workshop will cover:
Trusts and Foundations
Building your own crib sheet
Arts Council Project Grants
Crowdfunding
This workshop will be an overview of these four ways of funding with practical skills that you can immediately apply.
"Art with Heart made the world and language of writing a good bid more personable. After the session I felt a lot more confident and acquired new knowledge and skills to help me going into the future." - Parvez Qadir, workshop attendee
Who is it for?
Whether you're a producer, artist or project manager, this workshop is ideal for people who need to fundraise and want to hone their skills before starting!
It is for people who have a creative project in mind and want support in raising the money to make it happen. Whether you're a newcomer or have had a successful project in the past, it's a good time to learn new skills, and polish the ones you have.
How will it run?
This will be run on Zoom . We realise that people's screen time has increased rapidly so we will be giving specific time slots for each of the 4 types of fundraising covered so you can can just tune into the sections you want to focus on.
We're also aware that looking at presentations on Zoom is more difficult to follow, so Sarah will only be sharing her screen when necessarily. You will also be able to turn your camera off if you want or need to.
Sarah is an open, honest facilitator who will give you practical tips, help build your confidence and use the time as effectively as possible - the session will not be recorded so we can all ask the questions we need to in order to make the most of the session.
"Sarah was really lovely and welcoming! I got a chance to ask loads of questions I've felt previously too stupid to ask, with no judgement whatsoever." - Emily Brown, workshop attendee
How much does it cost?
We understand that money is tight, especially for freelancers, and we'll be upfront and say that this workshop is not funded and so we are running it as a way to raise funds for our projects. With that in mind we'll be running a Pay What You Can (PWYC) system with the lowest payment being £5 to attend. After the workshop you decide how much you would like to pay for the workshop and then transfer it over to us via PayPal. If you do not have PayPal please get in touch.
Access Information:
BSL Interpretation: BSL interpretation will be available, however we ask that you contact us to confirm if you need it so that we can send you additional information in advance.
Financial Support: If paying a minimum of £5 for the workshop is a barrier to you joining, please get in touch with Megan via hello@artwithheart.org.uk
Booking support: If you need help booking your place, you can email rachel@artwithheart.org.uk and she will book a place for you.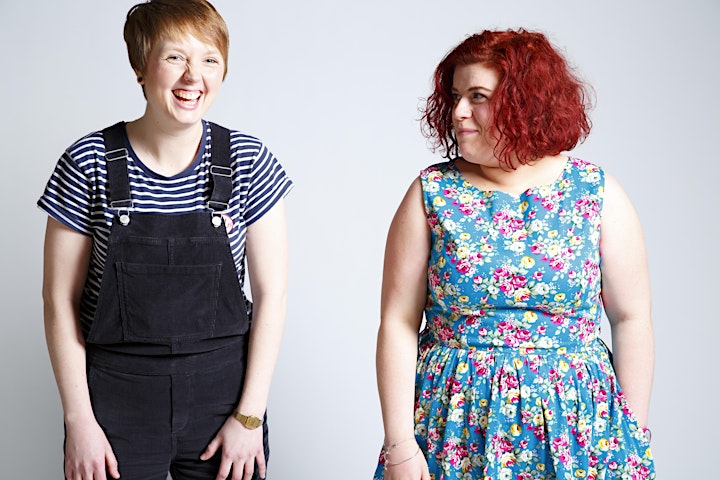 ABOUT ART WITH HEART
Led by Sarah Emmott and Rachel Moorhouse, Art with Heart are an award-winning Salford based company who design and deliver performances, workshops and people-led creative projects for community groups, arts organisations and schools across the UK.
We believe in the power of theatre and art to change lives for the better, and our mission is pretty simple – to make it accessible, representative and get people to give it try. Working with people on their terms, we use the power of theatre and art to excite and engage our audiences, to have open conversations and give people the tools to unlock their own potential, take a stand, and make real changes – for themselves, for their communities and for our wider society.
Our work includes: award winning one-woman show Declaration, which explored Sarah Emmott's experience of seeking diagnosis for adult ADHD, for which we received the 'ADHD Foundation Partnership Award' in recognition of our work in raising public awareness. As well as award-winning coming of age play Secret Diaries, 100 Deeds; an interactive exhibition addressing gender equality in the 21st century and Stan, a play for children which explores communication, friendship, identity, the family unit… and dinosaurs.