Cream o' the Croft

Friday, 26 June 2015 at 15:00

-

Sunday, 28 June 2015 at 16:00 (BST)
Event Details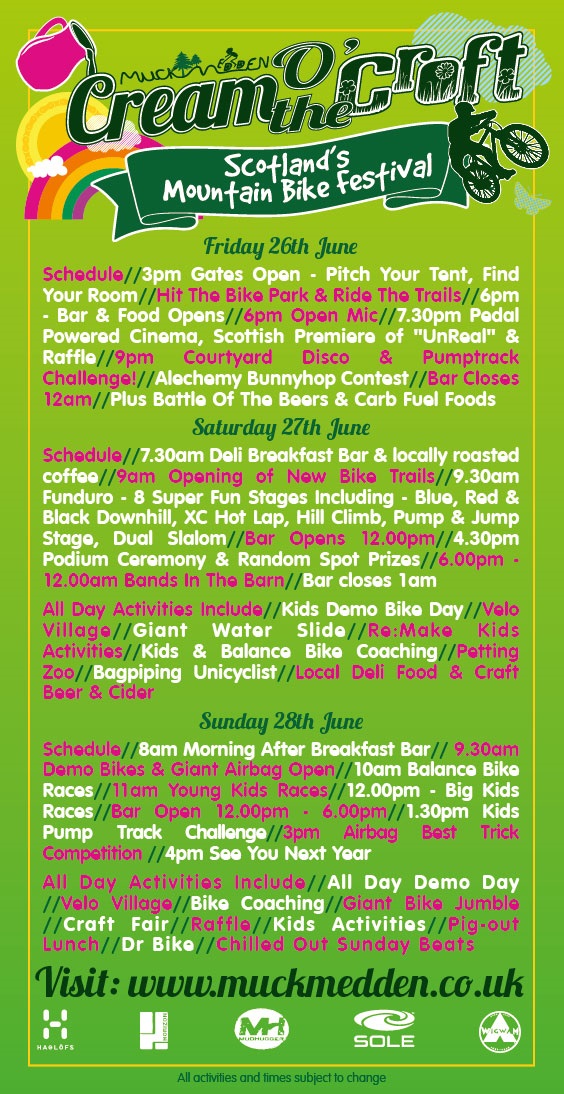 What is Cream o' the Croft? 
Take an award-winning Campsite and Hostel that boasts miles of top-drawer mountain bike trails.  Now add super-fun mountain bike races for all ages, perhaps a few live bands, good food and drink and a host of fun activities ranging from a pedal-powered cinema to a giant water slide.  Hey presto, you have Cream o' the Croft - Scotland's Mountain Bike Festival!
Where is it, and when? 
The festival will be held at the award winning green tourism destination Comrie Croft (around an hour's drive from Glasgow and Edinburgh) and will be held from Friday 26th to Sunday 28th June.  Comrie Croft is located just off the A85 between Crieff and Comrie, in Perthshire, Scotland, PH7 4JZ. 
Directions here: http://www.comriecroftbikes.co.uk/the-start/comrie-croft-bikes-location/ 
Who's organising it? 
The festival is a team effort between 3 principle players. The hosts are Comrie Croft and Comrie Croft Bikes and they are in charge of the fantastic venue and trails. The bike racing will be organised by the awesome Muckmedden team, purveyors of the UK's most ridiculously fun mountain bike events, and Hansen's Kitchen are keeping everyone fed and watered with a range of delicious locally-sourced food and drink treats. 

Funduro! 
On Saturday, the main event is a super-fun multi-stage Enduro (let's call it a Fun-duro) for riders aged 14 and over.  Riders will be timed on everything, from Pumptrack to Black Downhill to XC to Dual Slalom to find out who really is "The Cream o' the Croft"!
The Timed Stages 
Stage 1 "Red-Graded XC Hot Lap" -  Rocky, high speed and mostly downhill.  Requires stamina, efficient pedalling and good bike control. 
Stage 2 "Blue Descent"  - Flowy, fast and superb fun!  Keep off those brakes and use the rollers, jumps and berms to gain some free speed.  Don't overcook it though... 
Stage 3 "Hill Climb" - Short, sharp hill climb with some additional features just for a laugh.  It won't be too long or steep enough to spoil your day, but some significant places will be lost or gained here if you're not careful. 
Stage 4 "Red Descent" - Fast, challenging and natural descent which has been extended especially for the Champs to take you right back to the Croft.  If you like roots, rocks, mud and rock slabs you'll love this!  Fortune favours the brave..... 
Stage 5 "Pump & Jump" - Exactly as the name suggests, you will be timed on a certain number of laps of the pumptrack jump line.  It's all roll-able and every time you pedal you'll be hit with a significant time penalty, so you just have to pump it baby! 
Stage 6 "Black Descent" - Not to be taken lightly, this super-tough Black-graded trail is what Comrie Croft riding has always been about - serious gnarl!  If you're a demon descender this is where you claw back some valuable places. 
Stages 7 & 8 "Dual Slalom" - Yeehaa!!  You can't beat some head to head Dual Slalom racing to get that blood pumping!  Line up at the start line with another rider, wait for the countdown and try to beat your opponent to the bottom.  Once you get to the bottom, return to the start and do it all over again on the opposite lane.   
Kid's MTB Races 
On Sunday the SMBC will host several fun MTB races and coaching sessions for kids of all abilities from aged 2.5 to 13 years old. There will be a shorter track for smaller kids and a longer track for the bigger ones and spectator vantage points are fantastic for parents to give the kids the encouragement they need to keep going for another lap.
What tickets do I need to buy? 
There are a number of ticket options available.  You can buy day only tickets, evening only tickets, camping only tickets, weekend festival passes (that include camping) and race tickets.

If you're coming for the full weekend to camp, glamp and soak up the atmosphere you'll want a weekend festival pass for each person in your group. This buys each person a camping and activity wristband valid for all non-competitive entertainment and activities throughout the weekend (exclusions apply). 
There are lots of race categories and accommodation options, so race entry and camping tickets are separate.
If you fancy some mountain bike racing you'll also need to buy a race entry ticket. *Kid's race entries are payable on the day.
Opening times 
Friday 26th June - Gates open at 3pm and festival activities start at 6pm. Please arrive before 11pm.
Saturday 27th June  - Gates open at 7am and race registration (Funduro) opens at 8.30am. 
Sunday 28th June - Gates open at 8am and race registration (SMBC kid's races) opens at 9am. 
Can I bring my dog/cat/budgie? 
Scooby Doo is welcome. Chopper and Fang can come too, so long as they behave themselves. There are sheep and chickens around so as long as they are kept under control all pets are welcome. Please make sure you bring the little plastic baggies to clean up the poop. We won't help you recapture your llama if it escapes though, that's your problem.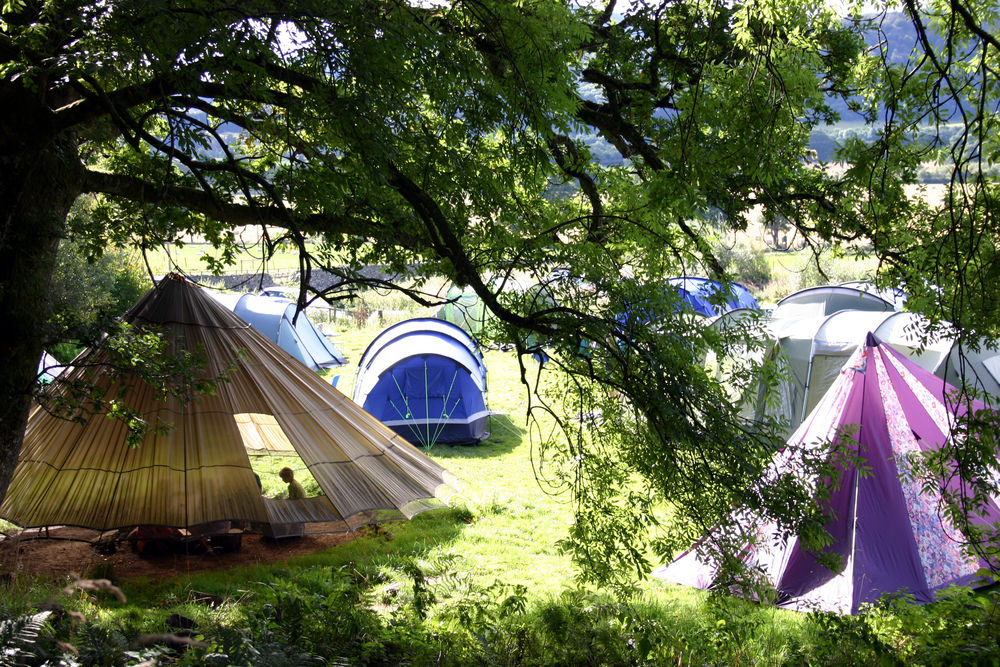 Camping 
We have a large camping area near to the main car park where you can pitch up beside your vehicle and you're welcome to bring your campervan/caravan in here too if you want to pitch up next to your friends.  This is the where to camp if you don't mind a little liveliness! 
We have two quiet camping areas.  The first is located in the bottom corner of the main camping area and you can camp next to your vehicle.  The second quiet area is in The High Meadow, which is located further up the hill, away from the music arena.  You'll have to leave your vehicle at the bottom of the hill if you're camping up there but the views are sublime! 
Campervans & Caravans 
We have an area of hard standing which will allow a decent number of caravans, and campervans, and the camping field is also ok for campervans.
Other accommodation options 
Comrie Croft Hostel is right in the heart of the festival and has several family rooms, plus a whole bunch of Swedish Kata tents available for the weekend. 
Email: info@comriecroft.com to upgrade to something a bit posher.
 Can we have a campfire? 
Not this weekend I'm afraid. We will be having a few communal fire areas but no individual fires will be allowed for safety reasons.  A bigger fire means more fun though, so bring along a guitar and get your ging gang goolies out, just be careful they don't get burnt! 
Toilets and showers 
There will be ample toilets and showers for use over the weekend. There will be portaloos near the camping field, a composting toilet block in the High Meadow, plumbed-in shower block, plus toilets and showers at the normal campsite facilities.
Food and Drink 
One of the attractions at Cream O' the Croft will be the choice of quality food and drink available. Hansen's Kitchen are running the bar and will be serving up all manner of delicious edibles over the course of the three days.
You are welcome to bring along food and drink but only for consumption at your campsite. If you wish to cook anything, it will have to be on a proper camping stove – no barbeques disposable or otherwise, for safety reasons. Be a responsible camper – any rubbish you create, please take it with you and put it in your bin at home!
Cash points & Shops 
There are several cash machines in Crieff (5 miles from the site) and one in Comrie (2 miles).
There is also an on-site shop at Comrie Croft which sells basic supplies, camping spares, juice and sweets etc. The nearest largish shop is the co-op supermarket in Crieff and there are a couple of small grocery stores in Comrie.

 Bike Shop 
Comrie Croft Bikes is on-site, supplying a great selection of parts and accessories, gloves, pads, helmets, new bikes and all the stuff you'd expect from a local bike shop – including repairs if you're stuck!  There will also be a Velo Village at the festival with bike shops, and other bike brands showing and selling their lovely shiny bits too.
First Aid & Insurance 
We have full public liability cover (but all participants take part in races at their own risk) and we have top notch first aid cover for the whole weekend, capable of accessing the trickier to reach parts of the bike trails. 
Prizes 
We have a pile of tremendous prizes to give away over the course of the weekend courtesy of our lovely sponsors, and you don't even need to be fastest to win a prize! We'll be having a random raffle for race entrants after the race and if you're name's called out you've won something nice!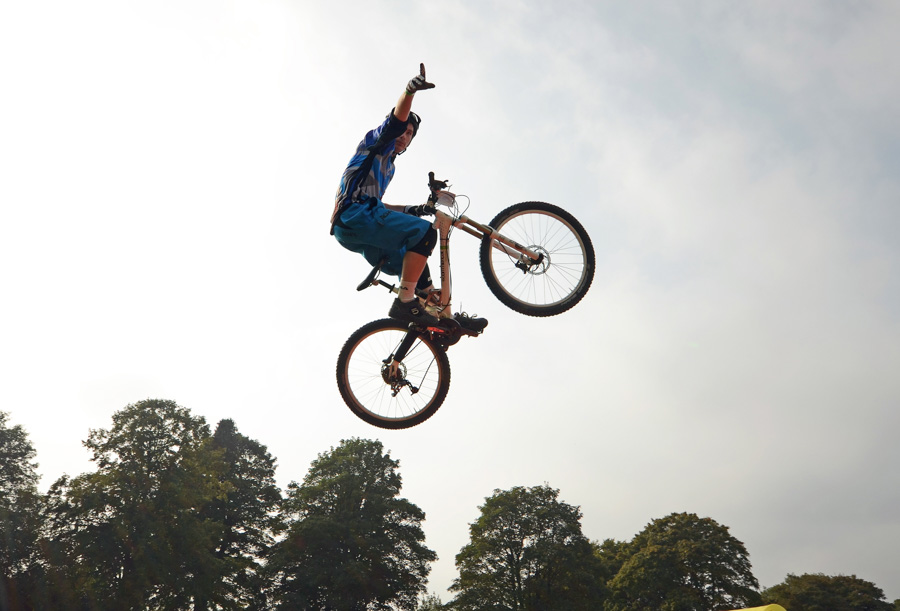 Is there anything else going on apart from bike racing? 
Loads of stuff!  Such as a giant water slide, stunt airbag, demo bikes, mechanical bull, pedal-powered cinema, live music, petting zoo and bike jumble. Or you could just admire the pretty sky until you nod-off in a hammock. 
I'm worried about the weather, will I be too hot? 
It is likely. It's well known that Comrie has its own unusual micro climate where it only rains as little as 50% of the year. Bring a hat. And sunscreen. And a brolly. And wellies, and flip flops…..and maybe a snorkel. 
I'd like to be a festival attraction/exhibitor/volunteer. 
You want to bring along your bendy bungee bike, promote your bobbly biking berets or offer to help out at the festival? Great, just email: colin@comriecroft.com we'd love to hear from you!
Attendee List
Sort by:

Date

|

First Name

|

Surname
When & Where

Comrie Croft

PH7 4JZ Crieff
United Kingdom


Friday, 26 June 2015 at 15:00

-

Sunday, 28 June 2015 at 16:00 (BST)
Add to my calendar
Organiser
Cream o the Croft is a joint venture between Comrie Croft, Muckmedden Events Ltd and Hansen's Kitchen.