Event Information
Refund policy
Contact the organiser to request a refund.
Eventbrite's fee is nonrefundable.
Learn how to set SMART goals to achieve success as an artist.
About this event
Content
When we talk about goals, sometimes most artists have no goal when they move forward, they just want to create, most of the times something they experience. They basically do everything ad hoc. They make a decision today; they decide to do it and most of the times if they feel like it. They move forward but they are not sure if they are actually moving forward or they are not moving forward. The reason for that is there is no set goal in the dream. Sometimes they set a goal which is vague, they don't know. They just say we want to grow this year. That's not a goal. Or some other artists, they have a problem setting up a goal which is not doable.
Therefore, in our sessions we are going to talk about how you should set up a proper goal for your desire dream.
Our sessions will include:
In this webinar we are aiming to give you a clarity about your goals and ambitions and set up real plans to get you there. Writing effective goal setting is the foundation to every successful business. In Today`s world in order to be a successful full-time artist its essential that you know who you are as an artist and what your practice is all about. Once you recognise and acknowledge your signature style that makes you "stand out from the crowd "is important that you know how to keep your place in the market and in the same time move forward as a leader in your field. For this is necessary to set up clear goals in order to sustain your title and get to where you want to be.
By setting goals we are able to determine our priorities, get organized, and focus our attention and direction to realize our dreams. What's more, goal setting and measuring allows you to determine whether or not you are on track in reaching your aspirations. After this webinar, you will be able to picture your true calling.
If you haven't yet identified your own voice, signature style, your mission as an artist , build your vision and you need a better clear direction in your practice we recommend that you take advantage of our mentoring programs to help you get the clarity you are looking for. According to our mentees we are the best in this field.
Expected learning outcomes
By the end of this session you will:
Build confidence where there was once uncertainty
Obtain clarity where there was once confusion
Unlock within you the true potential you have to make your dent in the universe
Be more able to define, prioritise and set your goals
Understand more about how to go about achieving your goals
The format
While you will be able to see and hear the tutor as well other participants, you will only be able to ask questions by raising your hand or type questions. You will also be able to see the questions that others ask and make comments.
The format for this session is approximately 1hr of presentation-style teaching interspersed with questions and answers from participants. We will round up the session with a Q & A session. Depending on how many questions are asked, the session may run longer than 1hr so please set aside 1hr 15mins if you want to stay to participate in the Q & A at the end.
Who should enrol?
Artists who:
• are feeling lost,
• are progressing slow
• have no direction
• wants to make an income from their creative skills
• wants to create full time
• want to create a legacy
• want to sell art
• want success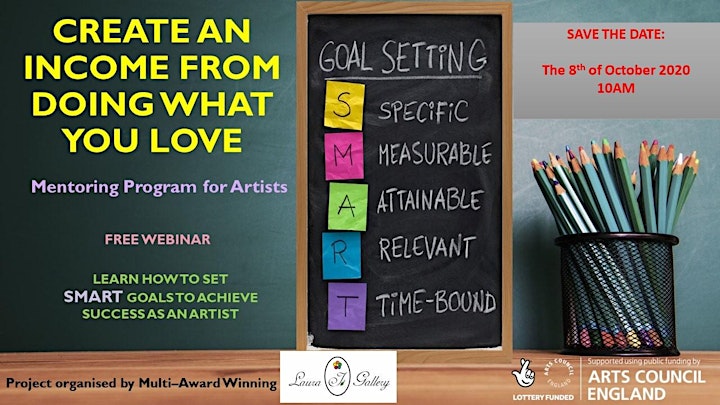 Location
Refund policy
Contact the organiser to request a refund.
Eventbrite's fee is nonrefundable.
Organiser of Create An Income From Doing What You Love
Laura I. is an award winning art gallery that combines West End chic with a quirky East End setting to break boundaries and bring cutting edge art to a wider audience. Laura I. showcases pioneering and ambitious work by founder Laura Iosifescu and other talented artists. It also aims to take its place in the community with a programme of inspiring and innovative workshop events, promoting self-expression and creativity.