About this Event
Camilita here! Founder of Camilita.com & Event of Champions®. Over the last 10 years I have helped entrepreneurs around the world create multiple incomes and fast track their success. Now it's your turn!
Are you at a place in life where you're wondering 'where is my life going'?
Am you making the right decisions for financial and time freedom and living a life of purpose?
Are you fed up with your life the way it is? Your relationships, your business, your finances – what finances?
Are you at a point where you're saying to yourself 'I have to make a change' or 'I don't want to face another year unprepared, unplanned or without support to fulfil my dreams'?
Are you struggling to get your business off the ground, but confused about what to do?
Are you thinking about changing careers, calling it quits, or maybe you want some direction but don't know where to turn?
Trust me, I know how you feel because I have been there. Fearing my OWN success so much that when opportunities came about I just retreated in myself with overwhelm!
Whether you want to admit it or not, money is the byproduct of your mindset and you giving value. You can watch any amount of videos and read any amount of books, but unless you are ready to take action, nothing happens…..do you agree? Then let's get to work!
If you are ready to leave all of that behind, let me show you how to Create Multiple Incomes and Fast Track Your Success!

Ever thought that your goals are taking a lot longer than you thought they would? You see other people achieving more in a shorter period of time and you think – 'why is that not happening to me'? You have the skills, work ethic and discipline like they do but somehow you can't seem to make it happen quick enough.
Perhaps you are nearing retirement and need to do something quick. Have you always wanted to be a speaker, coach, property investor, trainer, change businesses or start another business but are lacking the skills or know-how to make it happen? If you answered yes then this event is for you!
I have travelled to over 50 countries and lived in Spain, Germany, the United Kingdom, Netherlands and Trinidad. I built sales teams of thousands in over 30 countries where we did over $20Million in group sales, so I know what you need to do to win big and win fast.
Here is what a few people had to say about what I do…..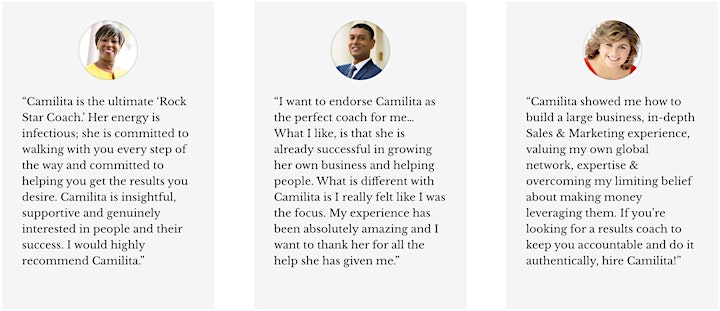 GET READY TO REALISE YOUR PURPOSE, LIVE YOUR DREAMS, CREATE MULTIPLE INCOMES AND FAST TRACK YOUR SUCCESS!
It's a well-known fact that SUCCESS doesn't just happen, it takes years of focused work and dedication to create anything that is of substantial value. Entrepreneurs who constantly find themselves entangled by someone else's big vision usually end up broke and unfulfilled. Commit to yourself first and create multiple streams of residual income – this is NOW the name of the game.
According to recent statistics, the NO. 1 problem facing people over 40 is retirement.
What type of retirement will YOU have?
Where will YOU retire?
How much income will YOU have to live on if YOU retire early?
How will YOU support yourself through illness or family issues?
Did you know that most retirees can't live comfortably on their retirement income?
What about you? How would you LIKE to live? Penny-pinching or travelling the world knowing your children have been taken care of and you can go where you want, when you want?
Yes! Then you've come to the right place!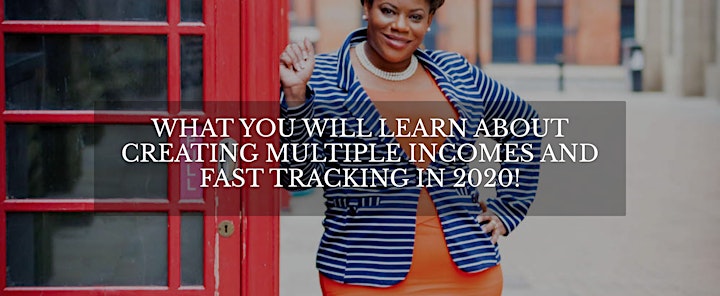 When you join this online event, you'll learn...
How writing eBooks or articles can generate residual income.
How to launch new products and services.
How to create more incomes from what you're currently doing.
How to market those products to where your ideal clients are.
How to protect your assets and create new ones.
Strategies to increase your productivity and generate more business.
If It's NOT Making Money, It's Not Making Sense, Period! – How to use this principle to your advantage.
The five key strategies to dramatically scale your business in 90 Days.
How to find the right talent, partners and collaborators to work with.
How to quadruple your sales by getting to level 5.
Expanding internationally and how to do so and make sure it's profitable.
How to use events and keynote speaking to grow globally.
How to sell your way to success with my 7 Steps to 7 Figure Sales Training system.
Go from the Top Down not the Bottom Up System.
It's TIME to either GO BIG or GO HOME!
Join the many people around the world who have worked with Camilita over the years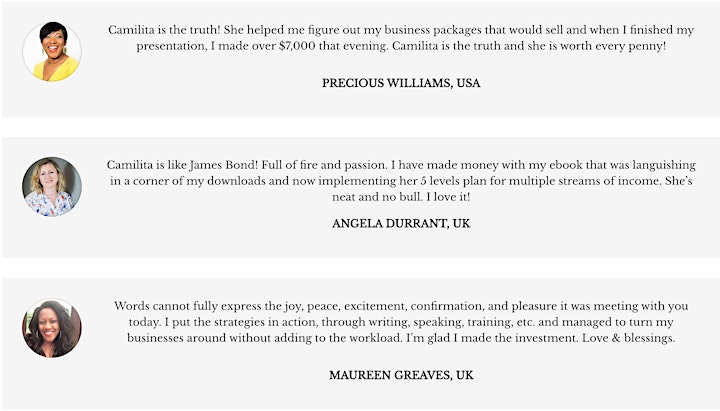 Experience the same life-changing training / coaching with Camilita when you attend "Create Multiple Incomes and Fast Track Your Success"

ONLINE EVENT FAQ's
What's included? 2.5 Hours of LIVE Online Training with Q & A.
Who is the event for? This event if for anyone who is ready to create multiple incomes and fast track that process. If you are at the point in your life where you are concerned or worried about your future, then this is for you!
What happens after I register? After you register you will get a special link to join.
Can I share the link with anyone? No, as this link is just for one person.
Will I be able to talk with Camilita directly about my business and get recommendations? You can book to speak with Camilita after by contacting Andrew directly on +44 7393 55 34 60 for additional costs or emailing info@camilita.com.
Can I tell others about this event? Yes, we do encourage you to share the details of the masterclass with your colleagues. If you have more than 3 people wanting to register, we will give you a specialised link so your registration will be FREE after your guests pay.
Will the online training be recorded? We are not sure yet as we want to get feedback and answer your questions LIVE.
What's the time and date of the event: The event takes place on Tuesday 12th January from 3pm – 5:30pm BST (10am – 12:30pm EDT)
ARE YOU GOING TO SAY "YES I DESERVE SUCCESS"?
Then let's get to work! Camilita has created two 7-Figure Businesses in the last 7 years and wants to show you how to do the same, Create Multiple Incomes and Fast Track Your Success!
Click the REGISTER NOW Button & Get Access to 2.5 Hours of LIVE Training with Q & A from Camilita on Creating Multiple Incomes and Fast Tracking Your Success.