About this Event
This is an online event
Event starts on Sunday 9.2.2021 at 5:00 PM and ends at 8:00 PM.
You will be able to watch the livestream on your PC, mobile or tablet using Zoom meetings.
About this event
A 3-hour course streamed Live from India simultaneously with other countries via interactive video teleconferencing.
Come on the journey with us and create a life you wish for. Create health, wealth, happiness, and harmonious relationships.
CREATE is an experience towards self-discovery and coherence between our internal and external perceptions. Our external world reflects our inner world. When our inner world changes, our external world will change as well.
We are all incredible creators; however, we generally create unconsciously, producing unforeseen or undesirable results. Often, we are unable to fulfill the desires of our heart due to programs and conditioning.
This powerful transformative course takes you on a journey to individual liberation where you can enjoy and discover your limitless possibilities.
In this course we will experience and receive:
Increased awareness of how emotions are affecting our ability to CREATE changes in our consciousness
Cleansing and Balancing Energy
Unconditional Happiness
A Calm Mind & Profound Inner Peace
Enhanced Capacity for Success
Health Improvement
Harmonious Relationships
A Spiritual Gift to help you Grow Spiritually
A Worldly Gift that fulfils your important Wish or your Dream
Miracles in your Life
Be immersed in Ancient Sacred Practices, Powerful Teachings and Meditations taught by Awakened Spiritual Teacher who prepares us for a powerful transmission of light and the power to CREATE abundance in all areas of our life.
Contact
Email: goldenagemovementuk@gmail.com
Eventbrite: createuk.eventbrite.com
Facebook page: www.facebook.com/goldenagemovementuk1
Event start and end time
Event starts at 5:00 pm and ends at 8:00 pm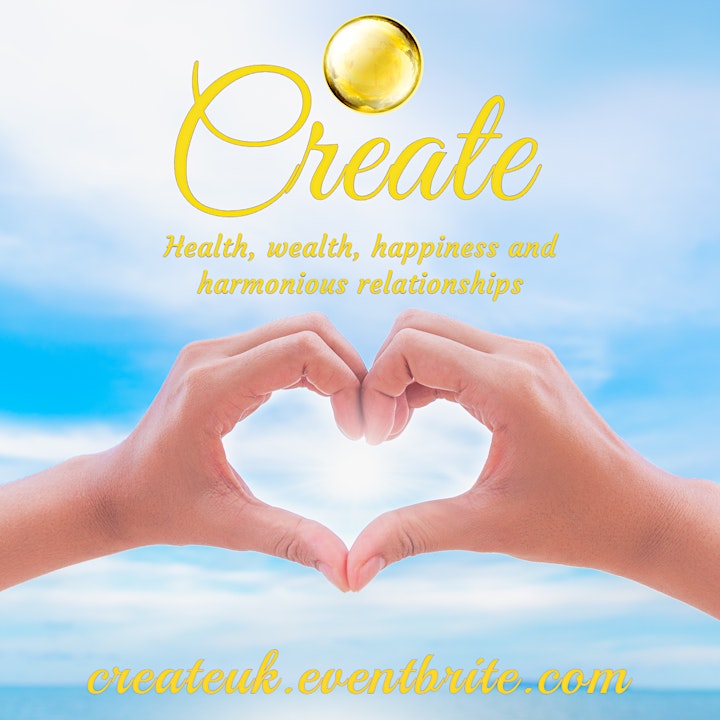 Date and Time
Location
Refund Policy