Event Information
Refund Policy
Refunds up to 7 days before event
Eventbrite's fee is nonrefundable.
Ready to start getting paid for your content? Create your own membership and get the security of a monthly income with flexibility you crave
About this Event
How would you feel if you could have your membership site up and running in 30 days! Exciting eh? Read on.....
Maybe you don't feel ready to run a site or you are overwhelmed at what you have to do to get it up and running , or you're waiting to build your followings up.
But who is suffering while you wait? 😥👨‍👩‍👧‍👦
Are you taking your stress out on your kids? The of lack of regular income getting you down.
Maybe your relationship is strained because you desperately want to follow your passion, but your constantly fighting comments of "get a proper job".
Do you feel like a failure because you haven't 'made it' yet.
I know how you feel, I was like that too.
Now you can change that. 😁
In this one day training I will personally help you
🙋🏻‍♀️ Decide who your membership is for so you are super clear.
🙋🏻‍♀️ Design the first month as the starting is always the hardest
🙋🏻‍♀️ Learn how to attract your ideal clients easily
🙋🏻‍♀️ How to physically create your membership to reduce confusion
You will walk away with:
😁 A solid plan of action broken down into achievable steps to launch your membership
😁 A professional platform to create your membership
😁 A list of prospective clients and a consistent way to attract more.
😁Your first months content!
In 30 days you could have regular income supporting people who you enjoy being around.
I hear your concerns
You don't have clients
You don't have an email list of 500 plus
You don't have a group of at least 1k
Nor did I!
Last November I was burnt out, stressed out and wondering how on earth I was going to pay for Christmas, let alone both my girls birthdays- and I had 2 businesses!
I decided to run a 6 week course on Confidence in Business. It was a great success, making around £5,000, paying for Christmas and both birthdays! I was happy (and relieved) but it was still not enough. Not in terms of money, but in certainty. I needed the security of regular income as I needed to close my salon to prevent permanent damage to my back.
So I then turned my small 6 week course into a membership group and I am loving it! I love making the lessons, I love my community, and I LOVE the consistency of regular income.
Do you have that now?
Had I run an online course before, never! Did I have a 500 plus email list? No, I didn't have ANY emails. Did I have a 1K group to pitch to? No, I think I had under 200 people in my group at that time.
What I did have is a bloody big fear of not making my girls happy that year, I did have a strong desperation that I HAD to succeed in this coaching business as my back had absolutely gone ( and my main business was a beautician).
So I am proof that you do NOT need a big email list, a big group, or a million followers. You need determination and drive!
If I can do it all by myself, imagine what you can do with support.
But this one day training is not for everyone. I am only looking for people who are ready, not mentally, I will help you with that, but physically.
Here's what you need:
* You must have an idea of your niche
* You must have started posting using your niche
* You must have 1 hour a day to dedicate to your membership creation
* You must have a passion for your topic
That's it, but it's important. This is NOT a start from stratch training, it is NOT for those who have no idea what you want to do and may change your mind in 3 week when time when you swap businesses.
Any passion can create an awesome membership.
Are you ready? Lol probably not, I wasn't either, but are you in?
So let's recap and look at the all important cost.
Get clear on your niche £125.00
Learn how to attract your ideal clients for free £1,000
Learn how to create an awesome online course £1,700
Learn how to set up an online membership - many many hours saved!
Total £2825.00
If you know me, you will know I am working on reducing my people pleasing ways, but luckily for you, they have not gone completely! I am giving this one day course away for a fraction of the price.
JUST £59!
SATURDAY 28TH NOVEMBER to celebrate one year of THE MOTIVATED MUMMIES, I am giving this one day training away for just £59!
Yep just £59 for a whole day of information and experience with me where at the end you will have a solid plan, and a platform if you choose to use it, where you can upload your contet and start taking in regular paying clients.
Come January everyone will be doing this. Most people are focusing on Christmas, and spending their money on material items.
Most people are not happy, fulfilled and successful. Do you want to be the same as everyone else, or do you want to be different? I'm guessing if you are reading this, you know you are destined for great things, you know you CAN achieve anything if you set your mind to it.
Book your spot today.
info : motivatedmummies@hotmail.com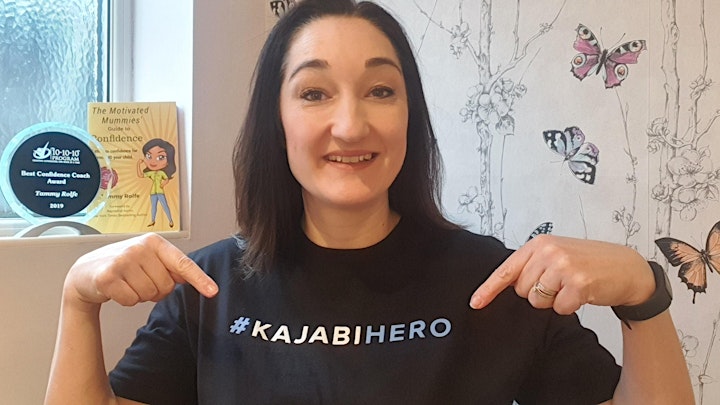 Date and Time
Location
Refund Policy
Refunds up to 7 days before event
Eventbrite's fee is nonrefundable.