On Conscientious Objectors' memorial day create your own embroidery peace handkerchief with Opposing War Memorial artist, Kate Ive
About this event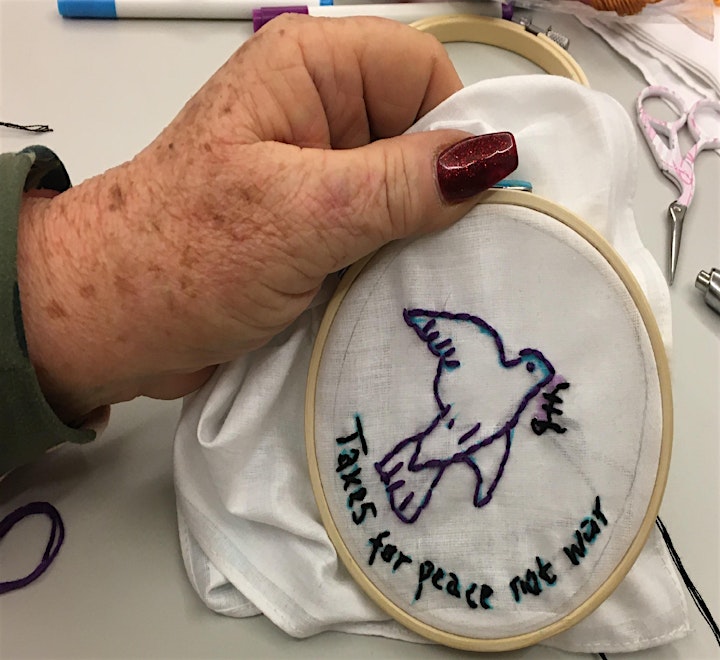 Join us for this online workshop with Opposing War Memorial lead artist Kate Ive on 15 May. Create a peace handkerchief of your own design with Kate's help. She will give some background to the upcoming memorial to be installed in Princes Street Gardens and help you design your handkerchief. [the picture above is a handkerchief designed by a participant in a previous workshop with Kate]
Kate's final memorial design will be a bronze representation of the Davidia involucrata - or handkerchief tree. As part of the memorial's creation process, Kate is running embroidery workshops and some of the handkerchiefs created will inspire designs for the bronzed 'bracts' or flowers that will decorate the bronze tree and represent Conscientious Objectors and individuals and organisations that oppose war.
We hope you can join us for some embroidery and a chat on Conscientious Objectors' Memorial Day to find out the latest about the Opposing War Memorial project, and be a part of the creation process ahead of the memorial's installation.
A basic kit will be sent to you beforehand with the thread, needle and handkerchief you need to take part in the workshop - please leave your home address when you register so that we can send the kit to you.
PLEASE NOTE THAT YOU NEED TO REGISTER BEFORE MONDAY 10 MAY IN ORDER TO RECEIVE THE EMBROIDERY KIT BEFORE THE WORKSHOP. ANYONE REGISTERING AFTER THAT DATE IS WELCOME TO JOIN BUT MIGHT HAVE TO PROVIDE THEIR OWN MATERIALS.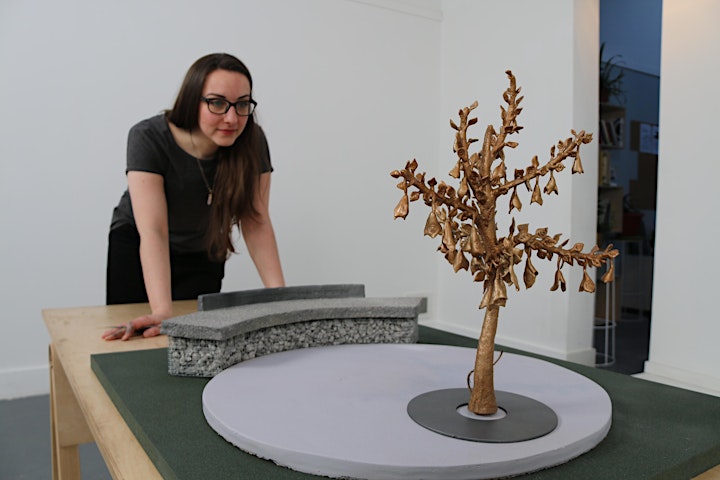 Above: Kate Ive with a maquette of the final design for the Opposing War Memorial to be installed in Princes Street Gardens.
About the Memorial...
In 2018 Kate was chosen to design an Opposing War Memorial for Conscientious Objectors to be installed in Princes Street Gardens, Edinburgh.
The memorial will include a reflection space with a bronze peace tree sculpture, inspired by Davidia involucrata 'The Handkerchief Tree'. The tree will be covered in bronze embroidered handkerchiefs, each showing a different aspect of conscientious objection, opposition to war and peacebuilding.