How can we re-design our transport networks to cope with the challenges of the climate emergency and air pollution?
About this Event
Towns and cities across the world are working out how to re-design their transport networks to cope with the challenges of the climate emergency and air pollution. Almost everyone recognises the need to move away from a reliance on private cars, and change how people and goods move around our towns. In this webinar we will hear about the practical steps being taken in Göttingen (a twin town of Cheltenham), and Birmingham to develop smart, innovative transport networks that enable everyone to get around – whilst at the same time cutting carbon emissions and improving air quality.
Maik Lindemann from Göttingen, and Councillor Waseem Zaffar from Birmingham, will tell us how they developed their sustainable transport plans. Join this webinar, chaired by Jonathon Porritt, to learn about how we could reallocate road space away from single occupancy private cars; how you design a transport system that focuses on moving people, not vehicles; how you encourage walking and cycling; how measures like Workplace Parking Levies can help fund some of the changes needed; how freight consolidation centres outside of town linked to final mile delivery by cargo bikes and zero-emission vehicles could work;... and much more.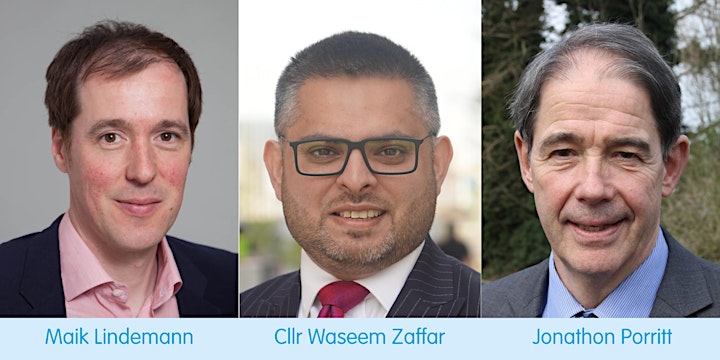 Maik Lindemann is Head of Urban Planning (which includes traffic planning) for the city of Göttingen in Lower Saxony, Germany. Maik studied Urban Planning at the Universities of Bonn, Montpellier and Hamburg. Before joining the Planning Department of Göttingen, he worked as an urban planner for a number of cities in Germany, including Hamburg and Lübeck.
Councillor Waseem Zaffar is the Cabinet Member for Transport & Environment at Birmingham City Council. He is responsible for sustainable transport policy and strategy to improve connectivity and safety across all modes of travel; while working with partners to develop liveability and environmental improvement for Birmingham. The council has recently published a Transport Plan to help tackle the climate emergency. The vision for Birmingham's transport is a sustainable, green, inclusive, go-anywhere network, which will make walking and cycling the first choices for people making short journeys.
Jonathon Porritt, Co-Founder of Forum for the Future, is an eminent writer, broadcaster and commentator on sustainable development. He was formerly Director of Friends of the Earth (1984-90); co-chair of the Green Party (1980-83) of which he is still a member; a Trustee of WWF-UK (1991-2005) He stood down as Chairman of the UK Sustainable Development Commission in July 2009 after nine years of providing high-level advice to Government Ministers. His new book, Hope in Hell, was published in June 2020.