CLOSED -Join us, and come and tell the story that you want to tell.
About this event
CLOSED GROUP FROM THE 12TH JULY. No new starters
Her Story.
We are pleased to be offering the opportunity for women to contribute to an exciting theatre project in partnership with Le Pub, Newport. For three months, we will be delivering free weekly Zoom workshops in which we creatively explore the stories that you want to tell, which will then be performed and released as an audio drama. Participants will work with Sarah, a playwright based in South Wales and drama facilitator, to explore writing techniques designed to help you find your writing style, and most importantly, uncover what it is that you want to take this opportunity to say to the world.
Following this, we will then spend a few weeks curating the script from the stories we have developed and produce the script into an audio drama. The finished production will go live in an online event.
Sessions will be held in the following format :
Warm-up
Main writing task
5-minute comfort break
Share the work from the main task
A shorter writing task
End
Women face multiple barriers when it comes to opportunities to be creative and therefore, we want to offer this as a platform to you and your voice. We want everyone to be able to contribute to the audio drama, so the workshops are open to all women, and whilst we encourage that you attend them as a series so we can keep developing your work, it is also possible to drop into any of the sessions.
If you do not wish to have your material made public, we would still love you to join us in all the workshops and get creative!
The project will take place every Monday evening from 18:00-19:15 Please bring a pen and paper or feel free to type if you prefer.
Join us, and come and tell the story that you want to tell.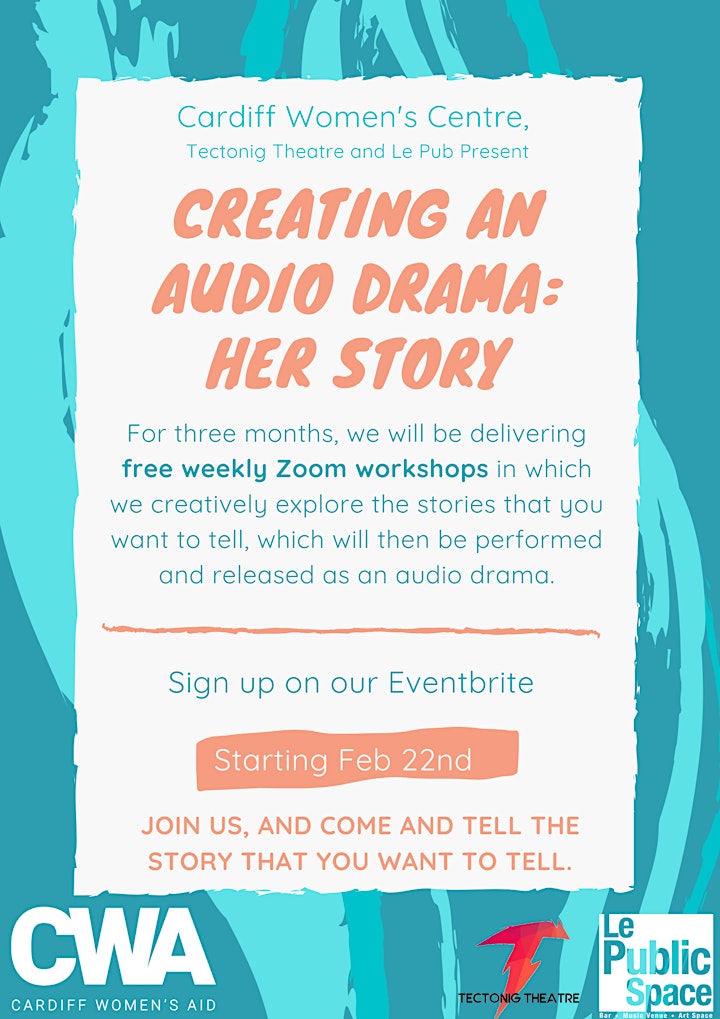 Organiser of Creating an Audio Drama: Her Story (online)
Cardiff Women's Centre is the host of this event. Please check out our website for more information about us and the work that we do: cardiffwomenscentre.org.uk

The workshops/events we run are open to all women unless otherwise stated, but are especially suitable if you have experienced VAWDASV (violence against women, domestic abuse and sexual violence).