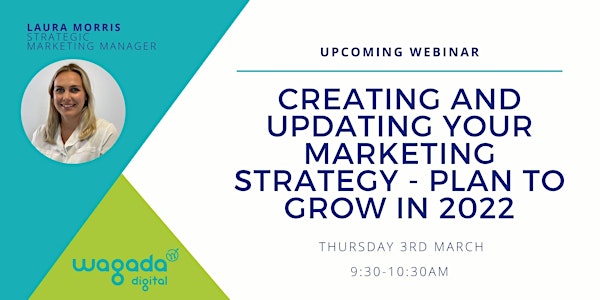 Creating and Updating Your Marketing Strategy - Plan to Grow in 2022
Find out how to create an effective marketing strategy that generates an ROI for your business.
About this event
In this course, you will:
Learn why your marketing strategy should be a vital part of your business plan in 2022
Discover what is needed to create an effective marketing strategy in the digital age
Understand the common mistakes to avoid so that you do not have any wasted budget or ineffective campaigns
Get top tips on competitor analysis and how to develop campaigns based on industry insight
B2B and B2C - get access to an action plan to effectively generate a return on investment, whether your company targets businesses or the consumer market
About your trainer:
An expert marketing strategist for a wide portfolio of brands, Laura has extensive experience in strategizing both in-house and within an agency environment.
With a firm focus on creating and implementing marketing campaigns designed to generate maximum return on marketing spend, Laura is part of an expert team of strategists and account leads.
"We have been working with Wagada since late 2019 and can say with confidence that they have transformed the way we do business."