Join us for a virtual 'fireside' chat to discuss visual storytelling, co-authorship and sharing our communities' stories.
About this event
Join us for a virtual 'fireside' chat to discuss visual storytelling, co-authorship and sharing our communities' stories. We'll discuss questions including: Why is it important to place emphasis on engagement, transparency and co-authorship when documenting a community's stories? What does it mean to exhibit the work as street art? Why is it important to document and archive community and cultural histories? What does co-authorship look like?
We will hear from Don Travis, Wayne Crichlow and Kennyatta Gerald from Future Hackney and Autograph's director Dr Mark Sealy. Future Hackney documents social change in East London, working at the intersection of photography and social engagement, developing trusting relationships with participants that encourage and enable them to express wider societal experiences around issues such as mental health, exclusion, confinement and being non-binary as it relates to the African and Caribbean experience. The work produced is co-authored with the participants and delivered as large format street exhibitions.
Everyone is welcome to join us, and there will be an opportunity to join in and ask questions at the end in a Q&A.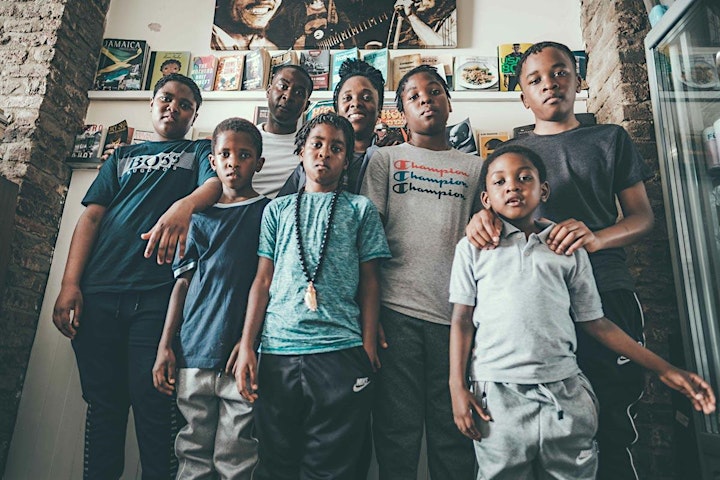 SPEAKERS
Wayne Crichlow
Born in London's East End to West Indian parents, Wayne's passion for photography started almost twenty years ago. Capturing everyday life events as they happen, and at every opportunity, he is intrigued by the freedom photography brings as a creative outlet.
In 2017 Wayne's work received accolade from the prestigious Sony World Photography Awards, where he received commendation in the category 'Street Photography' for his image The Café. Building on this success Wayne subsequently went on to appear on Sky Arts, Master of Photography Season Three (2018), which was aired across five European countries. Wayne has worked with Don Travis, founder of Future Hackney, since 2019, co-producing two open air exhibitions in 2020 & 2021 entitled Ridley Road Stories.
Kennyatta Gerald
Kennyatta was born in Montserrat in 1953, the fifth child of ten. Following Hurricane Hugo in 1989 and a series of volcanic eruptions from 1995 which destroyed his home on the island, Kennyatta moved to London to live in Homerton with his daughter and grandson. He is known to locals as 'Kenny the dancer' and can often be found dancing in Gillett Square - as pictured at the top of this page. Kennyatta is a participant, involved in co-authoring Ridley Road Stories with Future Hackney.
Mark Sealy
Dr. Mark Sealy is interested in the relationships between photography and social change, identity politics, race, and human rights. He has been director of Autograph since 1991. He has produced numerous artist publications, curated exhibitions, and commissioned photographers and filmmakers worldwide.
Sealy has curated critically acclaimed exhibitions on the works of James Van Der Zee, Gordon Parks, Carrie Mae Weems, Rotimi Fani–Kayode, Mahtab Hussain, Maud Sulter and Sunil Gupta to name a few. His book, Decolonising the Camera: Photography in Racial Time, was published in 2019 by Lawrence and Wishart.
Don Travis
Don grew up in Hackney, London and has been working across the city for over twenty years, documenting Londoners' lives through photography, film and oral history. Being a part of the community which she co-author's is relevant to the trust and understanding within her work. She has run visual arts projects across London since 2002 and started Future Hackney and Ridley Road Stories in 2016 funded by National Lottery. She currently works as a producer and creative at Future Hackney with Wayne Crichlow.
HOW TO JOIN THE EVENT
This event will take place online only. Here's how to join us:
1) Book a free ticket on Eventbrite. If you would like to make a donation to support Autograph's arts and learning programmes, you can do this when you purchase your ticket. If you have any accessibility needs you would like us to be aware of, you can tell us on the booking form.
2) We'll send you an email confirmation of your booking.
3) This online event will use Zoom. For the best experience, we recommend using the Zoom app on your computer or mobile device. You can download the free software here. Or, you can access the event through your web browser without a download.
4) On the day of the event, we'll send you a welcome email with a link to the event on Zoom. You will be able to join for the start of the event at 6pm (GMT).
If you have any questions, we're here to help!
Please get in touch. Contact Livvy: livvy@autograph-abp.co.uk
FREQUENTLY ASKED QUESTIONS
Can participants outside of the UK join this event?
Yes! Everyone is welcome to join, from any location. The primary language used will be English.
Will I be visible on screen?
No, attendees will not be visible on screen.
ACKNOWLEDGEMENTS
Supported using public funding by Arts Council England.
Ridley Road Stories is part of the Hackney Windrush Art Commission public programme, curated by Create London in partnership with Hackney Council and supported by the Freelands Foundation.
Images: 1) Don Travis, Kennyetta, from Ridley Road Stories Part 2. © the artists and courtesy of Future Hackney. 2) Terence Douet, Atreka, from Ridley Road Stories Part 2. © the artists and courtesy of Future Hackney.