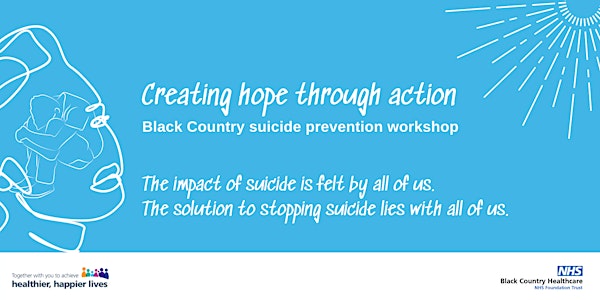 Creating hope through action: Black Country suicide prevention workshop
Creating hope through action: Black Country suicide prevention workshop
About this event
Dear colleagues and friends,
Every year, people in the Black Country die by suicide. Every person who lives here will be affected by suicide at some point in their life. Every effort we make to prevent suicide can make a difference; the difference, to someone, somewhere. Every life matters.
Across the Black Country many of us are working hard to make a difference, the difference that matters. There is positive work taking place, but while people in the Black Country still die by suicide, more needs to be done.
Our Black Country is a diverse and proud community living across four local authority boroughs. This can create complexity, but we know our efforts are much stronger when we work together.
On Thursday 3 February we will be holding a suicide prevention workshop which is open to organisations, people with lived experience, and advocates from across Dudley, Sandwell, Walsall and Wolverhampton. We want to bring together people who work in health, care, emergency services, local authorities, charities, schools, colleges, universities, sports clubs, businesses, community groups, voluntary organisations and more.
The impact of suicide is felt by all of us. The solution to stopping suicide lies with all of us.
Please join us in February and let's create hope through action, together.
This workshop will be held on MS Teams. Following registration we will send a calendar invite. If you have any questions about the event, please email bchft.communications@nhs.net.
We also kindly ask that you share this invitation with organisations or individuals you think should take part in this conversation.
Best wishes
Dr Mark Weaver
Chief Medical Officer
Black country Healthcare NHS Foundation Trust.