Creating Successful Vision Boards - Winter Workshop with Debbie Hayes

Monday, 14 November 2016 from 10:00 to 14:00 (GMT)
Event Details
Learn the secrets of how to create a vision board that inspires action and gets results.
Part 1


Do you have a desire to grow your business?

Are you ready to connect with your inner most desires to help you gain clarity of want you really want from the next stage of your life / business?

Do you want to achieve work-life harmony so that you can have success without sacrifice?
Are you eager to get focussed ready for the new year ahead?


Can you relate to any of these....

You have lots of ideas, but don't know exactly what to include / exclude to make your vision board into a useful business and personal development tool to help you gain the results you are ultimately wanting.

Or perhaps you feel as though you have lost connection with what you really want from life and feel stuck or confused.

You've seen our previous delegates boards and seen how enthusiatic they've been, and want to know what all the fuss is about!
What previous delegates have said about the workshop
"I've totally changed my life, it's made me realise, what I really want from life. Going through the process has been really cathartic and it's opened up my relationships, as we've talked so much"
"I love the fact that I've got some gaps that allows me to grow,  It's been such a great motivator, It's helped me understand that's important and re-inforced some of my beliefs to stop and smell the roses"
"It's made me realise what areas in my life that I want to focus on. I've been able to identify and see what's achievable and what I feel I can realistically do, which motivates me"
"I feel excited to get structure and clarity in my life"
"It's made me realise how much control I DO have in my life and where I can surrender.  I have more clarity and am beginning to appreciate my gifts"
"It's helped to see I need to focus on giving my time to the right things"
What I'll be sharing.... 

I know of lots of people who have created vision boards, only to have them collect dust and feeling frustrated.  Well in truth I know that feeling too, I'll be sharing my old vision boards and share my mistakes so that you don't repeat them.   For example simply cutting and pasting pictures onto a board is waste of time and can actually demotivate you!

You will learn the exact steps you need to take before you even go near a pair scissors!
Why my preferences have evolved into a creating a vision board into a book format.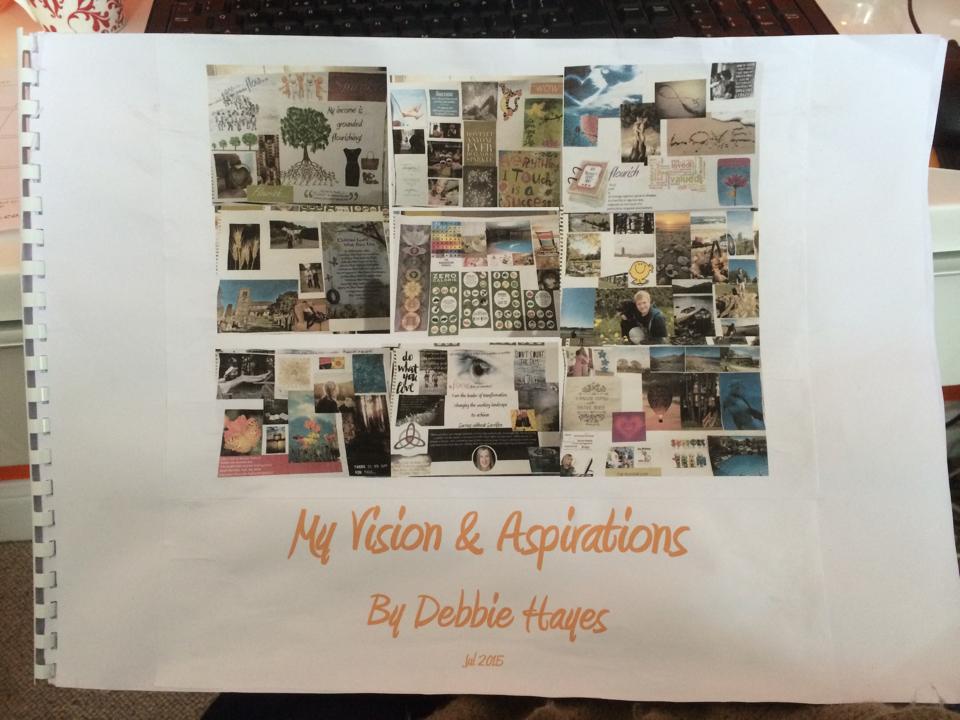 Why I now use a particular layout inspired by feng shui.   ***   As a bonus we even have a very special guest -  Secret Millionaire Dr Dawn Cox to talk us through this powerful matrix which she has been using in business for over 22 years.  The very same tools that helped her to plan and sell her business in her year of recognition. ***
The information I am sharing has taken me several years to develop and is tried and tested. I want to share this with you and I want to make it easy for you to say YES to your dreams and desires

You will be provided with your own workbook to complete throughout the workshop to capture all your ideas, insights and aspirations.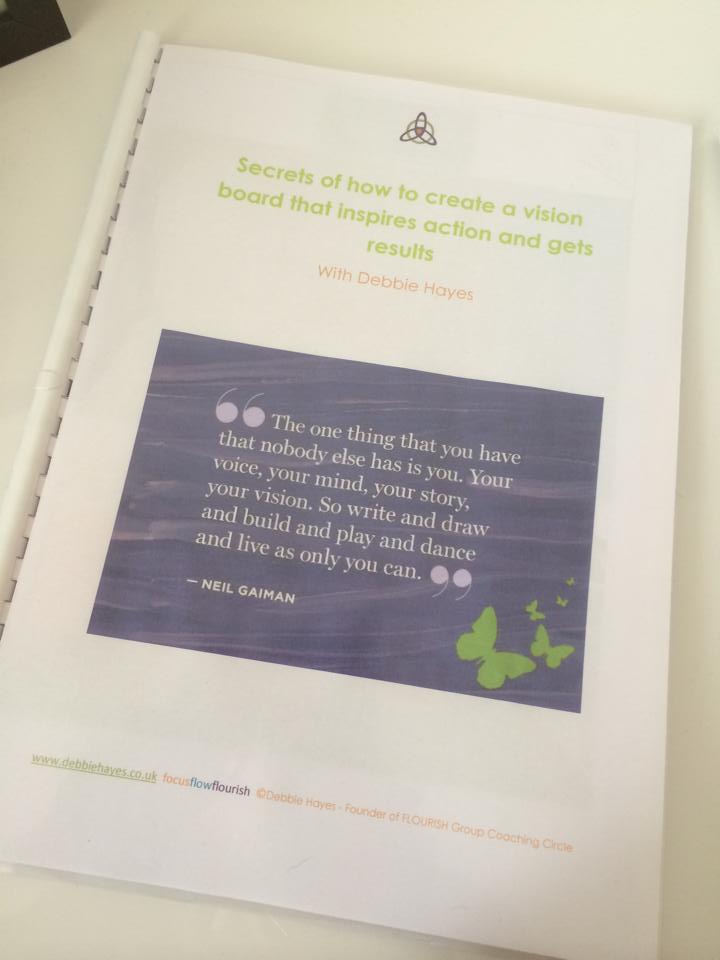 After the workshop you are also invited to walk the Blissland Labyrinth, where the most powerful ley lines known in the country converge.
Your questions answered:
What are the benefits of creating a vision board?

You will gain clarity about all the aspects of your life, so that you don't create inbalance.

It will provide an opportunity to consider your emotional wants and needs, not just the physical "stuff" typically recorded on vision boards

Going through this process will also highlight the areas of your business / life that need further focus clarity and support.

Creating your vision board builds confidence about your own personal values and desires, and acknowledges what you know about your self, which in turn grows your self worth.

It opens the doors to express your vision clearly with others, often creating opportunities to communicate and articulate with your family, friends, colleagues and business connections at a whole new level

See the connections and interactions of different aspects of your life.

Identify gaps and where you're playing small /safe

Your vision board gives you a point of reference to refer back to time and time again to keep you accountable

Increases motivation and enthusiasm when you're feeling flat or veer off track

Helps you to identify the actions you need to take to allow you make progress.
Do you need to be able to draw?

Absolutely not, as long as you've got access to pictures beyond the workshop whether it be in magazines or on-line using things like pinterest or google images you'll be able to create your board.

When is the workshop?

Monday 14 November
10:00 - 14:00  to allow you to soak up the atmosphere and to work through your workbook to start the process of your visioning.

Where is the workshop taking place?

In the beautiful and inspiring Dreamcatcher Barn, Blissland, just on the outskirts of  Congleton.   A quiet space, perfect to allow you to step back, reflect and gain the clarity you need away from the day to day hustle and bustle of life.
Will there be refreshments?
Unlimited servings of tea and coffee will be provided.
For lunch we ask that you bring along something to eat to share with your fellow delegates.   (We will open up a facebook group to delegates to discuss further)
Free parking is also available on site


Will I finish my vision board on the day?
No, you will be working deeply from the inside out, to connect with YOUR vision to explore ALL the areas of your life. This takes time and it's important to give yourself the space and time to reflect and connect.  It can uncover things we've forgotten and can help to make shifts in areas that we may have left neglected. 
I will work with you to help you explore each of these areas and help you remove any blocks that present themselves.    
In Part 2 - we will reconvene as a group and continue to work through your workbooks.  This helps you gain accountability to take the necessary steps forward and gain complete clarity about your vision.   You will have an opportunity to share the progress you've made to date, gain feedback from the group and 1:1 support from me.  We will also have special guests Dr Dawn and Lionel Cox sharing the forgotton art of divination.  Divining is a simple yet powerful technique that allows you to gain complete clarity, giving you complete confidence in your choices. 
In Part 3 - We finish with tools to assist you in bringing your vision to life and a sharing ceremony.  This is a very powerful exercise, that allows you to share the journey you have been on, the benefits already gained and an opportunity to share your vision for the future.  Talking through your vision board book with others, really gives you an increased sense of clarity, pride and motivation. It can also open up opportunitites to network and connect with people who can support you going forward.
"Learning from others is a powerful part of the process"  
"I've gained clarity, focus and direction and feel a sense of excitment.  I can see how I can use my talents, and I have a greater understanding of what I'm capable of.  Its been so valuable to have made the connections within the group and also to myself"
How many places are available?

I have just 8 places available for this Winter Workshop
How much does it cost to attend?

Just £39 for each workshop

PLUS you will receive access to a secret facebook group to receive ongoing support and an opportunity share your boards once complete.


Hope to see you soon
Debbie xx
More about your host:
Debbie Hayes
Pioneer in Organisational Transformation -Changing our working landscape to have Success without Sacrifice, Founder of Flourish Group Coaching Circles for Women in Business and Goulding Sleeptalk Consultant.   Also soon to be published author and TEDx speaker.  A.K.A. Mum, Mrs Motivator and Goddess of Clarity!
Do you have questions about Creating Successful Vision Boards - Winter Workshop with Debbie Hayes?
Contact Debbie Hayes
When & Where

Blissland
Congleton Edge Road
CW12 3na Congleton
United Kingdom


Monday, 14 November 2016 from 10:00 to 14:00 (GMT)
Add to my calendar
Organiser
Debbie Hayes
Debbie Hayes - Supporting the driven and ambitious to break free of Overwhelm, Stress and Frustration | COACH | MENTOR| TEDx Speaker  a.k.a The Queen of Clarity
Creating Successful Vision Boards - Winter Workshop with Debbie Hayes