Creative and Transformative Approaches to Justice Work
Creative and Transformative Approaches to Justice Work - Seeking Justice for Survivors Outside of the Criminal Legal System
About this event
This is the final instalment of the VAWGRN September series of webinars is co-hosted by What Really Keeps Us Safe. Find us on Twitter @VAWGRN @WhatMakesUsSafe
Creative and Transformative Approaches to Justice Work - Seeking Justice for Survivors Outside of the Criminal Legal System
Speakers: Aviah Sarah Day, Birkbeck University; Kamilah Tomlinson, Counsellor/Psychotherapist ; Melanie Brazzell, University of California and Yara Rodrigues Fowler, writer and trustee of Latin America Women's Aid (LAWA)
Chair: molly ackhurst, Birkbeck University
molly has a practice-based background having worked in sexual violence support for many years. This combines with her extensive experience as an activist, writer, and facilitator with a number of different social justice groups. All her work is rooted around creative approaches to trauma and uses emergent arts based methods to foster direct action and everyday intervention. This approach feeds into molly's academic work and she is currently undertaking a PhD in the Birkbeck Criminology department where she looks at justice and sexual violence. More specifically, her work explores the blockages that exist around imagining more transformative ways of supporting survivors obtain justice outside the criminal "justice" system in the UK.
Co-hosted with What Really Keeps Us Safe
What Really Keeps Us Safe
The "What Really Makes Us Safe?" Project began as an informal exchange between transformative justice practitioners responding to sexual and partner violence. Over the years, it grew into an interview project that became academic research, the results of which are presented here on the website as a movement resource and archive.
Speakers:
Aviah Sarah Day
Aviah Sarah Day is currently a lecturer in Criminology at Birkbeck, University of London as well as an activist in the East End chapter of Sisters Uncut. Sisters Uncut is a national direct-action collective fighting cuts to domestic violence services as well as state violence. Aviah's PhD titled "Partnership and Power: Domestic Violence, the Women's Sector and the Criminal Justice System" applied an intersectional approach to women's sector partnership with the criminal justice system, focusing specifically on gender, class, 'race', immigration status and disability. Her research interests are survivor criminalisation, transformative justice and prison abolition.
Kamilah Tomlinson (Kamilah created the adverts below)
Kamilah is an experienced counsellor and psychotherapist, working predominately with women who have survived sexual violence. Her work embodies a clinical ethos that consciously works to create new creative ways of working that honour peoples cultural, political identities, both past and present. She brings an intersectional approach to her therapeutic practice, working with the awareness of the impact of social and political systems of oppression on the mind, body and spirit.
Kamilah has a particular interest in the critical examination of empowerment models used in clinical therapeutic practice. She advocates for the radical overhaul of the theories that inform mainstream mental health formulations and practices. Bringing attention to outdated, Eurocentric ideologies that fail to acknowledge that mental health and emotional well-being are significantly affected by systemic inequities, trauma and oppression, particularly in Black, Brown and other marginalised communities.
Melanie Brazzell
Melanie Brazzell is a transformative justice researcher and practitioner, committed to community-based, non-punitive responses to sexual and partner violence. Their participatory research and community collaborations are documented in the What really makes us safe? Project, which looks transnationally at transformative justice for gender-based violence.
Yara Rodrigues Fowler
Yara Rodrigues Fowler is a writer from South London. Her first novel, Stubborn Archivist, tells a story about healing from sexual violence using prose-poetry, fragments, and English and Portuguese. It was longlisted for the Desmond Eliot and Dylan Thomas Prizes, and Yara was shortlisted for the Sunday Times Young Writer of the Year 2019. She's writing her second novel now, for which she received the Society of Authors' John C Lawrence Award and was shortlisted for the Eccles Centre and Hay Festival Writers' Award. Yara's worked with Chayn and Level Up on projects supporting survivors of sexual violence. Yara is also a trustee of Latin American Women's Aid, an organisation that runs the only two refuges in Europe for and by Latin American women.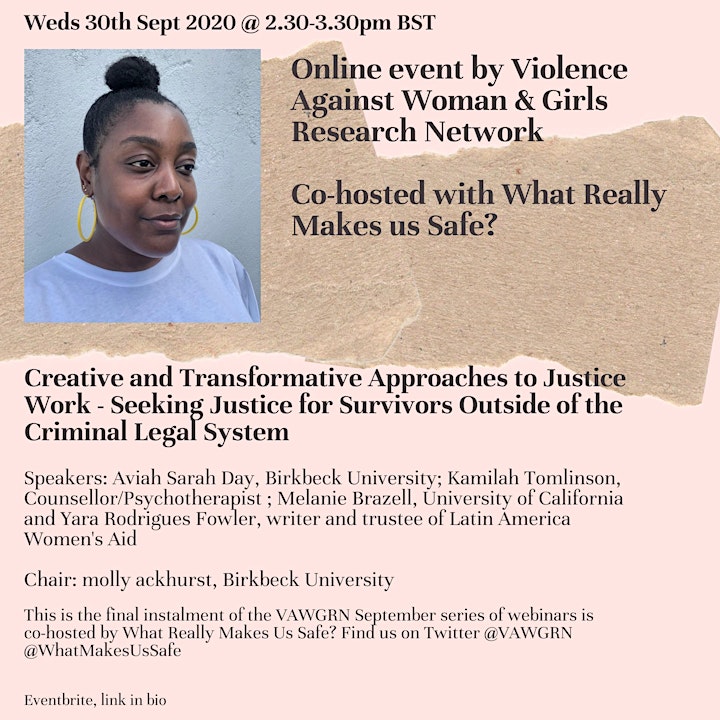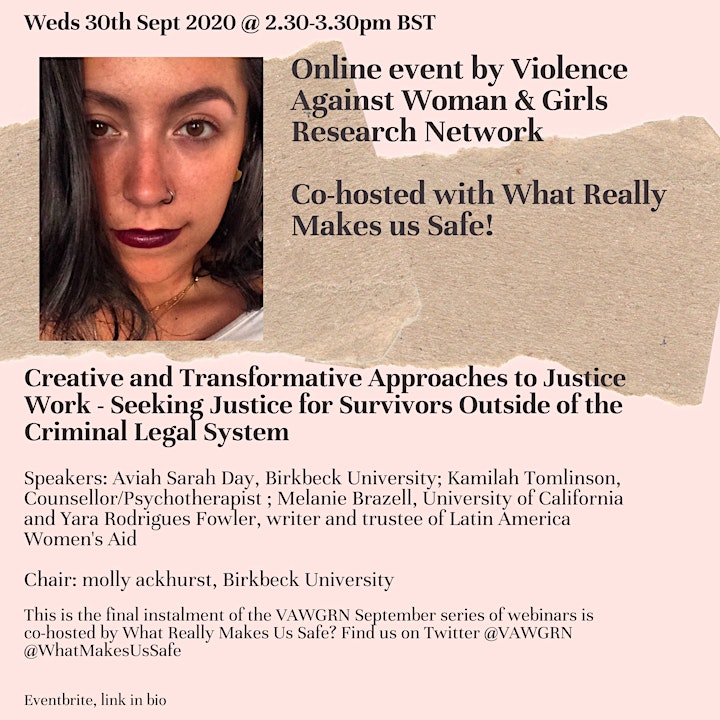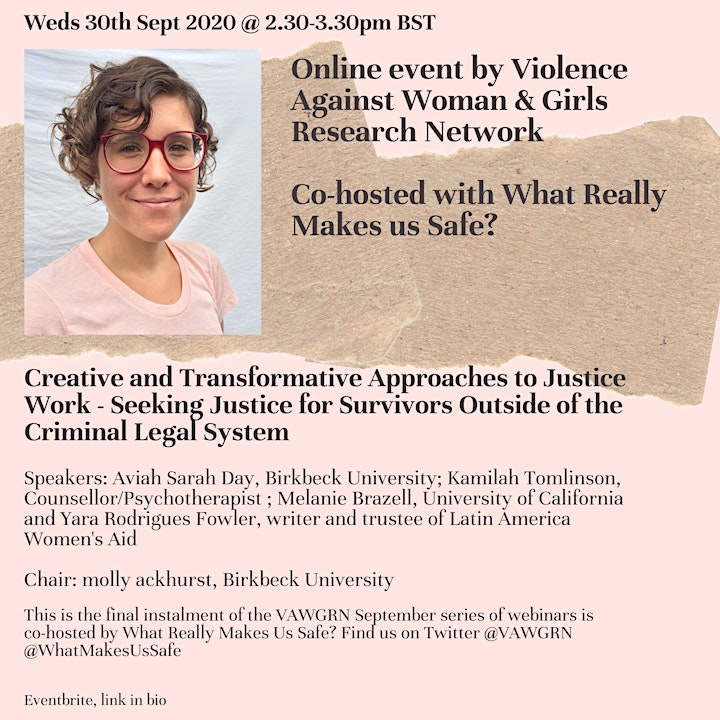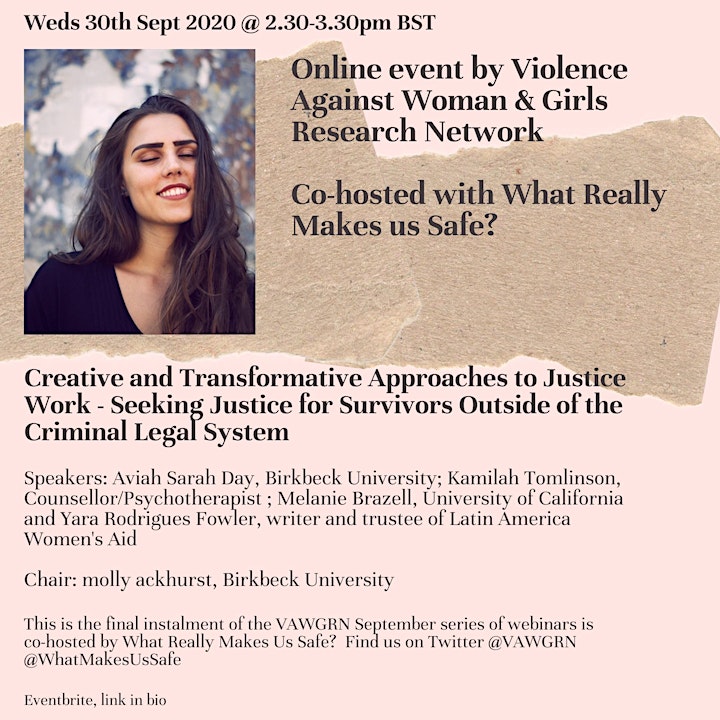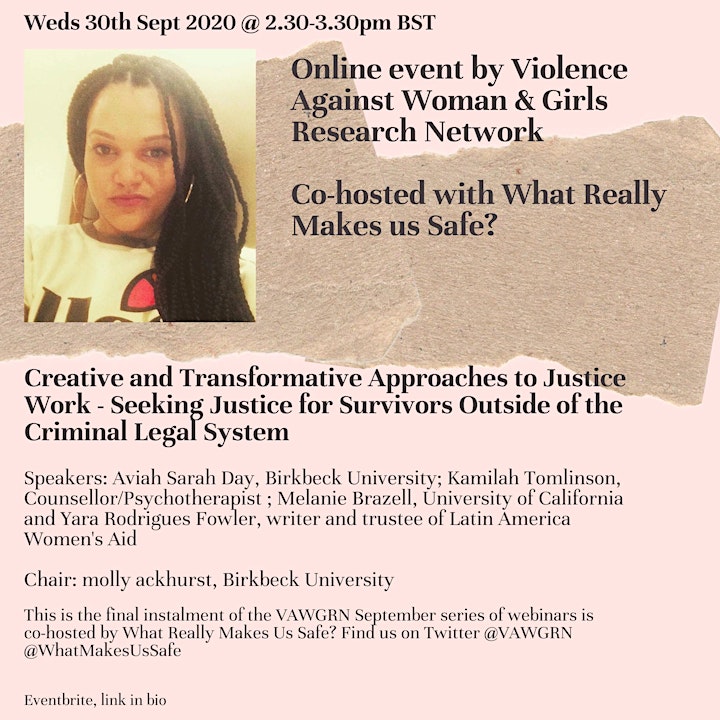 Organiser of Creative and Transformative Approaches to Justice Work
The VAWG Research Network aims to bring together researchers providing opportunities to meet regularly, share ongoing, completed and planned research in a supportive environment. Over time we hope researchers from the network will work together to apply for funding, share data and develop new research. Most importantly the VAWG Research Network aims to provide safe spaces to work together, we are stronger together.