Multiple Dates
Creative Captioning R+D Online Sharing- The Lesson by Eugene Ionseco
A free online sharing of our R+D process exploring integrating creative captioning in live performance, to share findings & gain feedback.
About this event
Hello!
At Icarus Theatre Collective we're currently in the midst of a 3 week ACE funded R+D process to explore how we can creatively integrate and embed captioning in our touring production of The Lesson by Eugene Ionesco and we'd love to invite you a short sharing of our work!
Overview of our R+D process:
We 've been experimenting with projecting captioning across multiple surfaces, matching the font to the actors' handwriting & using smart tech so the actor can rub out the captions like chalk. We've also been playing with how we can tie the captioning and the projection into the absurdist elements of Ionesco's script as well and integrate this seamlessly with the rest of the stage design.
As well as aiding accessibility we want the captions to enhance the production dramatically, for all audiences, whether they are reliant on the captions or not.
The sharing:
We're going to be sharing some very early stage explorations from our R+D, chat a bit about our plans for the future and at the end will open up the space for discussion and a bit of feedback.
Date(s): 15th and 29th June
Time: 7pm-8pm
It's free to join but you need to reserve a space to join us!
Both sharings on the 15th and 29th will be different, as we will be continuing our R+D process in between (and building on the feedback we have recieved) , so you are very welcome to come along to both or just to one.
All conversations & discussions outside of the streaming will have live captioning and BSL interpretation, and the streaming of our Work in Progress itself will be captioned through our creative captioning. (We'd recommend joining via your laptop as opposed to a tablet or phone in order to see the captions clearly).
We're so excited to share what we've been working on and hear your thoughts- any feedback will be hugely helpful! Embedding creative captions within performance is something we're really excited to develop further and something that we want to build upon in future productions.
Thanks to:
Our R+D is supported by Arts Council England and our video designer Ben Glover is being mentored in his video captioning by Deafinitely Theatre and Stage Text.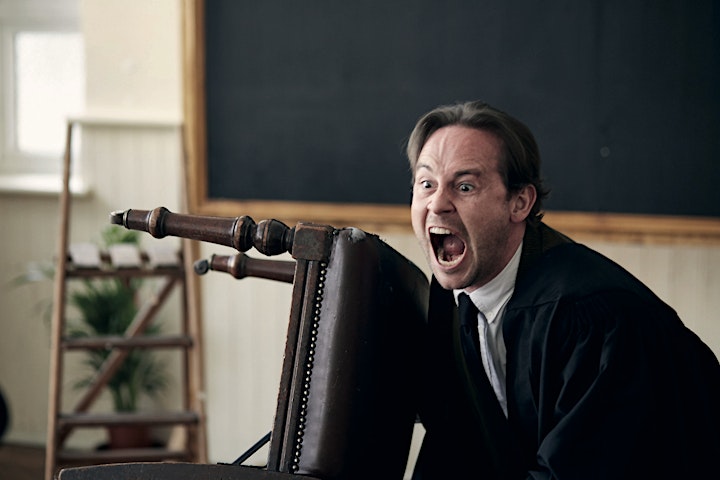 Organiser of Creative Captioning R+D Online Sharing- The Lesson by Eugene Ionseco