Location
Saint Georges Theatre
King Street
Great Yarmouth
NR30 2PG
United Kingdom
Refund policy
Refunds up to 7 days before event
Description
The Creative Centres Summit will explore the changing nature of town centres and high streets and the role of creatives (individuals and organisations) in creating great places in this dynamic environment.

Keynote Speaker:
Bill Grimsey


Case Studies:
Participatory City (Barking and Dagenham)
+CityxChange (Trondheim, Limerick, Sestao, Alba Iulia, Pisek, Võru, Smolyan)
Neighbourhoods That Work (Great Yarmouth)
Create (London)
They Eat Culture (Preston)
The Waiting Room and Colchester Maker Space (Colchester)
Library of Things (London)
further information about case studies below...


Aims:
To explore some of the issues facing town centres and high streets today and the ways that creative approaches can offer radical and innovative solutions to place making initiatives.
To share practical case-study experiences for inspiration.
To inform decision makers (civic leaders and private business owners) of the beneficial role creatives can play in creating great places, and how creative approaches can make the most of a town's potential, working with local communities to attract diverse visitors and serve the year-round economy.


This event is a follow up to the Creative Workspace Summit which took place in April 2018, and will be of interest to:
Architects, city and town planners, SMEs, councillors, planners, policy decision-makers, economists, business owners, estate agents, artists, creatives, students, budding entrepreneurs, and anyone interested in creating vibrant and dynamic town centres and high streets.
---
THEMES


Keynote Speech by Bill Grimsey
Setting the scene - how and why the high street has changed so dramatically and rapidly as well as predictions for more changes to come.
Bill Grimsey worked his way up from a butcher's boy in a local department store to being head of Iceland food stores and has earned a well-founded reputation as a turnaround specialist. He recently wrote the Grimsey Review, highlighting that radical transformation is required if our high streets are to have any chance of survival.
www.vanishinghighstreet.com


Case studies:
How creative organisations and individuals have been working in the spaces created in town centres and high streets, with propositions for how communities can contribute to the vitality of their locations and attract people back to the centres.
The Waiting Room and Colchester Maker Space (Colchester)
Marc De'ath, co-founder of The Waiting Room and Colchester Maker Space and Cultural Partnerships Coordinator at Chelmsford Borough Council, will talk about creating community projects and how they can develop sustainably.
www.trinityworks.co.uk


Library of Things (London)
www.libraryofthings.co.uk
Tickets include lunch provided by La Mexicana, and an evening viewing of an exhibition of work by painters from Great Yarmouth and Norwich.
---

*A limited number of free tickets will be awarded to students, budding creative entrepreneurs, and local residents, who are invited to submit a 200 word application outlining their current activity, what they would like to get out of the event and how they might contribute to the evolving work. Submission via email. Deadline Friday 26 April.


---

The Creative Places Summit is hosted by originalprojects;

It is part of Making Waves Together, a wider partnership project led jointly by Great Yarmouth Borough Council and East Suffolk Council and funded by the national Great Place Scheme, which is seeing communities and organisations in both areas work together to boost the cultural offer and drive cultural re-imagination as a way of supporting success in the seaside towns.

Making Waves Together has been supported by a grant from Arts Council England and the Heritage Lottery Fund. Thanks to National Lottery players.
---
With thanks to our funders and partners: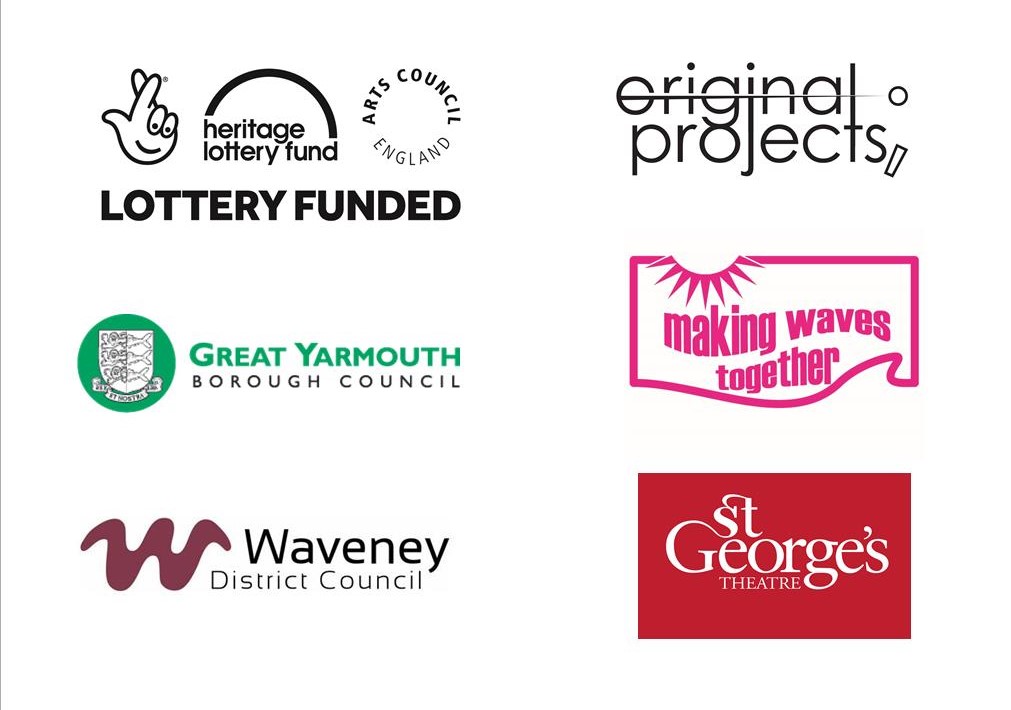 With thanks to our sponsors: