Join Creative Edinburgh's monthly meet, Creative Circles - a morning of creative conversations, speed networking and community updates!
About this Event
Hosted by Creative Edinburgh, Creative Circles runs on the first Tuesday of every month.
Creative Circles is a casual monthly meetup for creatives, techies, makers and freelance folk interested in finding out more about what's happening in Edinburgh. Join us with your morning brew, share ideas and advice, make new connections and find your next collaborator.
Our digital edition invites inspiring creatives to join us, followed by speed networking and community shout outs!
We'll be mixing up the format for our final Creative Circles of 2020, inviting you all to get (just a little bit!) festive! Artist & Illustrator Sarah Kwan will guide us through a wintery craft, easing us in to the day and getting our creative juices flowing.
Sarah Kwan Artist is a freelance Illustrator based in Edinburgh who specialises in portraits, illustration, design, murals & signwriting. Her recent 'East Meets West Series', explores the connections between Scottish / British & Chinese culture in a fun & playful way - with decorative patterns and pops of bright colour.
A template will be sent out before the event as an optional extra. See the graphic below for what you need to bring, and if you're missing anything, just find what you can and improvise!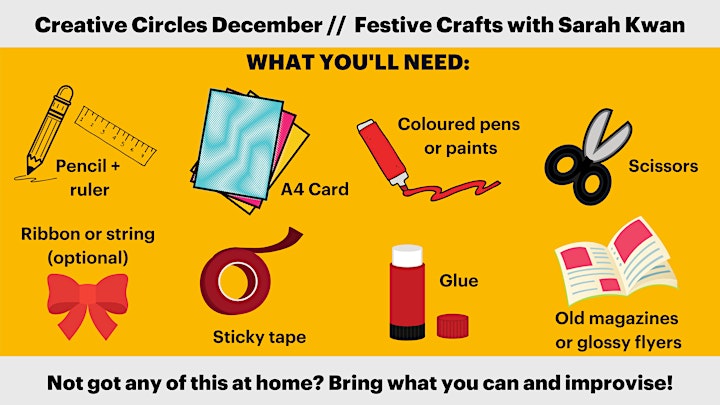 Running Order
08:30 - 08:45 : tune in, get comfortable and welcomes
08:45 - 09:30 : Creative Craft!
09:30 - 10:00 : speed networking
10:00 - 10:15 : community announcements
10:15 - 10:30 : CE news, thank you and farewell!
Can't make the whole event? Just join us for what you can!
Got something to shout about during our Community Announcements? Get in touch with us on info@creative-edinburgh.com.
We look forward to seeing you there!
Thanks to Barclays Eagle Labs!
Thanks to our partners Barclays Eagle Labs for supporting Creative Circles. The Eagle Lab at CodeBase focuses on Artificial Intelligence, providing a space for businesses and communities to learn about innovative technologies and boost digital skills.
Barclays Eagle Labs recently launched their Support Hub, providing start-ups with virtual events, content and tools in these challenging times. Head to the Hub to explore upcoming events, articles and resources that can support you.
About Creative Edinburgh
Creative Edinburgh is committed to helping creatives thrive. Through events, career support and advocacy, we bring together and help grow the city's creative community, providing a space for creation, collaboration and connection at every stage of your career.
Creative Edinburgh is supported by Creative Scotland.