Join Creative Edinburgh's monthly meet, Creative Circles - a morning of creative conversations, speed networking and community updates!
About this Event
Hosted by Creative Edinburgh, Creative Circles runs on the first Tuesday of every month.
Creative Circles is a casual monthly meetup for creatives, techies, makers and freelance folk interested in finding out more about what's happening in Edinburgh. Join us with your morning brew, share ideas and advice, make new connections and find your next collaborator.
Our digital edition invites inspiring creatives to join us, followed by speed networking and community shout outs!
At our first Creative Circles of 2021, we'll be joined by the good folks from Edinburgh Performing Arts Development (EPAD), a support programme for professional independent performing arts companies and artists across the city.
Join Anna Gormezano Marks (Acting Executive Director, Creative Edinburgh) as she talks to co-founders of EPAD Lucy Mason and Nicholas Bone. We'll explore how the performing arts have responded to the pandemic so far, shining a spotlight on inspiring projects and considering what the year ahead may have in store.
Our Guests
EPAD was created in 2015 by Lucy Mason and Nicholas Bone of Mason Bone Projects. They continue to run the programme with Kate Taylor, together bringing their combined expertise in producing, mentoring and creative development to the project.
In addition to their work at EPAD, Lucy Mason is also an arts manager, researcher and consultant. Nick is a theatre director, teacher, creative advisor, and Artistic Director of Magnetic North Theatre Productions.
Nick came to directing having trained in design and stage management and worked extensively in opera and theatre as a stage manager and assistant director. Lucy learned about arts management 'on the job' through a series of sideways moves through opera, theatre and dance organisations.
They moved to Edinburgh in 1995 when Lucy started in post as Administrative Producer at the Traverse. Nick founded Magnetic North in 1999. Since this time they have worked with and supported a range of performing artists and organisations in Scotland and beyond.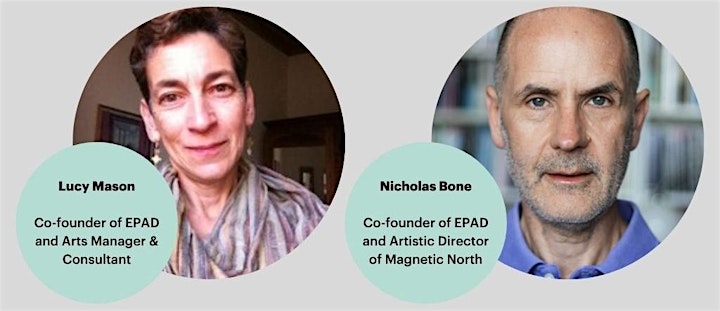 Running Order
08:30 - 08:45 : tune in, get comfortable and welcomes
08:45 - 09:30 : Creative Conversations
09:30 - 10:00 : speed networking
10:00 - 10:15 : community announcements
10:15 - 10:30 : CE news, thank you and farewell!
Can't make the whole event? Just join us for what you can!
Got something to shout about during our Community Announcements? Get in touch with us on info@creative-edinburgh.com.
We look forward to seeing you there!
Thanks to Barclays Eagle Labs!
Thanks to our partners Barclays Eagle Labs for supporting Creative Circles. The Eagle Lab at CodeBase focuses on Artificial Intelligence, providing a space for businesses and communities to learn about innovative technologies and boost digital skills.
Barclays Eagle Labs recently launched their Support Hub, providing start-ups with virtual events, content and tools in these challenging times. Head to the Hub to explore upcoming events, articles and resources that can support you.
About Creative Edinburgh
Creative Edinburgh is committed to helping creatives thrive. Through events, career support and advocacy, we bring together and help grow the city's creative community, providing a space for creation, collaboration and connection at every stage of your career.
Creative Edinburgh is supported by Creative Scotland.