About this Event
Hosted by Creative Edinburgh, Creative Circles runs on the first Tuesday of every month.
Creative Circles is a casual monthly meetup for creatives, techies, makers and freelance folk interested in finding out more about what's happening in Edinburgh. Join us with your morning brew, share ideas and advice, make new connections and find your next collaborator.
Our digital edition invites inspiring creatives to explore a topic in live conversation, followed by speed networking and community shout outs!
September's Theme: Reimagining Education
September marks a season of fresh ideas and new goals - this year more than ever. As we all navigate this next phase of life right now, many seek to upskill and start something anew, others to shift their approach to ongoing projects.
With the return of colleges and universities, students and tutors are delving deep to find engaging, interesting and inclusive ways of showcasing creative work and maximising student experience.
At September's Creative Circles, we'll be exploring these alternative approaches shaping a new chapter in education. Join us as we hear first hand from the students and tutors behind the projects and celebrate the inspiring results that can come from hard times.
Our Speakers
Helena Good - Design Lecturer at Edinburgh College & Team Leader of Daydream BelieversHelena is a Design Lecturer at Edinburgh College and Team Leader on Daydream Believers Programme. Daydream Believers is a project which unites the skills and insights of employers, teachers, lecturers and students to put creativity at the heart of education. The project has worked with the likes of the LEGO Agency to provide lessons that teach young people how to write a fun and creative narrative that overcomes a problem.
Jody Mulvey - Creator of @sadgrads2020
Jody Mulvey is a recent Edinburgh College of Art, Fine Art MA graduate. She is the creator of @sadgrads2020, a community building platform for UK art school graduates who had their degree shows cancelled due to COVID-19, that has been featured on Dazed (by The White Pube), The Elephant Mag and 10Magazine.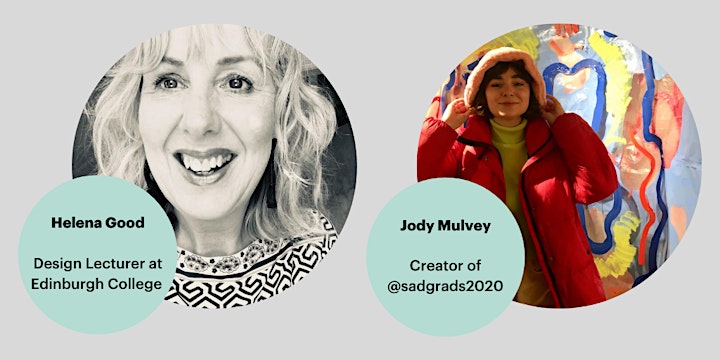 Running Order
08:30 - 08:45 : tune in, get comfortable and welcomes
08:45 - 09:30 : Creative Conversation, followed by Q+A
09:30 - 10:00 : speed networking
10:00 - 10:15 : community announcements
10:15 - 10:30 : CE news, thank you and farewell!
Can't make the whole event? Just join us for what you can!
Got something to shout about during our Community Announcements? Get in touch with us on info@creative-edinburgh.com.
We look forward to seeing you there!
Thanks to Barclays Eagle Labs!
Thanks to our partners Barclays Eagle Labs for supporting Creative Circles. The Eagle Lab at CodeBase focuses on Artificial Intelligence, providing a space for businesses and communities to learn about innovative technologies and boost digital skills.
Barclays Eagle Labs recently launched their Support Hub, providing start-ups with virtual events, content and tools in these challenging times. Head to the Hub to explore upcoming events, articles and resources that can support you.
About Creative Edinburgh
Creative Edinburgh is committed to helping creatives thrive. Through events, career support and advocacy, we bring together and help grow the city's creative community, providing a space for creation, collaboration and connection at every stage of your career.
Creative Edinburgh is supported by Creative Scotland.