Location
The Melting Pot
15 Calton Road
Edinburgh
EH8 8DL
United Kingdom
Join Creative Edinburgh's monthly meetup of creative conversations, speed networking and community updates!
About this event
Hosted by Creative Edinburgh, Creative Circles runs on the first Tuesday of every month and we are back with our in-person versions of our event! For June, we're coming to The Melting Pot at 15 Calton Rd, EH8 8DL.
Creative Circles is for members of Creative Edinburgh. Not a member yet? It's free to join click here. This event is a casual monthly meetup for creatives, techies, makers and freelance folk interested in finding out more about what's happening in Edinburgh. Join us after work, share ideas and advice, make new connections and find your next collaborator.
June's Conversation: The Art of Collaboration
The Melting Pot is Scotland's Centre for Social Innovation and one of the oldest coworking communities in the world. As we all try to navigate the 'new normal' imposed on us by the Covid-19 pandemic, The Melting Pot offers freelancers, remote workers, small businesses and large organisations flexible, safe and creative solutions for this new era of working.
The Melting Pot have donated 20 free hotdesking spaces for the day of Tuesday 7th June, for anyone who would like to work at The Melting Pot during the day and then attend Creative Circles in the evening. Please choose General Admission + Hotdesking ticket, spaces are limited.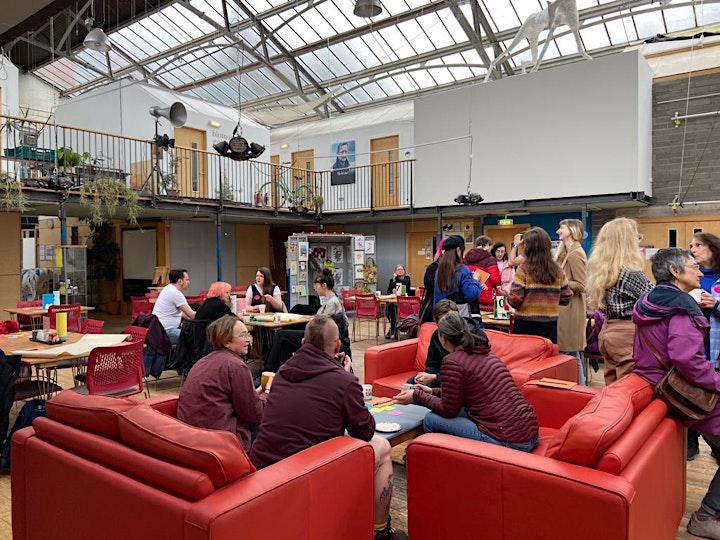 Running Order
16:30 - 16:45: Arrive, get comfortable, and welcome
16:45 - 17:30: Speakers - Natalie J Wood and Hazel Frost from Studio Frostwood
17:30 - 18:15: Tea, coffee and networking
18:15 - 18:30: Community announcements, Creative Edinburgh news, thank you and farewell
Can't make the whole event? Just join us for what you can.
Got something to shout about during our community announcements? Get in touch with us at programme@creative-edinburgh.com.
We look forward to seeing you there!
About our speakers
Studio Frostwood is a multi-disciplinary ceramics studio based in Edinburgh. Established in 2021, our aim as a studio is to promote the craft of ceramics through shared learning, with classes for beginners and more advanced learners alike. Created by Natalie J Wood and Hazel Frost; we are both ceramicists with a wide array of technical skills that we hope to share through our studio.
Founders:
Natalie J Wood graduated from Gray's School of Art in 2015 With a degree in Three-Dimensional Design with a specialism in Ceramics. Natalie's work focuses on minimal shapes, clean lines and exciting colours. Natalie's most recent project open-sources the info behind her colour library, you can view this project at Bringingcolourtoclay.com
Hazel Frost is a ceramic artist, specialising in hand-building techniques such as throwing and coil building. Having graduated from St Martins with a BA in Ceramic Design in 2013 Frost has since worked for a variety of different studios and artists, developing her skills along the way.
We want to hear from you
We're looking to improve how we run our events. If you have registered/attended Creative Circles in the past six months we'd love to hear from you through this quick survey.
Thanks to our sponsors Barclays Eagle Labs
Thanks to our partners Barclays Eagle Labs for supporting Creative Circles. The Eagle Lab at CodeBase focuses on Artificial Intelligence, providing a space for businesses and communities to learn about innovative technologies and boost digital skills.
Barclays Eagle Labs recently launched their Support Hub, providing start-ups with virtual events, content and tools in these challenging times. Head to the Hub to explore upcoming events, articles and resources that can support you.
About Creative Edinburgh
Creative Edinburgh is committed to helping creatives thrive. Through events, career support and advocacy, we bring together and help grow the city's creative community, providing a space for creation, collaboration and connection at every stage of your career. Creative Edinburgh is supported by Creative Scotland as one of the Regularly Funded Organisations (RFOs).
To become a free member of Creative Edinburgh, click here.
Covid Statement (Government guidelines)
Our event will follow the Scottish Government Covid restrictions at the time of the event. More information about the steps we are taking to keep participants and staff members safe will be included in your confirmation email once you purchase a ticket to the event.
If you have any concerns or queries on the Covid safety of this event, please contact info@creative-edinburgh.com.