Event Information
Location
Online Zoom Seminar
31 Rutland Street
Leicester
LE1 1RE
United Kingdom
Creative Coffee Leicester - Digital Edition - 24th February 2021+ Networking!
About this event
Creative Coffee Leicester - Digital Edition Wednesday 24th February 2021 from 10am - 12pm
We're back for our 2nd edition of Creative Coffee (Digital) in 2021!
We may not be able to meet up (STILL!) but we can still drink coffee and we can still bring awesome speakers! All by the wonderment of digital technology and the Zoom conferencing app.
Sign up and we will send out a zoom meeting link and password to join the session. All you will need to do is install Zoom (if you haven't already) and follow the link we provide. 
*** ABOUT OUR EVENT ***
February's Creative Coffee will focus on Gaming and Interactivity as part of the LCB Depot's monthly themed events schedule. Some of the topics and questions we will explore include the video game industry and it's future, how game studios are becoming powerhouse storytellers rivalling the very best movies and emerging tech such as VR and AR which is being used for gamification of space. The discussion and debate will be driven by a host and our guest panel will consist of practitioners working across the games industry.
*** ABOUT OUR GUEST PANEL ***
GAME DEVELOPER | JAMES ROWBOTHAM
James Rowbotham is a colour-blind indie game developer. He makes larger games as one of a four-person team at Small Impact Games and makes more compact games on his own in his spare time. He has worked on mobile, PC and VR, and is currently working on 'Marauder', a multi-player space pirate game.
VOICE OVER ARTIST | GUY SLOCOMBE
Guy is a full time voiceover artist who specialises in gaming, commercials, explainers and eLearning. Since recording for Assassins Creed back in 2014 he has worked on titles for casual games as well as console titles such as Get Even and We Happy Few. Recently he has recorded as Robert Chardish in The Last Show of Mr Chardish and the main characters of Anton & Sashko in Chernobylite both recently released on Steam.
So put the kettle on and make yourself a hot drink and join us for this inspiring conversation on February 24th at 10am. We'll have the usual opportunity to do a Q&A after the presentation and then of course networking in the breakout rooms that we're becoming accustomed to!
 In the meantime...
Stay Safe.
Stay Strong.
Stay Creative. 
About Creative Coffee
Creativity, Coffee and Conversation. We're a free meet-up for creative people and those looking to meet creatives.
We will always offer you a warm welcome and provide you with the chance to build your contacts, exchange ideas and discuss work opportunities in a relaxed, professional environment.
It's friendly and free! Any questions? Let us know, contact hello@creativecoffee.org.uk
Share this event on Facebook and Twitter We hope you can make it! Cheers, Creative Coffee Leicester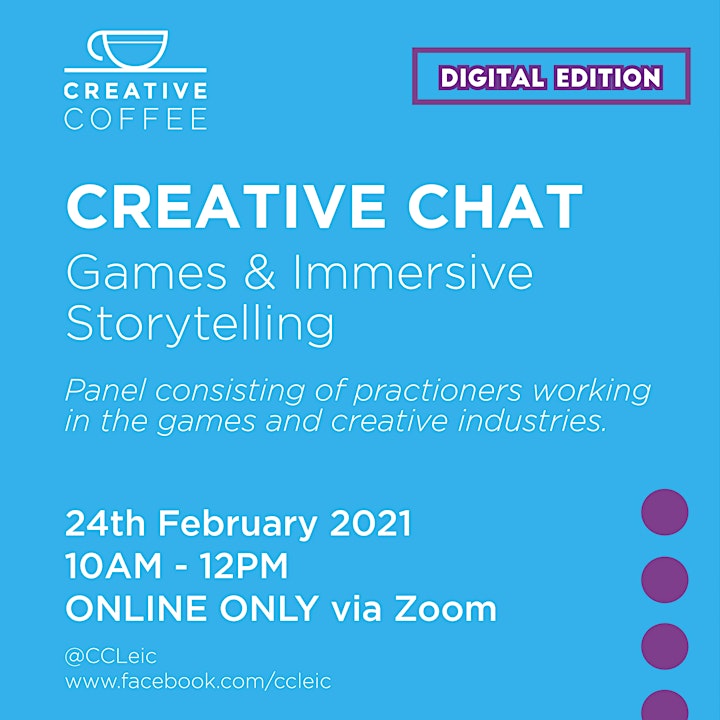 Date and time
Location
Online Zoom Seminar
31 Rutland Street
Leicester
LE1 1RE
United Kingdom