Event Information
Location
Online Zoom Seminar
31 Rutland Street
Leicester
LE1 1RE
United Kingdom
Creative Coffee Leicester - Digital 'Makers Special' - 26th May 2021+ Networking!
About this event
Creative Coffee Leicester - Digital - 'Makers Special'
Wednesday 26th May 2021 from 10am - 12pm
This month's Creative Coffee is still a digital event, but that's not going to stop us having a proper hands on 'makers' session!
Working in conjunction with this month's LCB Depot 'Craft' theme , aiming to highlight the work of the many talented designer/makers working in contemporary craft in the Leicester area we're delighted to be offering a behind the scenes view of a local ceramicist. This will be followed by a hands-on networking session to get our creative juices flowing.
Please see full details below and the 'What you will need' section for ......you guessed it....what you will need if you're wanting to take part in the practical bit!
As usual we will be using the Zoom conferencing app.
Sign up to receive the zoom meeting link and password to join the session. All you will need to do is install Zoom (if you haven't already) and follow the link we provide. 
*** ABOUT OUR EVENT ***
May's Creative Coffee will start with a behind the scenes view of local ceramicist Elle Maxwell:
Elle Maxwell | Ceramicist, Speckled Grey
Speckled Grey is a small artisan business run by designer-maker Elle Maxwell. Speckled Grey handcrafts vibrant yet sophisticated ceramic interiors from luxurious Parian porcelain. Each piece is designed and handmade by Elle through methods of casting, hand forming, carving and polishing. Lighting and interiors are the focal point and ideas are motivated by sensitive colour combinations and tactile hand-carved finishes and textures. Interest is held in how contemporary craft can enrich and diversify interior spaces and Elle's collections seek to offer colourful craftsmanship that enhances your home and projects.
--------------
Followed by a (very apt) practical networking 'Tea & Coffee Art' session lead by :
Sophia Kyprianou | Director and CEO of The Curator- Educator Ltd
Sophia Kyprianou is the founding Director and CEO of The Curator- Educator Ltd, a small creative organisation all about developing creative opportunities that are accessible, inclusive and open up a vast range of creative possibilities.
Sophia has always had a huge interest in the arts and creating creative experience in lots of different ways and have over 10 years experience working in the creative and educational sector from schools and alternative education provisions to museums and galleries as well as working in communities across the Midlands and beyond.
She is passionate about the power art can have for people and over the past 3 years she has been exploring the positive impact creativity can have on our wellbeing and mental health. This is something that is very important to Sophia and through the organisation she has been providing creative opportunities in the community to support people's mental health and wellbeing through workshops, outreach sessions, wellbeing craft boxes and soon a community exhibition.
What you will need for the practical networking session:
X2 tea bags
X2 table spoons of coffee
Paper/ card
Paintbrush
Cups/ containers (for mixing different colours/ tones)
Jug of water
--------------
LCB Craft Month further info:
Check out #designcraft @lcbdepot on social media...
or visit http://www.lcbdepot.co.uk/event/design-craft-2020 to find out more.
--------------
So put the kettle on and make yourself a hot drink and join us for this fun and inspiring get together on May 26th at 10am.
In the meantime...
Stay Safe.
Stay Strong.
Stay Creative. 
About Creative Coffee
Creativity, Coffee and Conversation. We're a free meet-up for creative people and those looking to meet creatives.
We will always offer you a warm welcome and provide you with the chance to build your contacts, exchange ideas and discuss work opportunities in a relaxed, professional environment.
It's friendly and free! Any questions? Let us know, contact hello@creativecoffee.org.uk
Share this event on Facebook and Twitter We hope you can make it! Cheers, Creative Coffee Leicester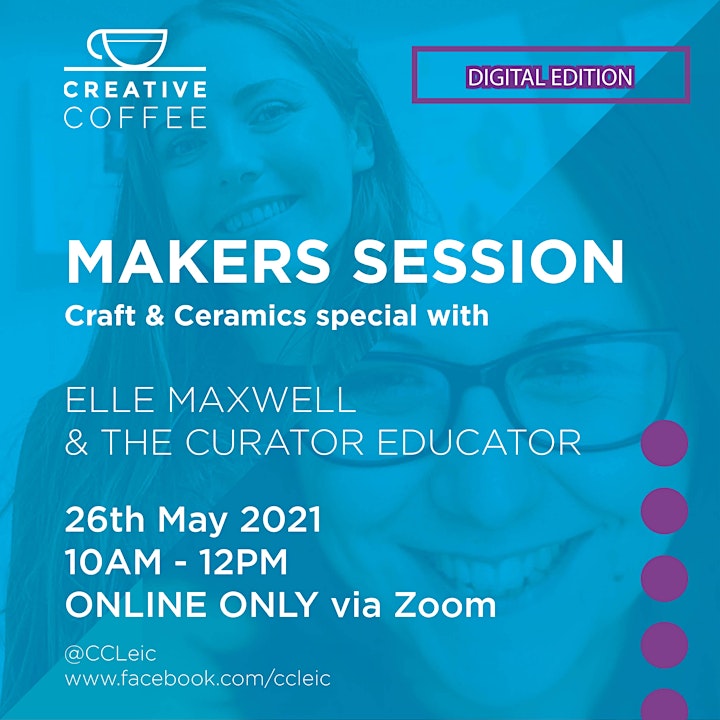 Date and time
Location
Online Zoom Seminar
31 Rutland Street
Leicester
LE1 1RE
United Kingdom
Organizer of Creative Coffee Leicester - Digital 'Makers Special' - 26th May 2021
Creative Coffee is Leicester's most friendly and creative meet up. A monthly event that connects the creative community to businesses, academics and each other.  It's a new way to exchange ideas, foster innovation and kickstart relationships – all from a relaxed café environment. Alternating between inspiring talks, table expert discussions and informal networking is the best way to inject some creativity into your Wednesday morning! 

Everyone from creative agencies to freelancers and organisations looking for creative input are encouraged to attend.