We're joining up Arduino Day and Processing Community Day into one big event that we're calling the Creative Computing Community Day.
About this Event
Covid-19 Update – Event Cancelled
Unfortunately we have decided to cancel this event due to the current Covid-19 pandemic. This probably comes as no surprise to you but depending on how the situation unfolds over the summer we are hopeful that we can reschedule this event for later in the year or 2021.
We'd like to keep you up-to-date about this and other events that UAL Creative Computing Institute are planning in future, and to be notified about this and our upcoming events please sign up here:
Again, we're really disappointed to have to make this decision and we hope you and your loved ones stay safe.
Exhibits
Enchanted objects and crazy contraptions
A showcase of Raspberry Pi and Arduino projects.
Data Walking
Data Walking is a research project exploring the potential of walking to gather environmental data and through multiple walks and visualisations build a rich picture of that area. The project examines technology and tools (particularly Arduino and Processing) for creative data gathering and experimenting with data visualisation, to create tools, gain insight, and share knowledge through online repositories, publications, presentations and workshops.
Robots by RedRobotics
My recent projects have revolved around creating robotics and motor control circuit boards (and the robots for testing them!) for the Raspberry Pi computer.
I'll also be showing a new open source micro:bit project.
speculative design of IoT-The IoT rock
It's a speculative design of IoT technology. I use Arduino 33nanoIoT chip to enale a casted rock to be connected to the internet. Then I use Processing to visualize the gyroscope, accelerometer, and sound sensor data of this rock.
Sex Sells
Yang Li, Manqiao Fang, Qinming Feng and Ben
The "SEX SELLS" installation is a one-meter-high dodecahedron made of a wooden structure, including thirty wooden supporting pillars and twelve acrylic plate pentagons. Inside the structure is a plinth with a "condom" presented. The "condom" will be connected to an engine. With the help of Arduino, we designed a system that can control the movement of the "condom" and its context through the money paid by visitors.
Inside "SEX SELLS," not only art is produced but also desires. Money, as a "buying power" represents human desires. Audiences could interact with the installation by paying for their desire. They will "pay" (exchange) for the experience, addiction, and dopamine.
RGB Lightsaber
Lightsaber with full RGB control.
Interactive Audio Works
Laser Microphone - This is a device that amplifies the physical vibrations of tiny objects that are otherwise too quiet to hear.
Photophonics - This bespoke technology allows the transmission of an audio signal through light.
ARITH-MATIC: Computational adventures with 7400 series ICs
ARITH-MATIC will be returning this year to showcase further adventures with 7400 series ICs! This includes demonstrations of the Cambridge-1: a 4-bit homebrew 7400 series CPU; plus a range of DIY electronic kits which help you explore the guts of computing!
Ohbot and Picoh robots
Ohbot and Picoh are fully programmable robot heads designed to help people explore coding, robotics and AI.
Botato Wars
Build an app-connected robot using potatoes and other vegetables and parts from the Smartibot kit. Compete for glory in the race and arena battle. Yes we really are building working robots out of vegetables.
C2Pi
C2Pi is a mobile robot with stereo vision.
SoundStitcher
Recently featured at Ars Electronica and the Tate Modern, this piece consists of a sewing machine that has been eviscerated and stuffed with sensors and lights to add exciting dimensions to the experience of operating a sewing machine.
Sound Stitcher comes in the form of a 100-year-old sewing machine. Although it no longer functions as before, participants can still interact with its variety of controls to design sound instead of cloth. With each interaction, acoustic properties of sounds generated by the piece become mangled and distorted beyond recognition, paying homage to the battery and abandonment these beautiful, discarded machines have endured over their years of obsolescence.
DIY Photo Booth and 3D Printed Handheld Simon Says Game
A low cost, Arduino controlled automated photo booth, With an Arduino Nano at its core this project also incorporates an OLED screen, passive buzzer and some big bright buttons.
Hazuki Knit
Gemma May Potter and James Medd
Hazuki Knit is a two player game controlled by a hand powered knitting machine and arcade button that tests reaction speeds through button pressing, against keeping rhythm whilst knitting game motifs.
Microbit Robots
Thomas Stratford
A showcase of Microbit projects.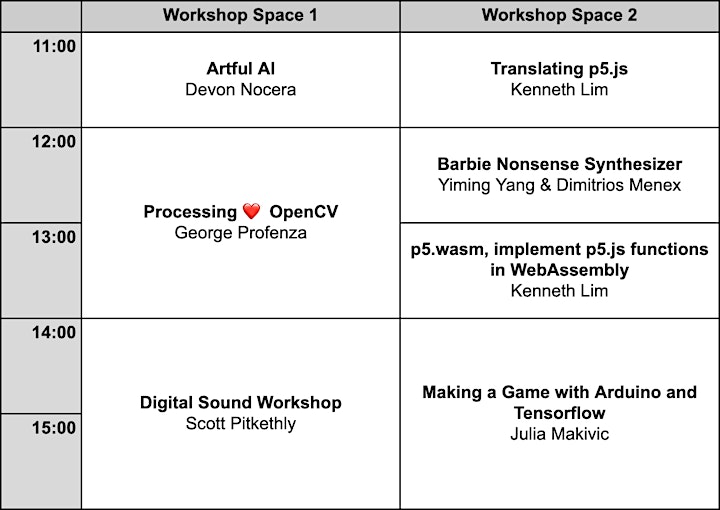 Workshop Space 1
Artful AI
11:00–12:00
Art and technology are increasingly overlapping and fusing together through creative uses of advanced technology. Generative artists including Anna Ridler, Jake Elwes and Maja Petric among many others utilize machine learning as a medium to explore the capabilities and implications of machines today. There have been many art and tech talks and panels but not many round table discussions. I would like to moderate and engage participants to have a productive thought sharing opportunity to connect with others in this creative computing space.
Processing ❤️ OpenCV
12:00–14:00
A fundamentals to Computer Vision taster session using p5.js and OpenCV.js
Digital Sound Workshop
14:00-16:00
An introduction to using small and relatively cheap microcontrollers to create digital sound. Each participant will learn about the fundamentals of digital sound, and some of the interesting ways in which we can use microcontrollers to create and manipulate audio.
A knowledge of programming is not required, but those who have an interest will be able to take their projects further, and create even more sophisticated sonic experiments.
Pre-requisites:
Bring your laptop with you (macOS, Windows or Linux).
To save time please install ahead of the workshop the following applications:
Install Arduino https://www.arduino.cc/en/Main/Software
If you are using Windows, please don't install the Arduino app from the Microsoft Store which is not compatible for this workshop
Install Teensyduino https://www.pjrc.com/teensy/td_download.html
Navigate to https://github.com/cutlasses/TeensyWorkshop click 'Clone or Download' and select Download ZIP
Workshop Space 2
Translating p5.js
11:00–12:00
The workshop will be an overview of the translation process of the p5.js website and also a look into current and future efforts around internationalizing + localizing the p5.js projects.
Barbie Nonsense Synthesizer
12:00–13:00
Yiming Yang and Dimitrios Menex
It is a self-sustained, unpredictable, interactive musical instrument.
It's a cultural challenge for the user — because this installation is not for passive viewers but for active users — who can't help but move Barbie's body parts and generate different sounds.
Hence, when audiences encounter Barbie, they immediately realize that Barbie does not leave it entirely up to them to determine how she sounds, but instead, she contributes to the sonic event by embodying the audio source.
p5.wasm, implement p5.js functions in WebAssembly
13:00–14:00
The workshop will look at the p5.wasm addon library for p5.js and also introduces the WebAssembly workflow of Rust. People of all levels of expertise welcomed, from beginner just starting to look at p5.js to Rust veterans familiar with the language!
Making a Game with Arduino and Tensorflow
14:00-16:00
This workshop will show how to use an Arduino Nano 33 BLE and Tensorflow Lite in order to create a gesture-based alternative game controller. I will show how to categorize gesture-based inputs from the Arduino, and then differentiate the various types of gestures using Tensorflow. Then, I will show how to use these gestures to control a character in a retro-style game. During the workshop I will be live coding, however I will provide finished code and a detailed tutorial at the end.
Code of Conduct
This event operates a strict code of conduct, if you have any concerns before, during or after the event please contact a member of staff or email cci@arts.ac.uk.

About London Arduino
The London Arduino community is for all Arduino, Raspberry Pi, micro:bit, creative and interactive design enthusiasts meeting in London for social events.
Questions?
If you have other questions please email cci@arts.ac.uk.
Call for Participation
The call for participation is now closed, we hope you'll still come along to join us for the event.
How to get here
Creative Computing Community Day 2020 is held at the UAL Creative Computing Institute at 45-65 Peckham Road, Camberwell, London, SE5 8UF.
Cycling
There is cycle parking outside the building at Sainsburys next door and opposite the main entrance for members of the public, and additional cycle parking inside the building for UAL students and staff.
Bus
12 - Oxford Circus to Dulwich Library via Traflagar Square, Waterloo, Elephant & Castle, Camberwell and Peckham
171 - Elephant & Castle to Catford via Camberwell, Peckham, New Cross and Brockley
36 - Queens Park to New Cross via Kilburn, Royal Oak, Paddington, Marble Arch, Hyde Park Corner, Victoria, Pimlico, Vauxhaul, Oval, Camberwell, Peckham, and New Cross
436 - Battersea to Lewisham via Vauxhaul, Oval, Camberwell, Peckham and New Cross
345 - Kensington to Peckham via Chelsea, Battersea, Clapham, Stockwell, Brixton, Loughborough Junction and Camberwell
Trains
The nearest London Overground station is Queens Road Peckham is either a 20 minute walk or a short bus ride on the 171, 36 or 436.
The nearest National Rail station is Denmark Hill, served by Thames Link is either a 15 minute walk or a short walk and bus ride on the 345.