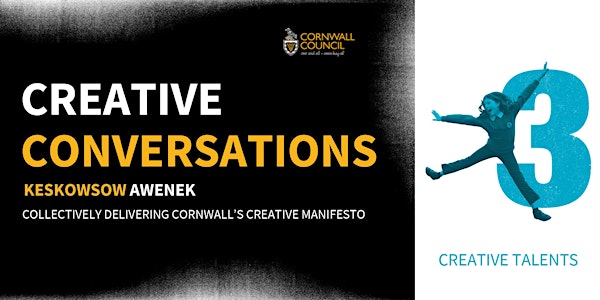 Creative Conversation: Let's Talk Creative Careers in Cornwall
Want to work in the creative sector in Cornwall? Join us for friendly conversations and tips from creative professionals about the industry.
About this event
Do you want to connect with professionals in the creative sector?
Do you want to find out more about:
-Getting into Cornwall's creative industries, including support available?
-Experience, stories and tips from creative professionals?
Then we welcome you to an open, friendly conversation on Microsoft Teams on Wednesday 9th February. We will be hosting a Creative Conversation about creative careers in Cornwall with our experienced panel of professionals from different creative sectors. They will be sharing their stories, offering advice and discussing what opportunities are available to help you with your future career. There will also be chances for you to ask questions and chat with our panel.
Caitlin McLintock, Culture and Creative Partnerships Apprentice (Cornwall Council) will be chairing this Creative Conversation with the support of Lea Guzzo, Senior Culture and Creative Industries Officer. They will be joined by:
-Laura Giles, Director, Screen Cornwall (Film, TV, video, VFX/SFX...)
-Stuart MacQuarrie, Freelance Musician and Music Tutor for Cornwall Music Service Trust (Music, Music education...)
-Cat Gibbard, Programme Curator / Learning Lead, Newlyn Art Gallery & The Exchange (Visual arts, curating...)
-Katie Goode, Creative Director, Triangular Pixels Ltd./Cornwall Games (Video games, animation...)
-Emily Sorrell, Freelancer and co-director for Doorsteps Cornwall (Design, networking for creatives in Cornwall, creative event management...)
More speakers to be confirmed.
You should attend this event if you are interested working in the creative sector in Cornwall (Film, visual arts, theatre, music, craft, curating, games...). You can be a current A level/university student, someone seeking an apprenticeship, a graduate, or a young person just interested in the sector.
Agenda
A more detailed programme will follow, but please book as soon as possible to guarantee your space. We are committed in making this session as inclusive as possible. Please do not hesitate to let us know when you book your ticket how we can help make this event more accessible for you. Meur ras! (Thanks!)
The Culture and Creative Economy team, Cornwall Council.