Description
Intellectual property issues are important at every stage of an artist's and maker's working life and can be central to commercial success - but this area can be hard to navigate.
So Makerhood, DACS and Travelling Through have teamed up to bring you an event on creative IP rights.
This Makers' Club event will focus on IP and copyright, helping you understand what is relevant for you. We will cover:
An overview of creative IP and copyright for artists and designers

How to protect the rights that you have as creator of art, designs or handmade objects

Earning from your IP through licensing
Our speakers are:

DACS: established by artists for artists, DACS is a not-for-profit visual artists' rights management organisation. Passionate about transforming the financial landscape for visual artists through innovative new products and services, DACS act as a trusted broker for 90,000 artists worldwide. Simon Lackie (Legal and Enforcement Manager) and Siobhan Sullivan (Artists' Services Manager) will explain how you can protect your rights as an artist, earn from licensing your work, and will answer some of the most frequently asked copyright and IP questions by artists.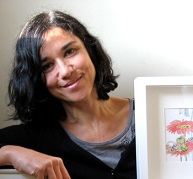 Elena Blanco, a South London artist who's experimented with different ways of earning an income from her work, including licensing a design for postcards with a large international company. Elena will share her experience of licensing of her art and the issues to consider when doing so.
Venue: The event is held at the Travelling Through, a culture hub and arts space in Lower Marsh, very close to the Waterloo Train station.
Food & drink: The cafe will be open on the night for tea, coffee, hot chocolate, snacks and a selection of wine, beer and cider.