Location
Inspace, The University Of Edinburgh
1 Crichton Street
Edinburgh
EH8 9AB
United Kingdom
Join us for the launch of Creative Cred, a complementary currency that incentivises a Circular Economy approach in the creative industries.
About this event
Wouldn't it be great if you could source tools, materials, services and spaces in a way that is good for the planet and good for your creative practice?
Join us for the launch of an interactive exhibition about CREATIVE CRED to discover how this currency could help keep local businesses afloat even in times of financial hardship, and have a go at creating your own Creative Cred avatar to find out how it could be good for the planet and for your practice.
The Creative Cred exhibition will run at Inspace from Wednesday 11th to Saturday 14th May from 11am to 5pm every day.
Creative Cred is a Creative Informatics Creative Horizon Project run by Ostrero, Dr Juli Huang at Edinburgh University and Dr Tom Flint at Edinburgh Napier University, exploring the idea of an alternative currency for the creative industries that incentivises a move towards the Circular Economy.
Many people in the creative industries already adopt a Circular Economy approach – they are mindful about designing out or not creating waste; they share materials, spaces, skills and knowledge with other makers; and they try to minimise the environmental impact of their practice. But these things can cost time and money, and are rarely rewarded.
What if these actions, which are great for the planet, could also be good for your practice and your business? What if they could stimulate exchanges and connections with others in the creative industries? This is where the Creative Cred comes in – for every circular action taken, Creative Cred is earned. This credit can then be exchanged with others in the creative industries for excess materials, skills, spaces or products.
If you would like to find out more about Creative Cred please contact Mary Michel, Director of Ostrero, at mary@ostrero.com.
If you are a creative practitioner interested in finding out more about Creative Cred, sign up for our Creative Cred CI Studio, taking place on Thursday 12th May at 2pm.
This event is kindly sponsored by Bellfield Brewery.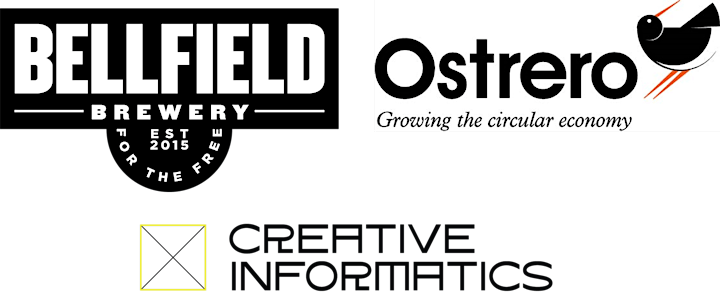 About Creative Informatics
Creative Informatics is a collaboration across the University of Edinburgh, Edinburgh Napier University, Codebase and Creative Edinburgh.
Funded by the Creative Industries Clusters Programme managed by the Arts & Humanities Research Council as part of the Industrial Strategy, with additional support from the Scottish Funding Council. The programme is part of the City Region Deal Data Driven Innovation initiative.
Find out more at https://creativeinformatics.org/
Data Protection
In providing your completed registration response you are giving explicit consent for us to use this data in our programme monitoring and reporting processes. The data is managed confidentially. Your data will be held and used by the Creative Informatics delivery team based at the University of Edinburgh with some data shared with our funders the Arts and Humanities Research Council and the Policy and Evidence Centre based at Nesta. Your data will only be reported in anonymous aggregated forms and will always be processed in accordance with the Data Protection Act 2018 and therefore also in accordance with the General Data Protection Act 2018 and therefore also in accordance with the General Data Protection Regulation (GDPR).