Join Claire London aka Bear on a magical journey to create a unique piece of art using colours, stories & memories that might just light up
About this event
FULL COURSE £20 - Start date:May 19th only select this date.
PER- SESSION £7.50
ONLINE ONLY £3
"It's this very journey where I found myself fascinated by the Ojibwa tribe which linked me back to a childhood dream."
The tribe had a spider women who created the dream catcher to protected their children when asleep. I have since been intrigued by this story and the dreamcatchers mystical powers.
A couple of years back I created a large piece of art using a combination of ideas from abstract weaving to recycled objects#with#stories,#memories, and catching dreams. I found this a great way to explore mixed media arts using different materials and ideas.
Today I'm pleased to say my life has found an enlightened path full of creativity and passion for the arts, I get to work on many community projects and collaborate with lots of creatives.
My next workshops will be run at Little Red Arts Studio's, where participant can weave their own journey using stories and memories through mix media and creative arts.
In order to get the best experience, participants are encouraged to attend all sessions.
Good to know information
- Can I join late? It is preferable for guests to attend on the start date of the project. There may be occasions where the tutor will allow for later joiners to the classes but this at the tutors' dicression and you will be required to pay the full price of the course.
- How to find us? You will find our address on your ticket . We are located opposite NatWest and next to Barclays and above Age Conern, look for the double red doors. You can't miss all the mural art!
- On arrival? A member of our Little Red team will welcome you to the building, check you in and you can head up to the studio.
- COVID19 - In order for use to keep everyone safe we ask:
Please do not attend any classes if you are presenting Covid19 like symptoms, you will need to inform us of your absence and isolate for a futher two weeks/
Please wear a mask on entry and whilst you are moving around the building. These can be removed when seated.
Patrons are not permitted to bring their own refreshment into the venue at this time. Refreshments and light bites will be available at the coffee shop.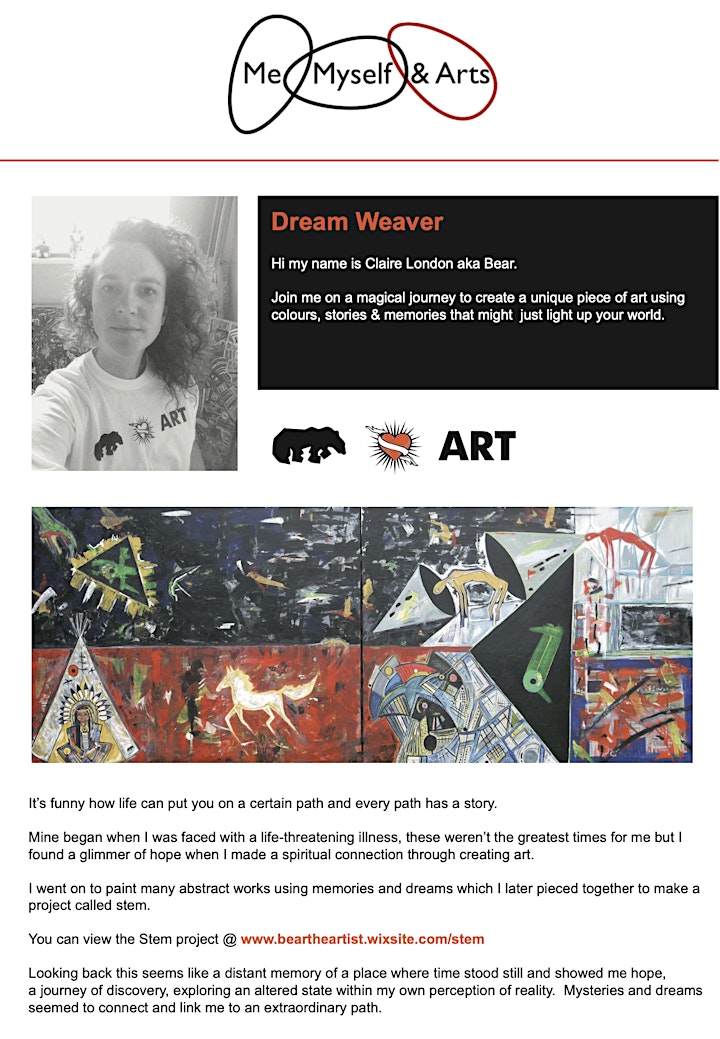 Organiser of Creative Dream Weaver - Me, Myself & Arts - Luton
Little Red is a not for profit arts and music venue based in Luton Town cente.
Set in a beautiful grade ll listed building, its funk, edgy an d bursting with creative opporitunities.
Enjoy a dink in our fully licenced cafe bar, with panaramic views of town centre we invite you to disconect for a while, elevte yourself and watch the wolrd go by.
Studios to hire and many events to join.
We look forward to welcoming you!